This post was originally published here January 18, 2014. I've since adjusted the recipe instructions slightly. And I've updated the text and photographs to reflect those changes.
Wow. Four cookie recipes in a row over here. I think I'm done.
Just to clarify, I'm not done eating cookies. Just blogging about them. You likely won't see another new cookie recipe here before Christmas. But I think you've got enough to keep you busy! Heck. I might even try for something savory next!
There isn't anything particularly Christmassy about these Chocolate-Dipped Salted Cashew Cookies. They're not peppermint flavored. Or topped with red and green sprinkles. But I seem to mostly make them during the month of December, so I guess they've become a Christmas cookie to me.
These cookies are thick and toothsome (they don't spread significantly during baking), with a bit of a crispity texture on the outside. And they're FULL of chopped cashews, so you get some nuttiness in every single bite. I'm tired of desserts that claim to have nuts in them and then you get like one sad walnut in an entire brownie square. Lame.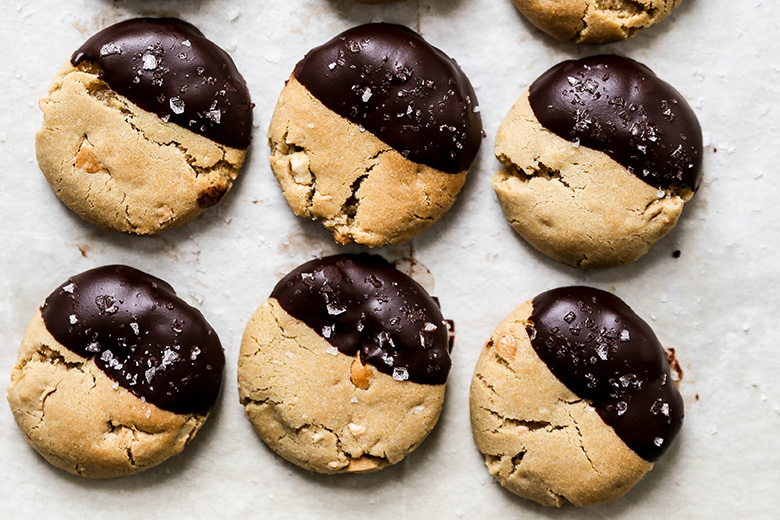 To make sure these Chocolate-Dipped Salted Cashew Cookies have a nice salty punch, I used a combination of salted butter, additional salt in the cookie dough and some flaky sea salt for finishing. Trust me. This is not overkill.
I like to buy raw cashews and roast them myself for this recipe. But sometimes they can be more difficult to find. If you can only get pre-roasted cashews, simply skip that first step.
The cookie dough will seem a bit dry and crumbly. But that's ok. When you shape the dough into balls, it will come together just fine. This is why I instruct you to form the cookie dough balls before chilling the dough. Because once the dough has been chilled, it will become difficult to work with. I used to do it that way and I always struggled. But now I've adjusted the instructions to make this part much easier!
Cheers,
Liz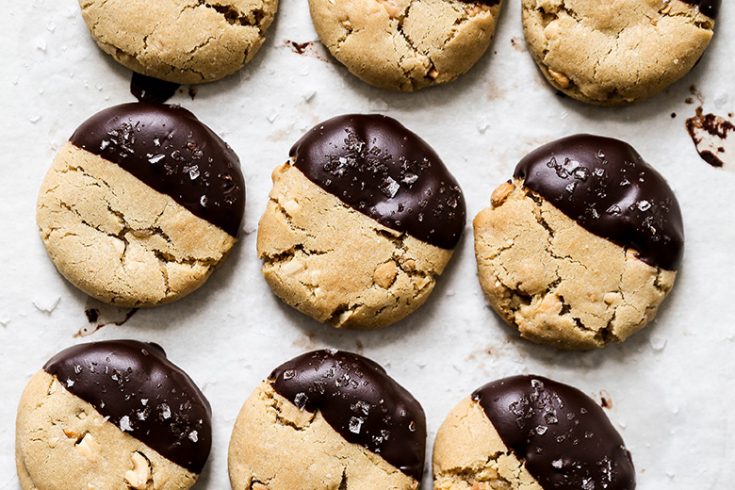 Chocolate-Dipped Salted Cashew Cookies
Yield: Makes about 2 1/2 dozen
Prep Time: 20 minutes
Cook Time: 20 minutes
Additional Time: 1 hour
Total Time: 1 hour 40 minutes
Ingredients
For the Cookie Dough:
1 1/2 cup raw, unsalted cashews
1/2 cup (8 tablespoon) salted butter, softened at room temperature
1 1/2 cups packed brown sugar
1 egg
1 tsp. vanilla extract
2 cups all-purpose flour
1 tsp. baking soda
3/4 tsp. salt
For Finishing:
6 ounces dark chocolate, chopped
3 tablespoons unsalted butter, cubed
3 tsp. light corn syrup
Flaky sea salt
Instructions
Pre-heat your oven to 350 degrees.
Spread the cashews out onto a rimmed baking sheet. Transfer to your pre-heated oven and roast for 8-10 minutes, or until they are lightly browned and starting to smell nutty. Remove them from the oven and set aside to cool. Once cooled, chop the cashews coarsely (you want the pieces to be about pea-sized). You can turn off your oven, but you'll need to pre-heat it again later.
In your stand mixer fitted with the paddle attachment, beat together the butter and brown sugar until well combined, stopping to scrape down the sides and bottom of the bowl as necessary. Add egg and vanilla extract and beat until combined. Then slowly add in the flour, baking soda and salt, beating just until no more white streaks remain. Add in the chopped cashews and beat to incorporate. The dough will look crumbly at this point. That's ok.
Scoop out tablespoon sized portions of cookie dough and roll them into balls. Place the cookie dough balls on a parchment paper-lined baking sheet and cover them with a piece of plastic wrap. Transfer to your refrigerator to chill for about 1 hour.
If you've turned off your oven, pre-heat it again to 350 degrees.
Line baking sheets with parchment paper and place the chilled cookie dough balls about 1-inch apart from each other. Transfer the baking sheets to your pre-heated oven and bake for 14-15 minutes. The cookies should be puffed and slightly browned.
Remove the baking sheets from your oven and use a spatula to press lightly on top of each cookie to flatten them slightly. Let the cookies cool on their baking sheets for about 5 minutes. Then transfer them to a wire rack to continue cooling.
Once the cookies have completely cooled, combine the chocolate, butter and corn syrup in a medium saucepan over low heat. Cook, stirring constantly, until everything is melted and smooth. Remove the saucepan from the heat and allow the chocolate to cool for about 5 minutes. Then dip each cookie about halfway into the chocolate, letting any excess drip off, and place them back on their parchment paper-lined baking sheets. Before the chocolate dries, sprinkle with a pinch of flaky sea salt.
Allow the chocolate to fully cool and set before transferring the cookies to an airtight container for storage. Cookies can be stored at room temperature for 4-5 days.