Pizzelles are on my short list of must-make cookies each December. It simply wouldn't be Christmastime without them. And I generally make at least two batches throughout the Holiday season. Because not only do I love eating them. But I also love sharing them. Pizzelles make a great gift for anyone in your life that needs a little treat (neighbors, teachers, hostess, etc.).
I already consider pizzelles to be one of the more festive looking cookies on the cookie tray (giant snowflakes, anyone?). But these Gingerbread Pizzelles are even more festive because they have all the flavors of traditional gingerbread cookies, including cinnamon, ginger, cloves and nutmeg. I even snuck in a little bit of molasses. Your house will smell amazing as you make them. And your taste buds will be merry and bright!
If you've made pizzelles before, then you mostly likely already have a pizzelle press and you're ready to get started. If this is a new adventure for you, you'll need a pizzelle press to complete the mission. I have an older version of this model, which I wholeheartedly recommend. I honestly don't have a lot of single use appliances in my house, because in general I find them wasteful and unnecessary. But my pizzelle press is where I make an exception!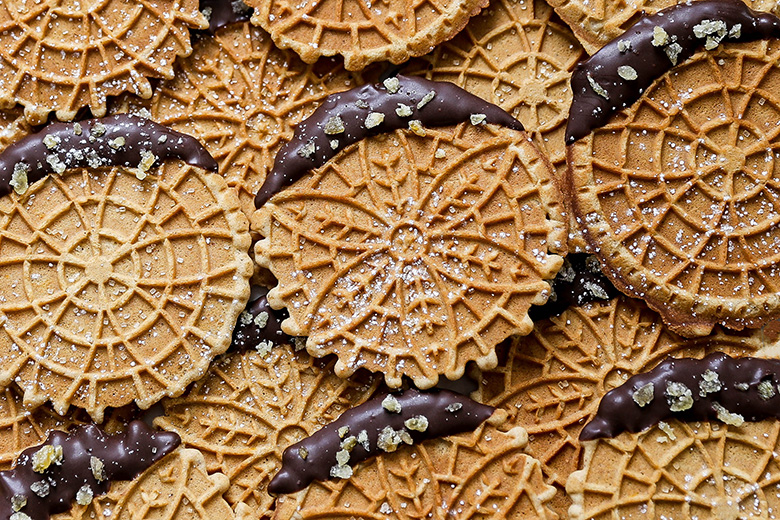 Pizzelle batter is very simple and doesn't require any chilling or fussing. Which is one of the many reasons why pizzelles are one of my favorite cookies to make. There is, however, a moment of finesse required when you first start out using the pizzelle press. Like making waffles, it takes 1-2 rounds to get the iron properly heated, buttered, etc. So sometimes the first few pizzelles come out a bit funny. But this recipe makes a lot (almost 3 dozen), so it's not a big deal. You'll have plenty!
You could leave these Gingerbread Pizzelles plain. But I like to give them an extra bit of sparkle with a little dip of dark chocolate and a sprinkle of crystalized ginger. Another (more traditional) option is a simple dusting of powdered sugar. They will be beautiful and delicious no matter which option you choose!
Cheers,
Liz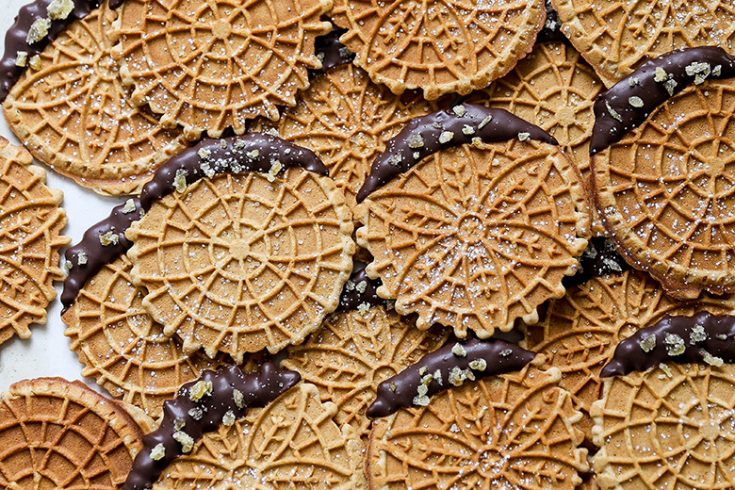 Gingerbread Pizzelles
Yield: Makes 2 1/2 dozen
Prep Time: 10 minutes
Cook Time: 30 minutes
Total Time: 40 minutes
Ingredients
For the Pizzelles:
1 3/4 cups all-purpose flour
2 tsp. baking powder
2 tsp. ground cinnamon
2 tsp. ground ginger
1/2 tsp. ground cloves
1/2 tsp. ground nutmeg
3 eggs, at room temperature
3/4 cups granulated sugar
1/2 cup (8 tablespoons) butter, melted and cooled, plus more for brushing the pizzelle press
1 tablespoon molasses
1 tsp. vanilla extract
1 tsp. orange zest
For Finishing:
Dark chocolate, melted
Crystalized ginger, finely chopped
Instructions
In a medium bowl, sift together the flour, baking powder and all the spices. Set aside.
In your stand mixer fitted with the paddle attachment, beat together the eggs and sugar until well combined. Add the melted butter, vanilla extract, orange zest and molasses and beat to combine. Then add in the dry ingredients about one-third at a time, beating until the batter is smooth and no more white streaks remain. Make sure to scrape down the sides and bottom of the bowl. Set aside.
Pre-heat your pizzelle press. My model has temperature settings ranging from 1-5 and I pre-heat it between settings 4-5.
Brush the pre-heated plates with melted butter. Place about a tablespoon of the batter in the center of each plate and close the lid. Cook until the pizzelles are golden brown, about 45-60 seconds. The exact cooking time will vary based on your pizzelle press. Because of all the spices and molasses, these pizzelles will be a bit darker in color than traditional plain pizzelles.
Use a fork to remove the cooked pizzelles from the press and place them on a wire rack to cool. They will firm up as they cool and can be safely stacked.
Repeat with the remaining batter, brushing the plates with butter as necessary to prevent the batter from sticking. I usually only need to butter the plates every 2-3 times.
Once all the pizzelles are all made and cooled, dip them in dark chocolate and lay them on a piece of wax paper. Add some chopped crystalized ginger while the chocolate is still wet. Once the chocolate is fully set, the pizzelles can be transferred and stored in an airtight container at room temperature for 2-3 weeks.