I'm feeling very behind on Thanksgiving recipes (thanks social media). But hopefully I can make up for lost time over the next couple of weeks. I've got a lot of ideas swirling around in my head. Now they just need to magically materialize into blog posts…!
But we're here now, so let's talk about these Roasted Carrots and Parsnips with Pickled Red Onions and Pine Nuts. AKA the most colorful side dish that you'll make this Holiday season!
Roasted root vegetables aren't really anything mind-blowingly new. They've been present at almost every Holiday meal I can remember. And I'm guessing the same goes for many of you. Roasted root vegetables are easy, inexpensive and are loved by even the pickiest of eaters. So it's no wonder they're a part of so many of our Holiday traditions.
This year, I wanted to give them a fresh take with a couple of additional ingredients and flavor profiles. I know you're going to love them!
The first part of this recipe is a total no-brainer. Start by peeling, trimming and slicing some carrots and parsnips so they're all approximately the same size. Then roast them on a large rimmed baking sheet with olive oil, honey and salt until they're softened and have started to caramelize in a few places. Yum.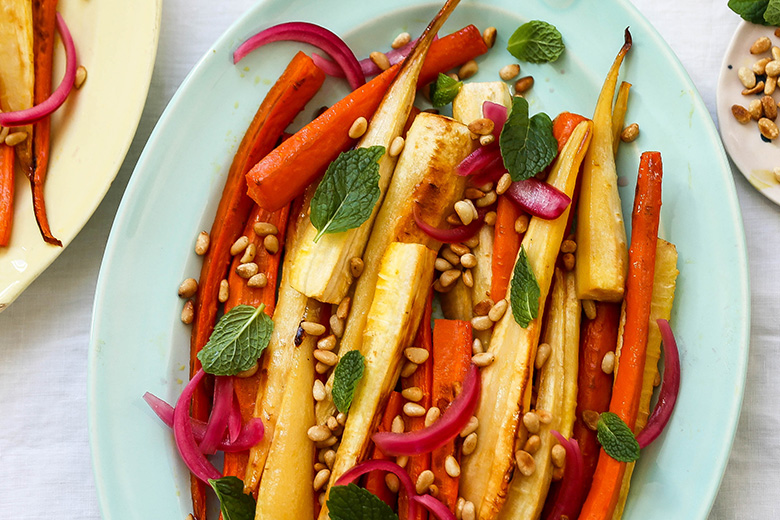 Now, you could stop right here and have a fantastic side dish. But if you really want to go the extra mile this Holiday season, here's what you're going to do. First, add some pickled red onions for a bright, acidic punch. Then toss in a handful of toasted pine nuts for a buttery crunch. And lastly, finish the dish with a few sprigs of mint for freshness and an additional pop of color.
Boom. Done. Humble carrots and parsnips are not so humble anymore!
I know we're all looking for ways to spread out the amount of the prep work that goes into creating a fantastic Holiday meal. There are a few spots in this recipe which you can do so. The pickled red onions can be made up to two weeks in advance and stored in your refrigerator. And the carrots and parsnips can be peeled, trimmed and sliced the day before. Store them in a zip-closure bag or sealed container in your refrigerator until you're ready to roast them.
If you make my Roasted Carrots and Parsnips with Pickled Red Onions and Pine Nuts this Holiday season, please let me know. I'd love to hear about it!
Cheers,
Liz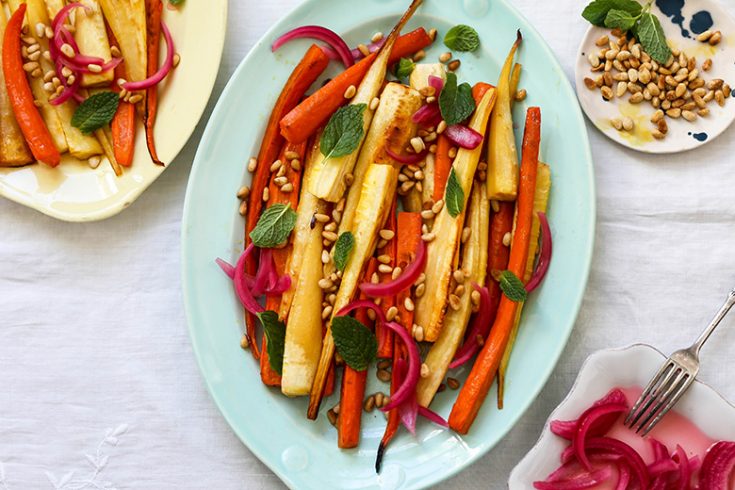 Roasted Carrots and Parsnips with Pickled Red Onions and Pine Nuts
Yield: Serves 6
Prep Time: 10 minutes
Cook Time: 30 minutes
Additional Time: 2 hours
Total Time: 2 hours 40 minutes
Ingredients
For the Pickled Red Onions:
1/2 cup water
1/4 cup distilled white vinegar
1/4 cup apple cider vinegar
1 tablespoon honey
1 tsp. salt
1/4 tsp. black peppercorns
1/4 tsp. red pepper flakes
1/2 red onion, peeled and thinly sliced
For the Carrots and Parsnips:
1 lb carrots, peeled and trimmed
1 lb parsnips, peeled and trimmed
2 tablespoons extra-virgin olive oil
2 tablespoons honey
1/2 tsp. salt
3 tablespoons pine nuts
2 tablespoons fresh mint leaves, torn if large
Instructions
In a small saucepan set over medium-high heat, bring the water, vinegars, honey, salt, peppercorns and red pepper flakes to a simmer, stirring until the honey and salt are dissolved. Remove from the heat.
Add the red onion slices to a mason jar (or a similar type of heat-safe and re-sealable container). Pour the hot pickling liquid over the red onion slices. Cover and let them sit until the liquid comes to room temperature, about 15 minutes. Then place the mason jar in your refrigerator for at least 2 hours. This recipe makes more pickled red onions than you'll need for this dish. Leftovers can be stored in your refrigerator for up to 2 weeks.
Pre-heat your oven to 425 degrees.
Slice the carrots and parsnips either in half or quarters lengthwise. Add them to a large rimmed baking sheet. Drizzle with the olive oil and honey and toss to coat. Then sprinkle with the salt. Transfer the baking sheet to your pre-heated oven and roast for 30 minutes, turning the carrots and parsnips once halfway through the cooking time. Remove and set aside.
Meanwhile, add the pine nuts to a small dry skillet set over medium heat and cook, stirring frequently, until toasted and fragrant, about 2 minutes. Remove and set aside.
Arrange the roasted carrots and parsnips on a large serving plate. Top with some of the pickled red onions, the toasted pine nuts and mint.