After just a single bite of this Roasted Asparagus and Brussels Sprout Panzanella Salad, I gleefully exclaimed "this is the BEST panzanella salad that I've ever made!". My mom and dog bear witness to this event.
I then proceeded to take like a thousand more bites to confirm that my previous statement was in fact true.
Spoiler alert: it was.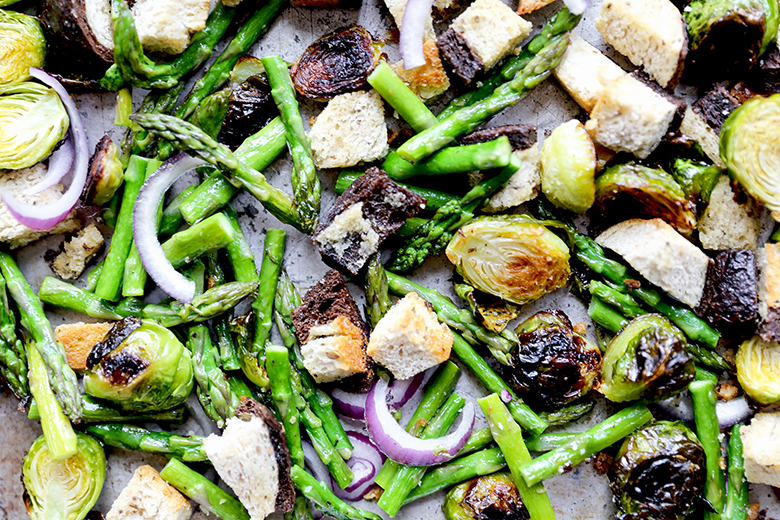 I've been trying to dissect what it is about this particular combination that has me singing it's praises all over the land. I mean, there isn't even any cheese in this recipe. So how good could it be, right? How could this panzanella salad beat out my previous version with warm, almond-crusted goat cheese? It seems almost impossible.
But I think I've figured out that the secret lies in the bread. Usually I make my panzanella salad with plain French or Italian bread. But this time, I grabbed a loaf of marble rye from the bakery on a whim. And now my life has forever changed. The rye bread adds so much extra flavor to this salad. And I don't think I'll ever make a panzanella salad with just plain bread again.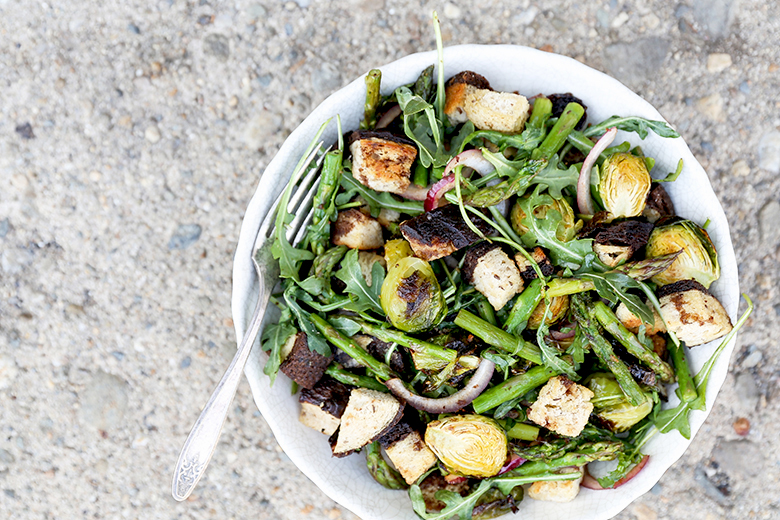 I'm sharing this Roasted Asparagus and Brussels Sprout Panzanella Salad recipe today as part of our monthly seasonal eating guide organized by Becky from Vintage Mixer. I couldn't be more excited for Spring (hurry up already!) and all the gorgeous fruits and vegetables that are starting to become more readily available. Asparagus is one of my favorites, and I'm happy to see it popping up in the grocery stores!
Be sure to have a peak a Becky's March produce guide for lots of seasonal recipes. And for even more inspiration, scroll down below to see what my blogging friends made this month. And if you make any of our recipes, or come up with your own seasonally inspired creations, be sure to share a photo on social media with the hashtag #eatseasonal so we can see it!
Cheers,
Liz
Ingredients
For the Salad
2 cups cubed rye bread (can also use pumpernickel bread)
2 cups brussels sprouts, trimmed and cut in half
2 cups chopped asparagus (keep the pieces about 2-inches long)
5 tablespoons extra-virgin olive oil, divided
1/2 tsp. salt, divided
1/2 tsp. black pepper, divided
1/4 cup sliced red onion
2 cup arugula

For the Dressing
1 tablespoon extra-virgin olive oil
1 tablespoon balsamic vinegar
1 tablespoon fresh squeezed lemon juice
Pinch of salt and black pepper
Instructions
Pre-heat your oven to 425 degrees.
In a large bowl, toss the cubed bread with 2 tablespoons of the olive oil and 1/4 tsp. each of the salt and black pepper. Spread the bread out onto a large rimmed baking sheet and transfer to your pre-heated oven. Bake for 13-15 minutes, stirring once half way through. The bread should be crisp and starting to brown in some places. Remove from the oven and set aside.
Toss the brussels spouts in a large bowl with 2 tablespoons of the olive oil and 1/4 tsp. each of the salt and black pepper. Transfer to a large rimmed baking sheet and roast in your pre-heated oven for 15 minutes. Meanwhile, toss the asparagus with the remaining 1 tablespoon of olive oil. After 15 minutes, add the asparagus to the baking sheet with the brussels sprouts, tossing gently to mix the two vegetables together. Return the baking sheet to your oven and roast the vegetables for an additional 6-8 minutes. Remove from the oven and set aside.
In a small bowl, whisk together all of the ingredients for the dressing. Set aside.
Assemble the salad. In a large bowl, combine the bread, roasted vegetables, red onion, arugula and dressing. Serve immediately.
Notes
1. Not all rye/pumpernickel bread recipes are vegan. Make sure you check the ingredient list before purchasing.
https://www.floatingkitchen.net/roasted-asparagus-and-brussels-sprout-panzanella-salad/
March Eat Seasonal Recipes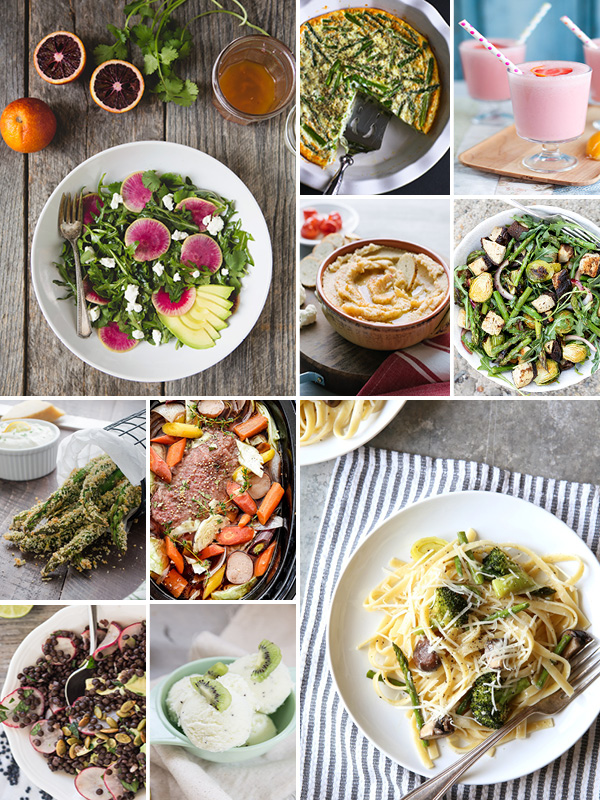 Strawberry and Preserved Lemon Lassi from Simple Bites
Asparagus & Feta Cheese Crustless Quiche from Cookin' Canuck
Roasted Vegetable Asiago Fettuccine Alfredo from Completely Delicious
Crispy Parmesan Asparagus Fries with Lemon Greek Yogurt Dip from Flavor the Moments
Baked Thai Beef Stuffed Artichokes from Climbing Grier Mountain
Watermelon Radish and Arugula Salad from Food for My Family
Pappadew Pepper Cauliflower Hummus from Kitchen Confidante
Lentil, Avocado, and Radish Salad from Letty's Kitchen
Tuna Salad with Pickled Habeneros from Project Domestication
Kiwi Lime Sherbet from The Vintage Mixer
Slow Cooker Corned Beef and Cabbage from FoodieCrush