Recipe inspiration comes to me in many forms. Random ideas often pop into my head when I'm out walking or taking a shower. I scrupulously study menus at restaurants in search of new-to-me flavor combinations. And a quick scroll through Instagram will have me jumping out of my chair and speeding off to grocery store for supplies in a heartbeat.
But nothing will get my creative juices flowing like a trip to the farm.
A few weeks ago, our chive fields were in full bloom. There was a seemingly endless sea of purple and green that stretched out from my feet for as far as the eye could see. And I was there for the taking (literally). Armed with my camera, a pair of scissors, a handful of small rubber bands and an empty shopping bag, this bumper crop was coming home with me. Well, at least a tiny portion of it was.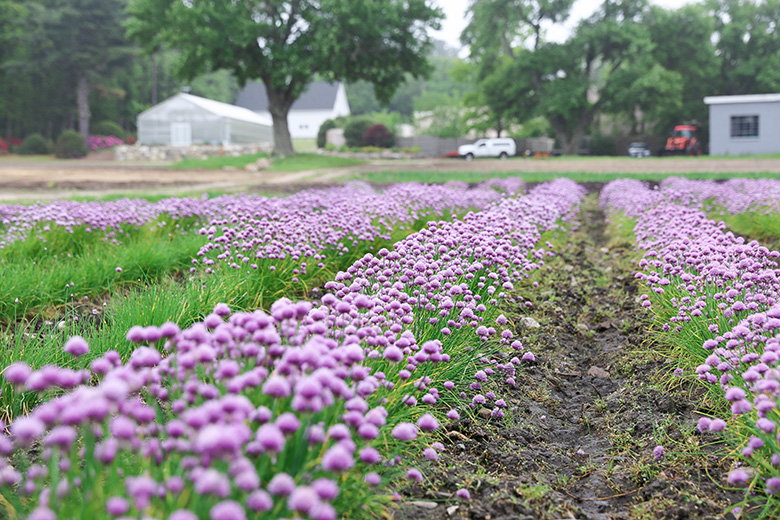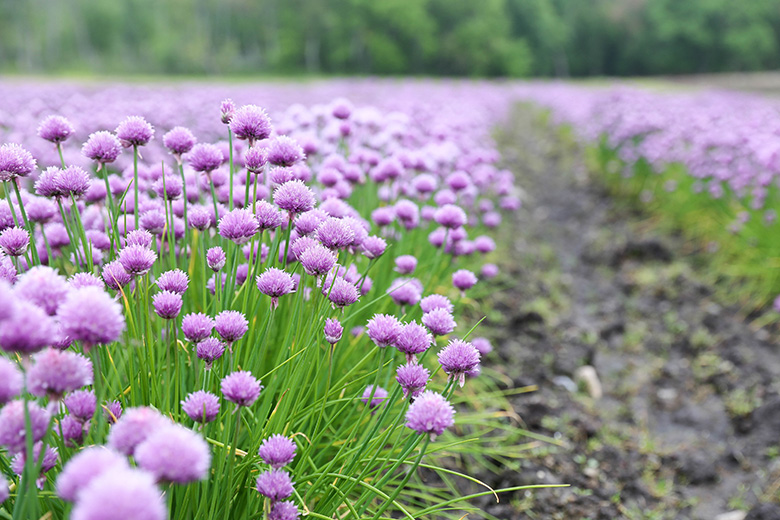 I snatched up several bunches of chives and once I found myself back in my own kitchen, I got to work experimenting with their blossoms. I made a chive blossom vinegar. I whipped some of the purple buds into a honey-sweetened goat cheese, which I then proceeded to slather on everything. And I started tossing them into salads, soups and side dishes. Chive blossoms have a delicate onion flavor and so far, I haven't found a single savory dish that they don't work well in. The possibilities appear limitless. Also, their cuteness factor is on point.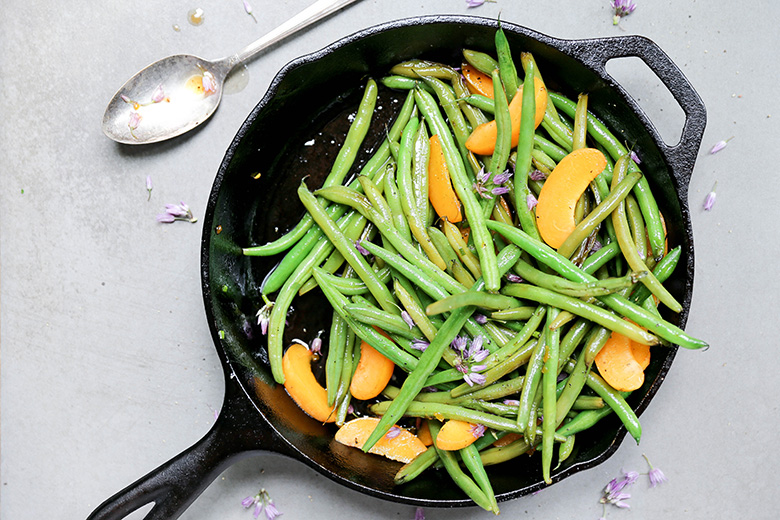 Today's recipe for Blistered Green Beans with Apricots and Chive Blossoms is a variation of this green bean and apple salad that I created last September. I also took some cues from Brooke's brilliant green bean and nectarine pairing, which you can find beautifully photographed and written up here. Her recipe is what really inspired me to give my previous version a facelift for Summer.
This is a dish that only takes a few minutes to prepare and uses a minimal number of ingredients. But it's anything but boring. There are several layers of flavors and textures, which makes eat bite something to write home about. From the slight char on the still crisp green beans (a cast iron skillet is your best option here for cooking the green beans), to the jam-sweetened dressing, to the fresh pops of purple and orange from the chive blossoms and apricots, respectively. It all just works in an effortless kind of way. Exactly how a Summer side dish should be.
This dish is great served either warm or chilled. And it's completely dairy free (= no immediately spoilage concerns). Which, in my humble opinion, makes it the perfect dish to serve at an outdoor gathering. Those 4th of July parties will be here before you know it. Time to start planning.
And playing. I encourage you to try swapping out the apricots for peaches, plums or even cherries. And try adding in a handful of toasted almonds or walnuts, if you want more crunch.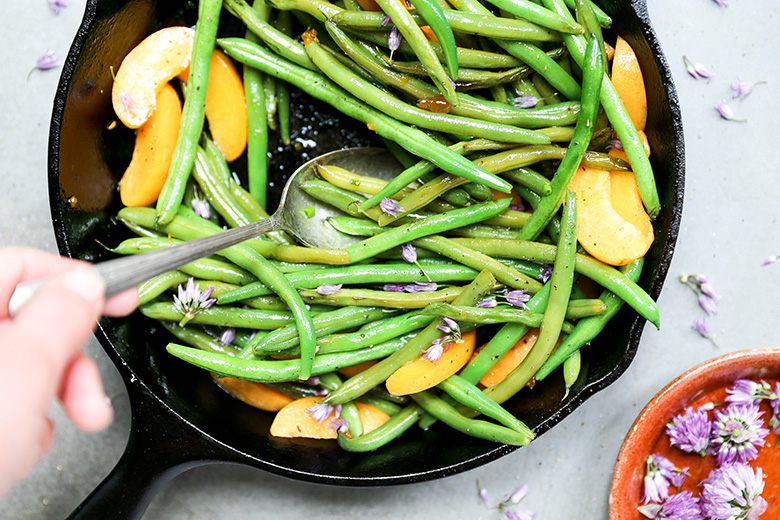 I'm sharing this recipe for Blistered Green Beans with Apricots and Chive Blossoms as part of a very special event that's taking place today on the internet today: the Virtual Midsummer Potluck for Peace organized by Saghar from Lab Noon.
This virtual event is a chance for myself and other like-minded bloggers to stand together and make our voices and opinions known. To deliver a positive message. To say "hey, I'd rather share a dish and a conversation with you, instead of fighting with you". Or "let's celebrate all the things we have in common, instead of battling over the things that make us different".
My voice may be small. But it's what I have. And I'm not afraid to use it. To say "NO" to terror, oppression and hate. And to say "YES" to peace, love and respect.
I hope you'll be inspired to make your voice heard as well.
You can find out who all the other bloggers are who are participating in our Virtual Midsummer Potluck for Peace by clicking on this link. Or check out the hashtag #VirtualMidsummerPotluck4Peace on social media. You'll discover a lot of uplifting messages and stories. As well as some wonderful Summer food and drink recipes that are perfect for sharing.
Cheers,
Liz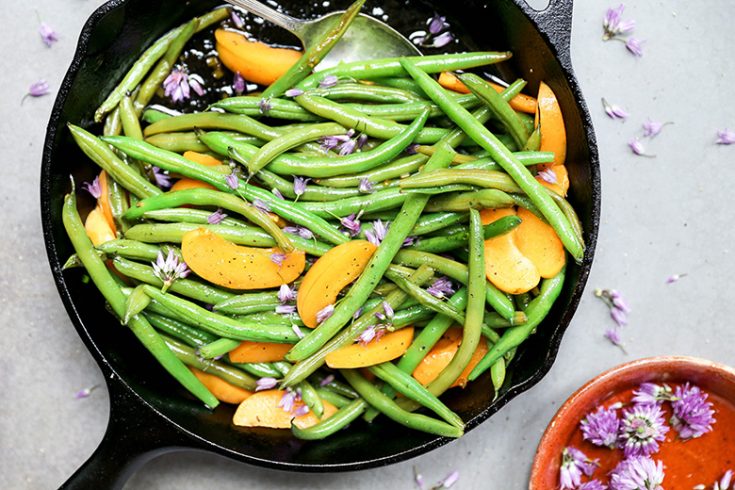 Blistered Green Beans with Apricots and Chive Blossoms
Yield: 6 servings

Prep Time: 10 minutes

Cook Time: 5 minutes

Total Time: 15 minutes
Ingredients
For the Dressing:
2 tablespoons extra-virgin olive oil
1 tablespoon red wine vinegar
1 tablespoon apricot preserves
1 tablespoon minced chives
1/4 tsp. salt
1/4 tsp. black pepper
For the Green Beans:
1-2 tablespoons extra-virgin olive oil
1 lb green beans, trimmed
2 apricots, pitted and sliced
3-5 chives blossoms, washed and separated
Instructions
In a small bowl, whisk together all the ingredients for the dressing until well combined. Set aside.
Heat a large skillet over medium-high heat. Add the olive oil and let it get hot. Then add the green beans and let them cook until crisp-tender, about 4-5 minutes, stirring occasionally. Some of the green beans should be blistered and charred in a few places. Stir in the dressing and cook for 1 minute more. Remove the skillet from the heat. Add the sliced apricots and toss gently.
Transfer the green beans and apricots to a serving dish. Top with chive blossoms. Season with additional salt and pepper, if desired.
This dish can be served immediately while still warm, enjoyed at room temperature or chilled before serving. Leftovers can be stored in an airtight container in your refrigerator for 1-2 days.
SaveSave