Disclosure: I visited Ayers Brook Goat Dairy and received samples from Vermont Creamery as part of my attendance at Camp Gathering Vermont 2015. All opinions expressed are entirely my own. Thank you for supporting businesses and brands that I love and trust.
Are you ready for some cuteness all up in your computer screen?
I hope so. Because I've got pictures of goats! Including the cutest baby goat you ever laid eyes on. I mean, just look at the sweet face on baby F113. I can't even deal.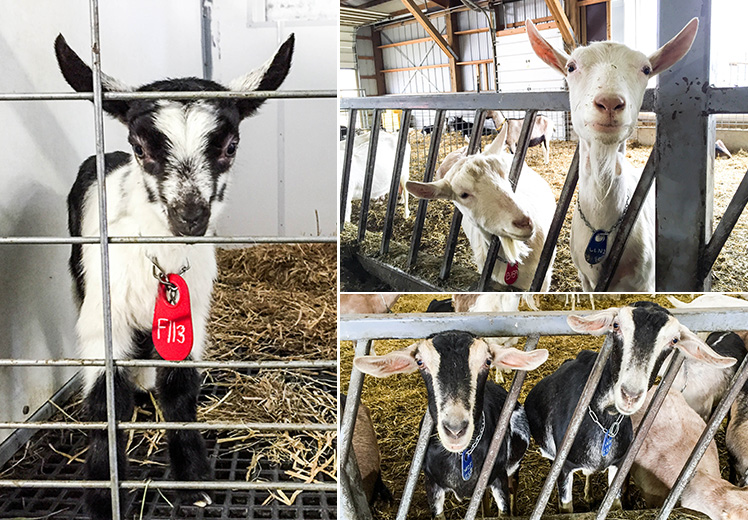 So if you're wondering why I'm gushing about goats, it's because I had the pleasure of visiting Ayers Brook Goat Dairy as part of my attendance at Camp Gathering Vermont 2015. For me, this particular outing was one of the highlights of the trip, so I wanted to share a little bit about it with you today.
Also, I want us to stuff our faces with goat cheese all day, every day. That's just some real talk for your Monday morning.
Ayers Brook Goat Dairy is a sustainable goat dairy farm located in Randolph, Vermont. Established by Vermont Creamery, Ayers Brook Goat Diary, along with many other local farms, supplies milk to Vermont Creamery, who then turn that milk into award winning, artisanal hand crafted cheeses and butters. Holy yum.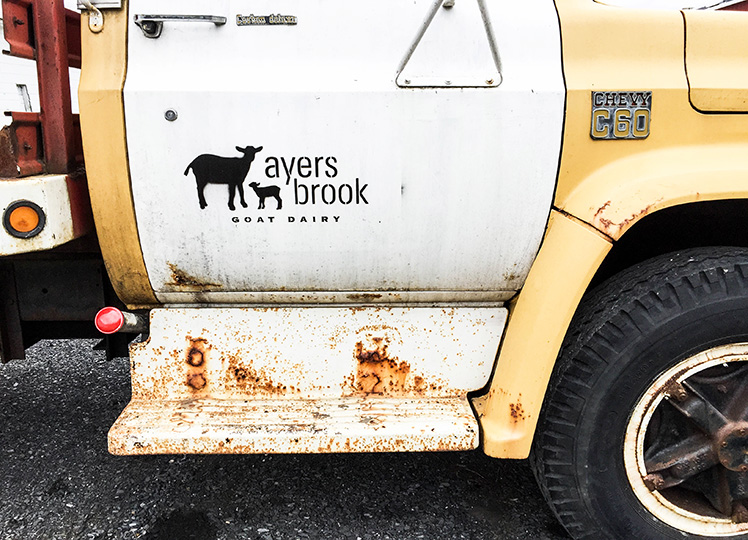 But there is something extra special about Ayers Brook Goat Dairy. Because not only do they supply Vermont Creamery with goat milk, but they also serve as a working model for commercial goat dairy farms. Ayers Brook Goat Dairy is establishing itself as a place where students and other farmers can train, learn best practices and acquire genetically high quality dairy goats for their own herds.
Their commitment to education was made very clear during our tour of the farm. Miles Hooper, the Crop and Equipment Manager, eagerly greeted us at the barn and was happy to share his knowledge and answer all the questions we had about the farm and the goats. We learned about the different breeds (you can tell the breeds apart by their ears), the feed and how it changes over the course of their milking and breeding cycle. And how the farm manages and monitors the well-being and genetics of the herd.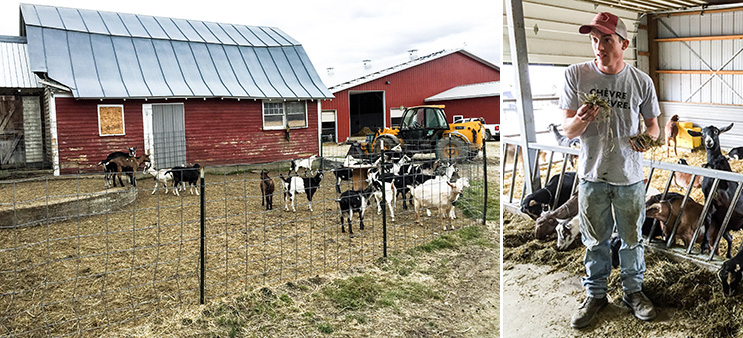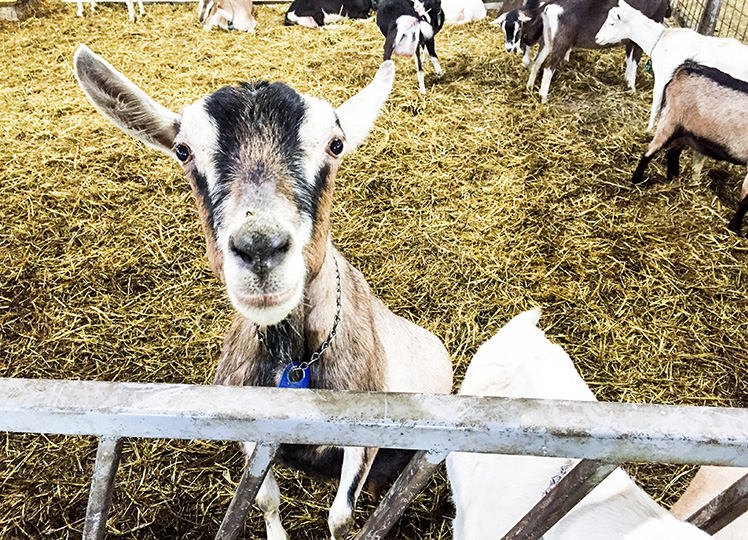 To celebrate such a wonderful visit with Ayers Brook Goat Dairy and Vermont Creamery, I just had to make something with one of my favorite Vermont Creamery products: their classic chèvre. Because you can never go wrong with a classic.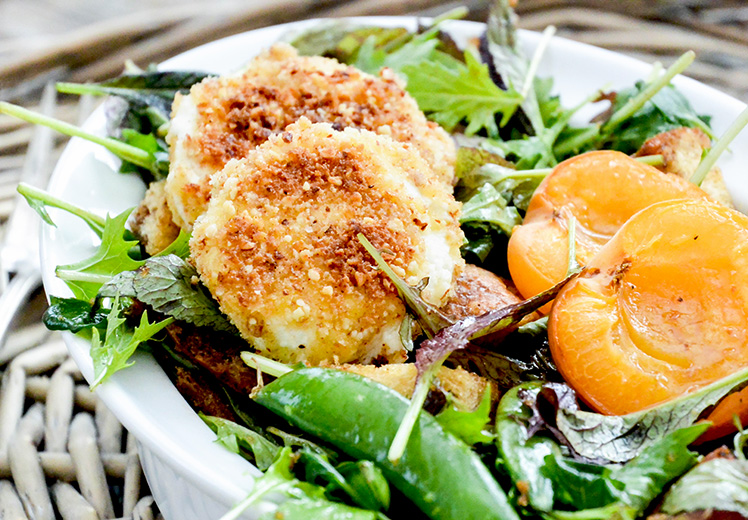 I'm not going to lie. This Crusted Goat Cheese Spring Panzanella Salad is all about the cheese and the bread. And I'm totally OK with that. And I think you'll be too. Because warm, almond-crusted goat cheese and balsamic-soaked bread is certainly enough to win anyone over. But for good measure, I did throw in some mixed greens and snap peas. You know, so we can safely call it a salad. And I added a few honey-roasted apricots to sweetened the deal. Let's just say it's my new obsession and I'll be chowing down on this salad all summer long.
Cheers,
Liz
Ingredients
For the Salad
4 cups rustic Italian and French bread, cut into cubes
2 tablespoons extra-virgin olive oil
¼ tsp. salt
¼ tsp. black pepper
4 apricots, pitted and cut in half
About 2 tsp. honey
3 cups mixed green
1 cup snap peas

For the Dressing
2 tablespoons extra-virgin olive oil
2 tablespoons balsamic vinegar
2 tablespoons lemon juice
1 tsp. honey
1/8 tsp. salt
1/8 tsp. black pepper

For the Crusted Goat Cheese
1/3 cup almonds
1/3 cup panko bread crumbs
¼ tsp. salt
¼ tsp. black pepper
8 ounces Vermont Creamery Chèvre (log style, not crumbles)
1 egg, beaten
About 1 tablespoon extra-virgin olive oil
Instructions
Pre-heat your oven to 400 degrees. In a large bowl, toss the bread with the extra-virgin olive oil, salt and pepper. Spread it out onto one half of a large rimmed baking sheet. Add the halved apricots, cut side up, to the other half of the baking sheet and drizzle with the honey. Transfer the baking sheet to your pre-heat oven and cook for 15 minutes, stirring the bread halfway through. Remove and set aside.
Meanwhile, make the dressing. In a small bowl, whisk together all of the ingredients. Set aside.
Make the crusted goat cheese. In the bowl of your food processor with the blade attachment, process the almonds until they are finely chopped. Add the panko bread crumbs, salt and pepper and pulse to combine. Transfer the mixture to a shallow bowl or plate. Slice the goat cheese into eight equal sized pieces. Then using your hands, form the goat cheese pieces into disks. Don't worry if it's a little crumbly. As the goat cheese warms slightly in your hands, it will become easier to mold. Dip each goat cheese round into the beaten egg and then into the almond/panko mixture, being sure to coat all sides.
Heat a non-stick skillet over medium-high heat and warm the olive oil. Add the coated goat cheese rounds and cook for about 1-2 minutes. Then gently flip them using a spatula and cook for an additional 1-2 minutes. The coating should be golden brown and the goat cheese should be warm and starting to soften, but still hold it's shape. Carefully remove and transfer the crusted goat cheese to a paper towel-lined plate.
Finish the salads. Place the roasted bread cubes, mixed greens and snap peas in a large bowl. Add the dressing and toss to combine. Divide the salad between four plates. Top each plate with two of the crusted goat cheese rounds and two of the roasted apricots halves. Serve immediately.
Notes
1. I like my panzanella salad lightly dressed. Feel free to mix up and add more dressing, if desired.
https://www.floatingkitchen.net/crusted-goat-cheese-spring-panzanella-salad/