This post was originally published here October 8, 2015. I've since updated the text and photographs. This maple syrup-sweetened chili is a favorite recipe of mine from Katie Webster's cookbook, Maple: 100 Sweet and Savory Recipes Featuring Pure Maple Syrup. If you love maple syrup, you should go check it out!
I'm steadily working on my Fall to-do list. Apple picking, foliage peeping, leaf raking (the to-do list isn't all fun and games) and of course, soup making.
While I was initially treading lightly on the cold-weather recipes, I've since turned a corner. We had a couple of chilly mornings this past week, and that was all I needed to help put me in the mood for more hearty, comforting dishes.
I was a VERY picky eater as a child. And chili was definitely NOT on the list of approved items. So I spent most of my adulthood thinking that I didn't really like chili. That is until this Smoky and Sweet Chili from Katie Webster's cookbook, Maple: 100 Sweet and Savory Recipes Featuring Pure Maple Syrup, entered my life. The generous addition of maple syrup is what first drew me in (like the true New Englander that I am!). And the warm and smoky spices are what made me stay. I've been making it religiously ever since.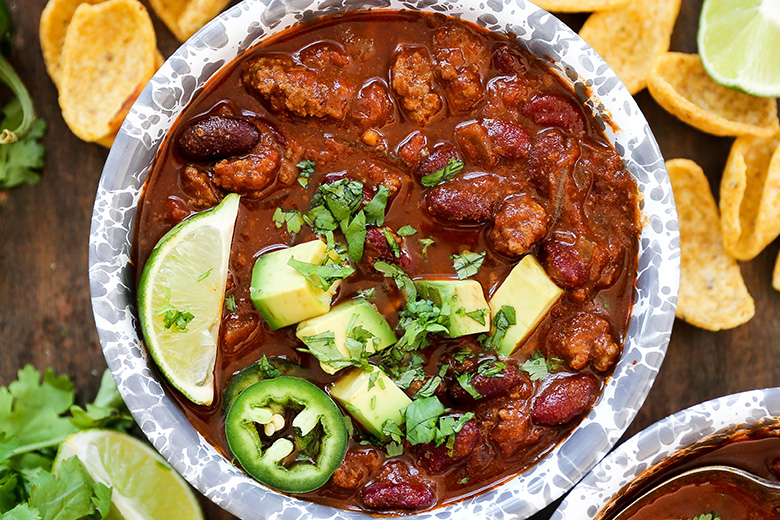 There are plenty of chili recipes out there that take hours to prepare. But thankfully, this Smoky and Sweet Chili isn't one of them. This recipe can be made in about 35 minutes. And all you need is one big pot. It's very streamlined and straightforward. Which I really appreciate. Especially when it comes to a weeknight dinner option.
I'm guessing I don't need to say this next part, but a gentle reminder wouldn't hurt. Please use 100% pure maple syrup for this recipe (and that's true for all the recipes here). You'll know if the maple syrup you're buying is 100% pure if that's the only ingredient listed on the bottle. Simple as that.
I've made this chili with both ground beef and ground turkey. And I like both versions equally. If you use ground turkey, I suggest adding a tablespoon of vegetable oil for the browning, since it's typically leaner than ground beef.
This Smoky and Sweet Chili would be great for a pre-trick-or-treating meal. It's got good staying power! If you try it, please let me know!
Cheers,
Liz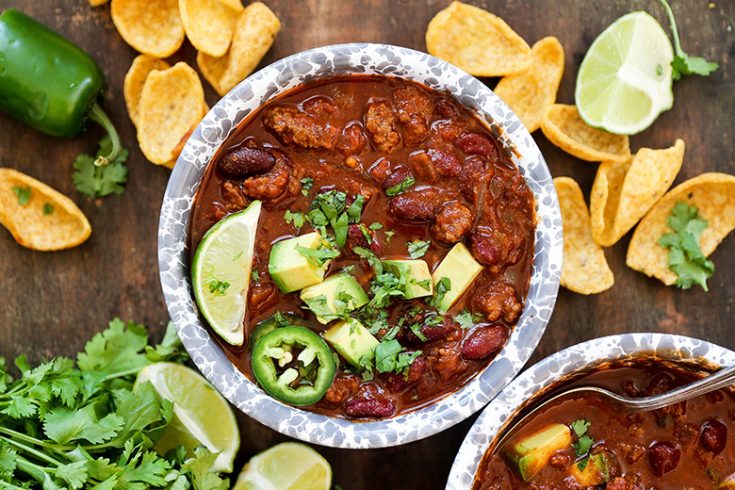 Smoky and Sweet Chili
Yield: Serves about 4
Prep Time: 5 minutes
Cook Time: 30 minutes
Total Time: 35 minutes
Ingredients
For the Chili:
1 lb ground beef (can substitute ground turkey or chicken)
1 large onion, peeled and diced
1 tablespoon minced garlic
1/2 tsp. salt
3 tablespoons chili powder
2 tablespoons ground cumin
1 tablespoon smoked paprika
1 tsp. ground chipotle powder
1 1/2 tablespoons red wine vinegar
1 cup water
1 (28-ounce) can crushed tomatoes
1 (15-ounce) can red kidney beans, rinsed and drained
1/3 cup maple syrup
1/4 cup fresh cilantro, minced
For Topping:
Diced avocado
Fresh cilantro, minced
Thinly sliced jalapeño pepper
Fresh squeezed lime juice
Corn chips
Instructions
In a large heavy-bottom pot over medium-high heat, cook the beef, breaking it up with a wooden spoon as it cooks, until it's completely browned. Use a slotted spoon to transfer the cooked beef to a clean bowl and set it aside.
Return the pot to the heat and add the onion, garlic and salt. Cook, stirring occasionally, until the onion is softened and starting to brown, about 7-10 minutes. If the pot is getting too dry, you can add a tablespoon of vegetable oil.
Add the chili powder, cumin, paprika and chipotle powder and stir to coat everything in the spices. Cook, stirringly frequently, for 1 minute. Add the vinegar and cook until the liquid is evaporated, about 1-2 minutes. Add the water and bring to a simmer, scraping up any browned bits from the bottom of the pot.
Stir in the crushed tomatoes, kidney beans, maple syrup and the reserved cooked beef. Bring the chili to a simmer and cook, uncovered for 12-15 minutes, stirring occasionally. Stir in the cilantro.
To serve, ladle the warm chili into bowls and top as desired.
Leftovers can be stored in an airtight container in your refrigerator for 3-4 days.