This post was originally published here September 26, 2016. I've since updated the text and photographs. This silky vegan, gluten-free soup is a favorite recipe of mine from Angela Liddon's cookbook, Oh She Glows Every Day. Everyone should go check it out!
It's officially Fall. Which means it's time for all the orange foods! Bring on the butternut squash, sweet potatoes, carrots and pumpkin. But more specifically, bring them to me in the form of puréed soups!
I almost always gravitate towards silky, puréed soups at the start of soup season. I guess it's because I'm not fully ready to dive straight into all the hearty chilies and stews just yet. I'm the type of person who needs to go gently from Summer to Fall. I need baby steps. And puréed soups are my baby steps.
Also, there is nothing like a puréed soup when it comes to a blank canvas for toppings!
Did you know I have a rule about no naked soups?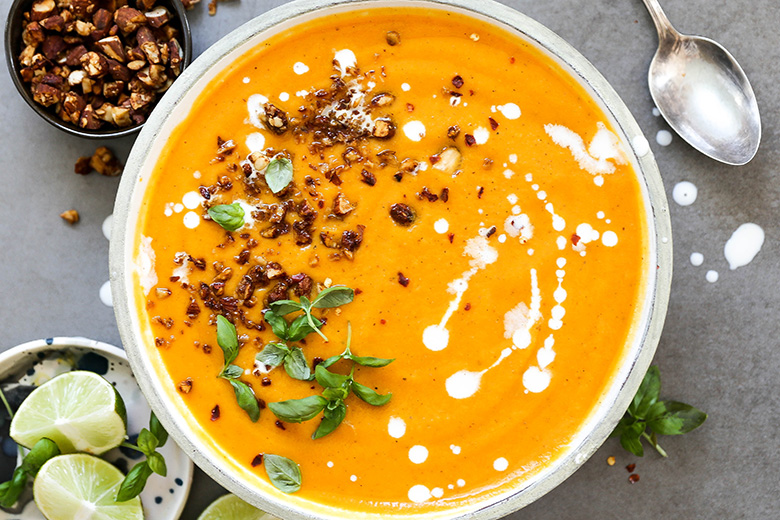 This bright, flavorful Creamy Thai Carrot and Sweet Potato Soup with Roasted Tamari Almonds is one of my favorite recipes from Angela Liddon's cookbook, Oh She Glows Every Day. I come back to this recipe time and time again because it's so straight-forward and comforting. But it's far from boring. The cheeriness of the carrots and fresh ginger really shines in this recipe. While the sweet potatoes make this soup extra smooth and thick. I sometimes find carrot-only puréed soups have an underlying graininess that isn't very appealing. This soup does not suffer from that problem.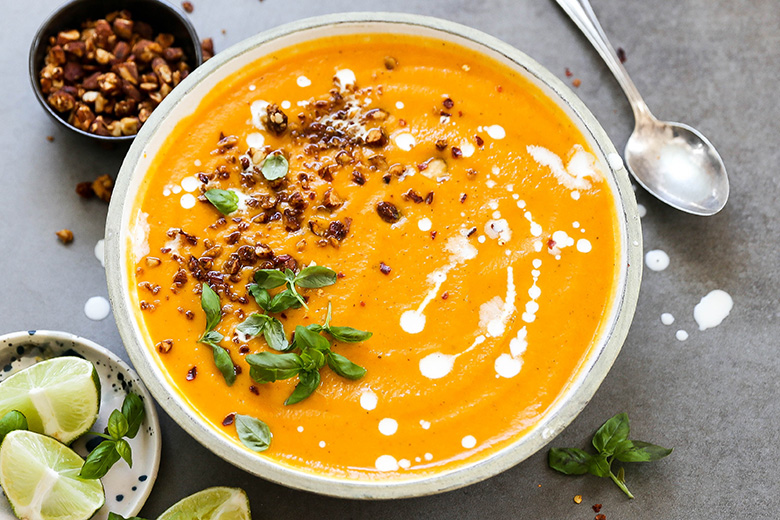 And the toppings! The crunchy roasted tamari almonds are like little bits and bobs of umami-goodness! So don't skip out on making them. If gluten isn't an issue, you can substitute soy sauce for the tamari here. And for the rest of the toppings, it's all up to your discretion. I like a few microgreens and/or fresh herbs (I highly recommend Thai basil or cilantro) for a pop of color. And you can never go wrong with a drizzle of coconut milk!
I love that this Creamy Thai Carrot and Sweet Potato Soup with Roasted Tamari Almonds tastes as fresh and vibrant on day 1 as it does on day 4. It's the perfect make-ahead recipe to keep in your refrigerator for a quick lunch or dinner throughout the week. I hope you add it to your repertoire of orange foods this season!
Cheers,
Liz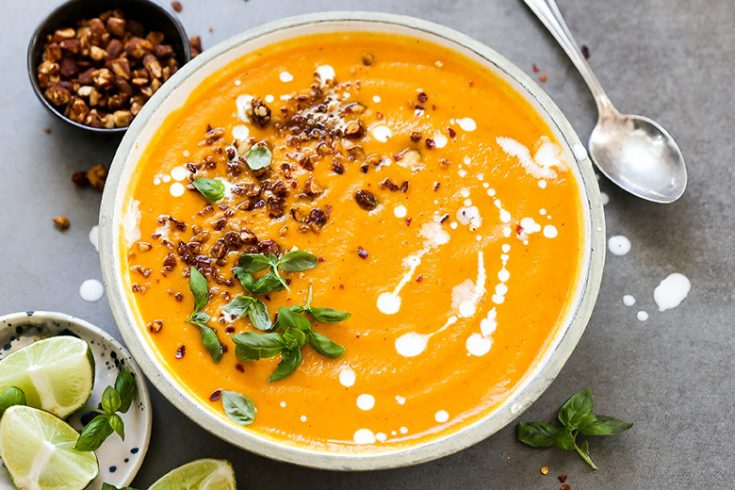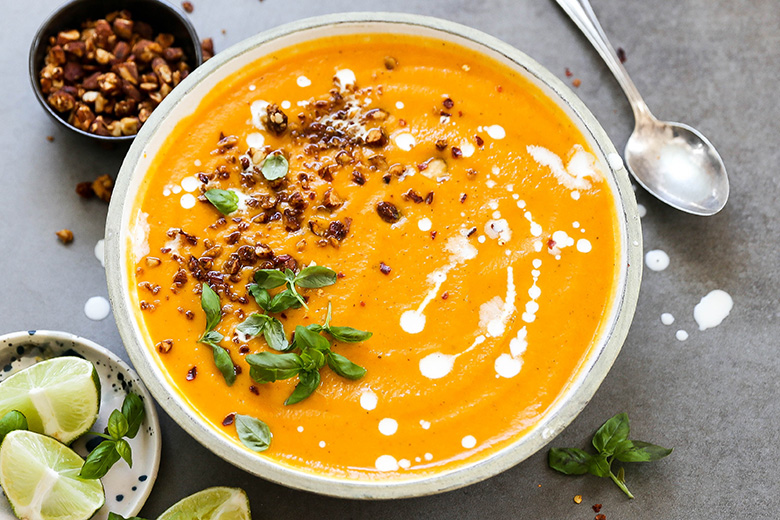 Creamy Thai Carrot and Sweet Potato Soup with Roasted Tamari Almonds
Yield: Serves about 4
Prep Time: 15 minutes
Cook Time: 35 minutes
Additional Time: 20 minutes
Total Time: 1 hour 10 minutes
Ingredients
For the Soup:
1 tablespoon coconut oil
2 cups diced onion
2 cloves garlic, peeled and minced
1 tablespoon peeled and minced fresh ginger
2 tablespoons red curry paste
4 cups low-sodium vegetable broth
1/4 cup almond butter
3 cups peeled and diced carrots
3 cups peeled and diced sweet potatoes
1/2 tsp. salt
1/4 tsp. black pepper
1/4 tsp. cayenne pepper
For the Almonds:
1/2 cup raw almonds, finely chopped
1 tablespoon tamari (can use soy sauce if you're not gluten-free)
For Topping:
Microgreens or fresh herbs
Fresh squeezed lime juice
Coconut milk
Red pepper flakes
Instructions
In a large heavy-bottom pot, melt the coconut oil over medium-high heat. Add the onions, garlic and ginger and cook, stirring frequently, for 6-7 minutes or until the onion is softened and translucent. Add the curry paste and stir to coat the onions.
In a small bowl, whisk together about 1/4 cup of the vegetable broth with the almond butter to help smooth it out. Then add this, plus the remaining vegetable broth to the pot. Stir in the carrots, sweet potatoes, salt, black pepper and cayenne pepper. Bring the soup to a simmer and cook, covered, for 20-25 minutes, or until the carrots and potatoes are fork tender. Then turn off the heat and allow the soup to cool slightly.
Once the soup is cool enough to handle, purée the soup using an immersion blender, blender or food processor with the blade attachment. Work in batches as necessary and be careful when transferring warm liquids.
Return the puréed soup to your pot and re-warm it over low-medium heat. Taste and adjust for salt and pepper, if necessary. You can also thin out the soup to your desired consistency with a little more vegetable broth. Cover to keep warm.
Meanwhile, pre-heat your oven to 325 degrees. Line a baking sheet with parchment paper. In a small bowl, toss the chopped almonds with the tamari until well coated. Then spread the almonds out onto your prepared baking sheet. Roast the almonds in your pre-heated oven for 9-11 minutes, or until they are lightly golden and the liquid has dried up. Remove from the oven and set aside to cool.
To serve, ladle the warm soup into bowl. Top with the tamari almonds and any other toppings of your choice.
Leftovers can be stored in an airtight container in your refrigerator for 4-5 days.
Notes
Recipe reprinted with minor adaptations from Oh She Glows Every Day by arrangement with Avery Books, a member of Penguin Group (USA) LLC, A Penguin Random House Company. Copyright © 2016, Glo Bakery Corporation.