This post was originally published here October 3, 2016. I've since updated the text and photographs. I hope you try out this Fall-themed smoothie bowl this season!
One of the reasons I'm always trying to pump the breaks on pumpkin-mania is because of apples.
Yes! Apples! They are in season RIGHT NOW. And they are, for me, one of the quintessential elements of Fall in New England. And I hate that we tend to skip right over them and go straight to pumpkin.
Also, what can't apples do? I love them in baked goods, salads, cocktails and more. You name it. Apples can go there.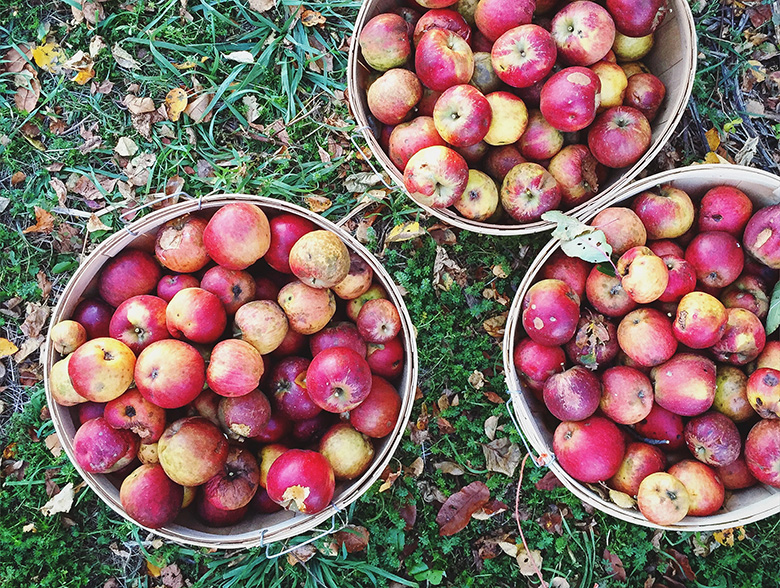 But one of my favorite apple applications (say that five times fast!) is apple crisp. Which now I can even enjoy at breakfast time in the form of one of these Apple Crisp Smoothie Bowls!
These Apple Crisp Smoothie Bowls are a great way to get your fix of Fall flavors while you're still rocking out in your pajamas. They have all the aromatic spices I like to use in traditional apple crisp (i.e. cinnamon, nutmeg and ginger). And of course, they have plenty of apple flavor, too. Which comes from a combination of fresh apples and fresh apple cider.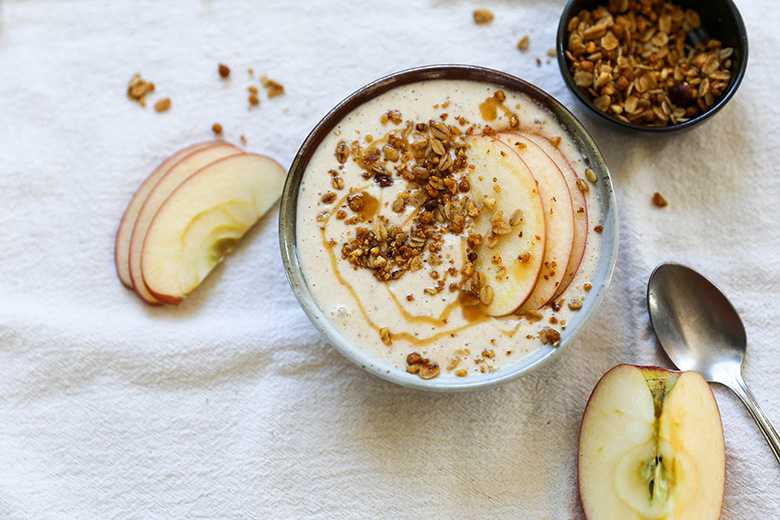 I almost always use a frozen banana to help thicken my smoothies. But for these Apple Crisp Smoothie Bowls, I didn't want the banana flavor to overpower the apple flavor. So instead, I opted for Greek yogurt and some soaked raw cashews to provide substance. Just a quick heads up, you'll want to soak the cashews for about an hour to help soften them before tossing them in your blender.
And because it wouldn't be an apple crisp spin-off without the toasty oat topping, I use my favorite granola to top these smoothie bowls. Seriously, don't skip this part. The added crunch makes these smoothie bowls extra delicious and satisfying!
Cheers,
Liz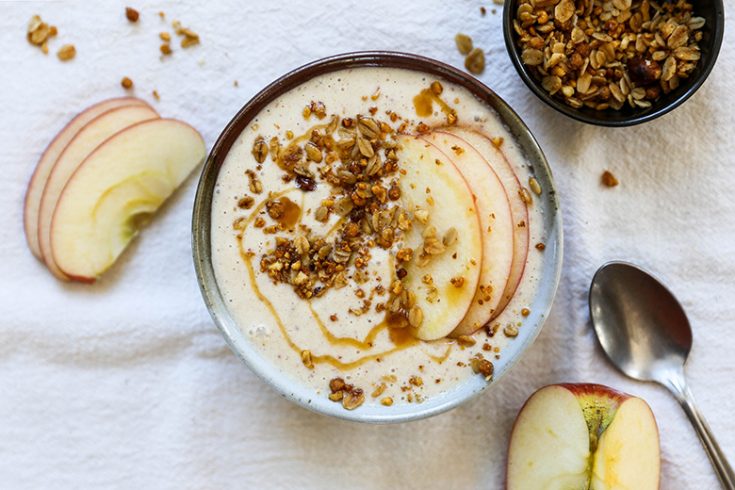 Apple Crisp Smoothie Bowls
Yield: Serves 1
Prep Time: 5 minutes
Additional Time: 1 hour
Total Time: 1 hour 5 minutes
Ingredients
For the Smoothie Bowl:
1/4 cup raw cashews
3/4 cups low-fat Greek yogurt
1 large red apple, cored and chopped
1/4 cup fresh apple cider
2 dates, pitted and chopped
1/4 tsp. ground cinnamon
1/8 tsp. ground nutmeg
1/8 tsp. ground ginger
For Topping:
Sliced apple
Granola
Maple syrup
Instructions
Place the cashews in a small bowl and cover them with water. Let them soak at room temperature for about 1 hour. Drain.
Add the soaked cashews to your blender along with all the other smoothie bowl ingredients. Blend on high until smooth. Pour into a bowl and add the toppings of your choice. Enjoy immediately.