This post was originally published here on January 23, 2015. I've updated the photographs and text to better showcase just how awesome this recipe really is! I hope you try it out!
I only have a handful of recipes that I consider my "go-to" recipes. You know what I mean, right? Those recipes that you always have all the ingredients for. And that you can make from memory.
For me in the Winter months, it's either this baked gnocchi, this warm spinach salad or this butternut squash soup. That's about it. Oh and of course, Dutch babies.
Dutch babies are one of my ALL TIME favorite things to make. They can be savory or sweet (the flavor combinations are endless!). They can easily be breakfast, brunch, lunch or dinner. They only take about 30 minutes from start to finish. AND I bet you already have all the ingredients in your kitchen.
Seriously. Go look in your refrigerator and pantry. Then come back and tell me if I'm wrong.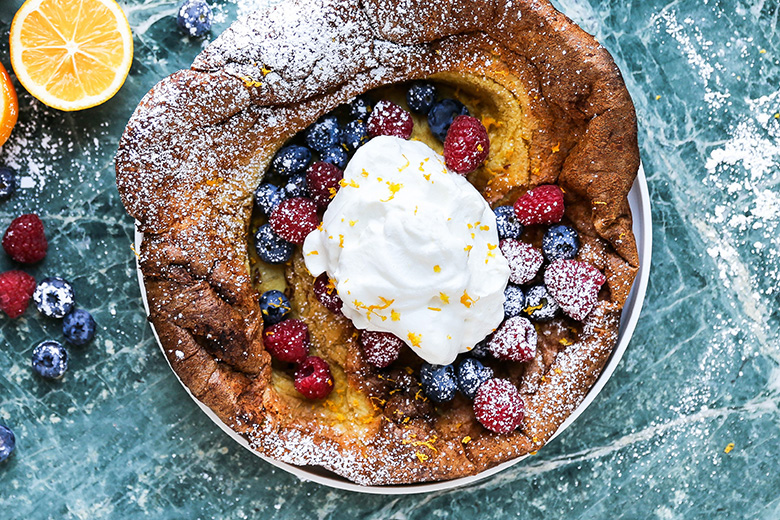 Also, they perfectly feed two people. Which is why I'm updating this Meyer Lemon Dutch Baby Pancake post today. Because Valentine's Day is approaching. And you might need an easy (but impressive!), sexy breakfast for you and your partner.
This Meyer Lemon Dutch Baby Pancake is flavored with, well, as the title might suggest: Meyer lemons. I patiently wait for Meyer lemons to arrive each year (their season is short!). And then I hoard them and put them in everything I possibly can. Here, I've infused the whipped cream topping with Meyer lemons (this takes a little advanced planning, so make sure you do this step several hours in advance) and I've added the zest to the batter as well.
While the Dutch baby bakes, it will puff up considerably (kind of like a popover or a soufflé). Then it will deflate as it cools. This makes the perfect little "nest" to hold ALL of your toppings. I love a mix of fresh berries and a sprinkle of powdered sugar to go along with the Meyer lemon whipped cream. But maple syrup, lemon curd, jam, peanut butter or chocolate hazelnut spread would all be welcome. You do you, honey.
Need more inspiration for your February cooking endeavors? I'm totally crushing on this Asian Quinoa Salad with Peanut Dressing from Laura at JoyFoodSunshine. And also this Broccoli Slaw with Creamy No Mayo Dressing (you guys know how I hate mayo!) from Marcie at Flavor the Moments. Both are going on my dinner menu this week!
Cheers,
Liz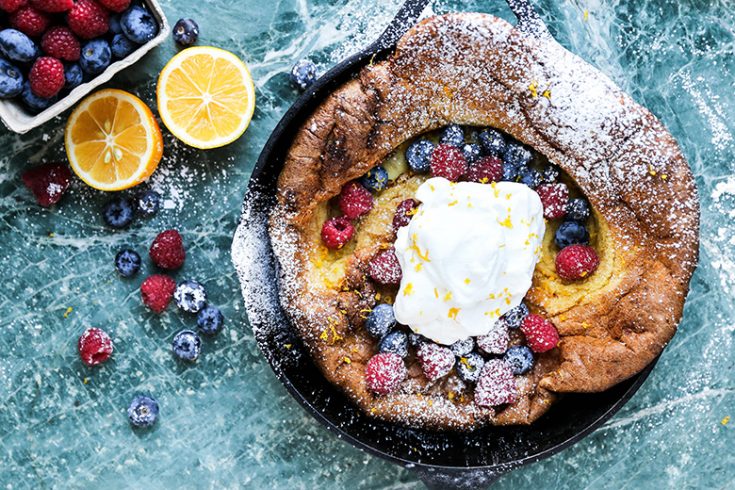 Meyer Lemon Dutch Baby Pancake
Yield: 2 servings

Prep Time: 1 days

Cook Time: 30 minutes

Total Time: 1 days 30 minutes
Ingredients
For the Whipped Cream:
1 cup heavy whipping cream
Peel from 1 Meyer lemon
1 tablespoon powdered sugar
For the Pancake:
4 eggs
1/2 cup whole milk
1/2 cup all-purpose flour
2 tsp. Meyer lemon zest
1 tablespoon granulated sugar
1 tsp. vanilla extract
1/8 tsp. salt
3 tablespoons unsalted butter, cubed
For Topping:
Fresh berries
Meyer lemon zest
Powdered sugar
Instructions
To infuse the heavy cream, warm it in a small saucepan over medium heat until it starts to simmer. Remove the saucepan from the heat and add the Meyer lemon peel to the warmed cream. Let this steep for 45-60 minutes. Then remove and discard the peel. Cover and transfer the infused cream to your refrigerator to chill completely, at least 4 hours or up to overnight. Once the cream has completely chilled, whisk it on medium speed in the bowl of your stand mixer with the whisk attachment. As it starts to thicken, add the powdered sugar and increase the speed to high. Continue whisking until soft peaks form. Cover and refrigerate the whipped cream until you're ready to use it. Ideally, whipped cream should be used within 1-2 hours of making it.
To make the Dutch baby, pre-heat your oven to 425 degrees. Add all of the ingredients, except for the butter, to your blender and blend on high until smooth. Set aside.
Meanwhile, melt the butter in a 10-inch cast iron skillet over medium heat. Once the butter is melted and the skillet is hot, pour in the batter. Carefully transfer the skillet to your pre-heated oven and bake for 25 minutes.
Remove the skillet from your oven. The Dutch baby will have puffed up significantly during baking, but it will deflate as it cools. Top with fresh berries, Meyer lemon zest and a dusting of powdered sugar. Slice and serve immediately.
Notes
The recipe works well with non-dairy milks, such as soy or almond milk.

Recipe adapted from The Corner Kitchen.

SaveSaveSaveSave
SaveSave
SaveSave
SaveSave
SaveSave