Confession: this is only the second time I've ever made a smoothie bowl.
Shocking, right? It's kind of like I've been stuck in the year 2011, absentmindedly drinking my smoothies through a straw.
To be honest, I just didn't really get what the big deal was about smoothie bowls. Like, it's just a smoothie that you put in a bowl instead of in a glass? And then you eat it with a spoon? So what? It didn't really seem all that Earth shattering to me.
But…I was kind of wrong.
I've come to appreciate two defining features of a smoothie bowl. One, is the toppings. The combination of a slightly thicker base AND a wider surface area means that you can get down with ALL THE TOPPINGS. Like all of them. Any combination of fruits, nuts, seeds, chocolates, etc. that you have on hand are totally fair game here. The smoothie bowl is your canvas, and you are the artist. Have fun with it!
And two, smoothie bowls have an intention about them that "regular" smoothies often don't. I know for me, smoothies are typically the result of one of two scenarios: I either need to clean out my refrigerator OR I'm in a rush and I need something that I can consume while I'm running out the door. But a smoothie bowl requires you to sit, eat slowly and enjoy. It's a rather nice way to start your day.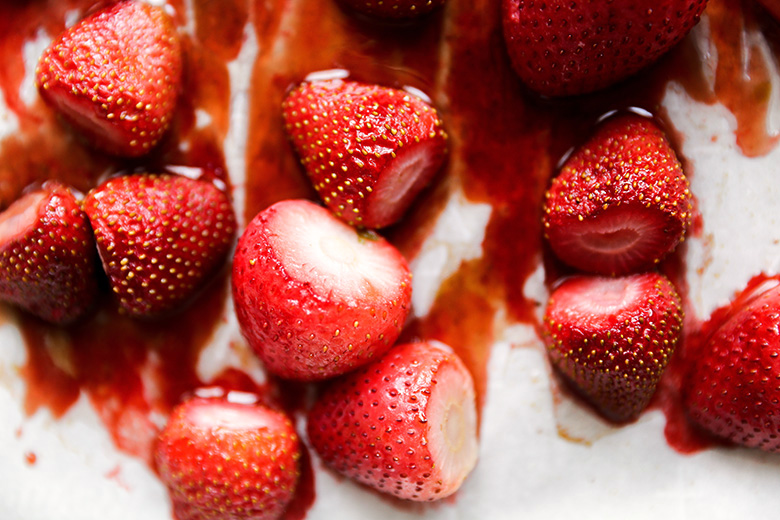 My Roasted Strawberry Smoothie Bowl is loaded with all kinds of superfoods: chia seeds, hemp seeds, coconut oil, maple syrup, cocoa nibs and fresh fruit. Oh and the color is rather charming too, don't you think? I've kept it vegan, using almond milk and coconut milk yogurt. But you can certainly substitute other non-dairy alternatives, or your favorite cow's milk yogurt instead.
Cheers,
Liz
Ingredients
For the Smoothie Bowl
2 cups strawberries, stems removed
2 tablespoons maple syrup
1 tablespoon melted coconut oil
1/3 cup almond milk (or other non-dairy milk)
1 frozen banana, peeled and cut into chunks
6 ounces coconut milk yogurt (or other non-dairy yogurt)
1 tablespoon chia seeds
1 tablespoon shelled hemp seeds

For Topping
Chia seeds
Shelled hemp seeds
Cocoa nibs
Sliced almonds
Frozen blueberries
Instructions
Roast the strawberries. Pre-heat your oven to 425 degrees. In a medium bowl, toss the strawberries with the maple syrup and coconut oil. Spread the coated strawberries out onto a parchment-paper lined rimmed baking sheet. Transfer to your pre-heated oven and roast for 15 minutes. Remove and set aside to cool.
Make the smoothie bowl. Add the milk, banana, yogurt, chia seeds, hemps seeds and roasted strawberries (plus any juices) to your blender. Blend on high until smooth. Pour into a bowl(s).
Top with a sprinkling of chia seeds, hemp seeds, cocoa nibs, almonds and blueberries. Enjoy immediately.
https://www.floatingkitchen.net/roasted-strawberry-smoothie-bowl/