This post was originally published here on September 18, 2013. I've since updated the text and photographs.
Welcome to 2019! Hooray!
I have always loved the month of January. Everything seems so fresh and full of possibilities. But this year, the change feels more symbolic than it has in the past.
2018 was a turbulent year for me. It was filled with more "lows" than "highs". And I often struggled to find peace within myself.
But as I transition into 2019, I'm reminding myself of this simple, undeniable truth: I'm driving the bus.
Yup. Their ain't nobody else behind the wheel. I'm in control.
I'm in control of keeping the "lows" not so low. And I'm in control of achieving those "highs". I'm owning it. And I'm writing it down here for everyone to see, including myself. Because there are going to be plenty of days when I need a reminder.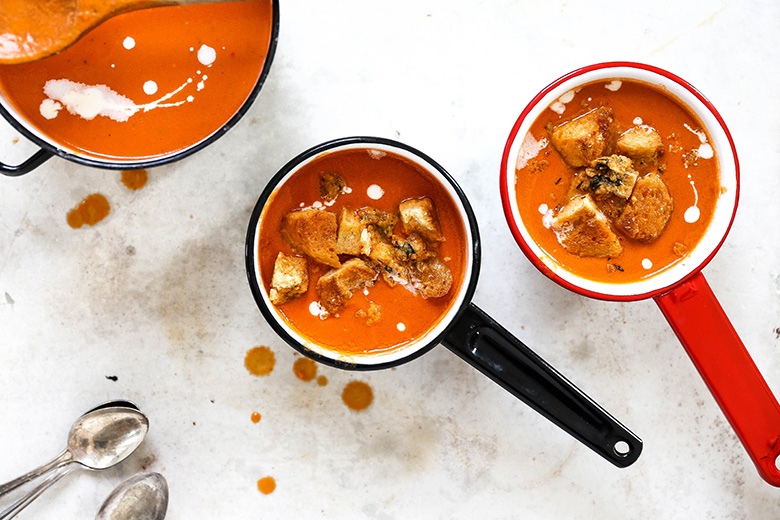 In addition to ushering in some new intentions for 2019, I'm also bringing this Easy Creamy Tomato Soup with Parmesan Croutons to the table. Because no matter how you're feeling about this year or last year, a big bowl of cozy soup is always a good idea.
Tomato soup is a staple in my kitchen. I make it all year long, but it can vary significantly depending on the season. My favorite Summer version is full of fresh tomatoes, red peppers and herbs. It's vibrant and bright and makes great use of Summer's bounty of produce. This Winter version, however, while equally delicious, couldn't be more different. It's made with canned tomatoes (not a crutch, but a tool!) and hearty root vegetables that are abundant and tasty no matter what the weather. The flavors are deep, rich and velvety.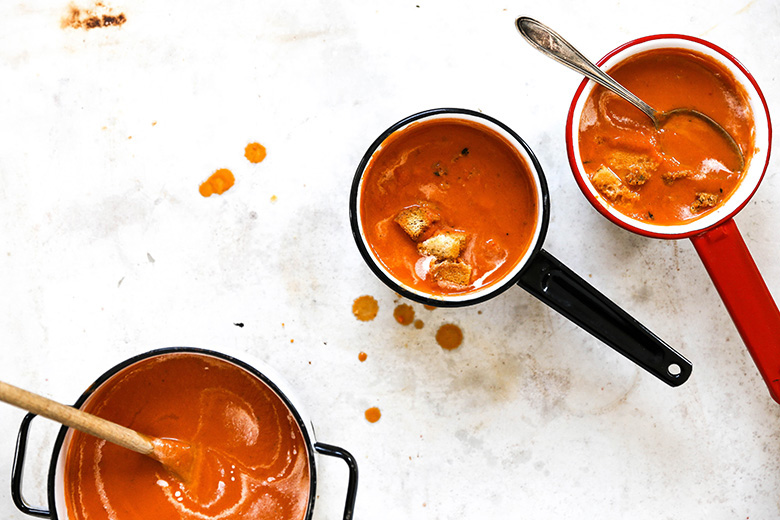 Because I have a rule about no naked soups, I made up some Parmesan croutons for garnish. These cheesy, crunchy cubes really make this soup feel more like a meal. I don't advise skipping them. I know you probably have some forgotten half loaf of bread sitting in the depths of your freezer. So why not turn it into a batch of delicious, homemade croutons!
Spoons up! Let's rock 2019 together!
Cheers,
Liz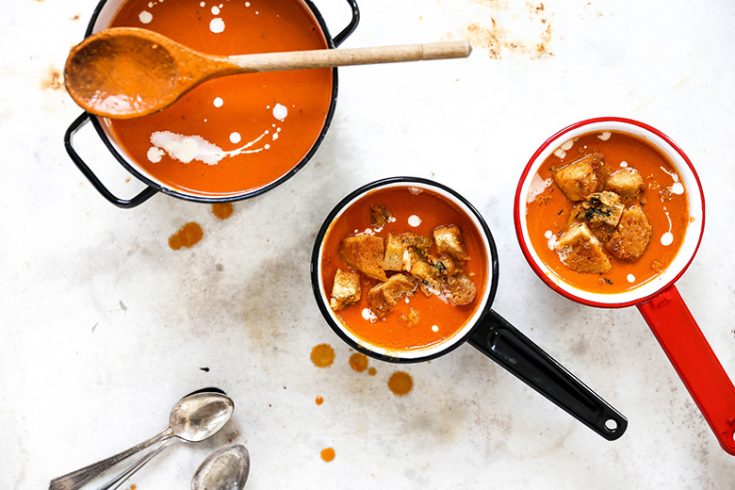 Easy Creamy Tomato Soup with Parmesan Croutons
Yield: About 6 servings
Prep Time: 10 minutes
Cook Time: 1 hour
Total Time: 1 hour 10 minutes
Ingredients
For the Tomato Soup:
2 tablespoons unsalted butter
1 tablespoon extra-virgin olive oil
2 cups peeled and chopped onions
1 cup peeled and chopped carrots
2 garlic cloves, peeled and minced
2 tablespoons tomato paste
1 tsp. dried oregano
1 tsp. salt
1 tsp. black pepper
2 (28-ounce) cans whole peeled tomatoes (I recommend San Marzano)
4 cups vegetable broth
2 tablespoons balsamic vinegar
1 cup heavy cream
For the Croutons:
4 cups cubed bread
1/4 cup grated Parmesan cheese
3 tablespoons extra-virgin olive oil
1 tsp. dried thyme
1/2 tsp. black pepper
Instructions
In a large heavy-bottom stockpot over medium heat, melt the butter with the olive oil. Add the chopped onions and carrots and cook, stirring occasional, for about 10 minutes. Add the garlic and cook for 2 minutes more. Then stir in the tomato paste, oregano, salt and black pepper and cook for 2 minutes more.
Add the canned tomatoes (plus all their juices), the vegetable broth and balsamic vinegar. Bring the soup to a simmer and cook, uncovered for 20-30 minutes, stirring occasionally during this time.
Remove the soup from the heat and allow it to cool slightly. Then carefully purée the soup using an immersion blender, blender or food processor with the blade attachment. Work in batches as necessary and be careful when transferring hot liquids.
Return the puréed soup to your stockpot and re-warm it over low-medium heat. Stir in the heavy cream. Taste and adjust for salt and black pepper, if necessary.
While the soup cooks, prepare the croutons. Pre-heat your oven to 350 degrees. In a large bowl, toss the bread cubes with the Parmesan cheese, olive oil, thyme and black pepper. Then spread the bread cubes out onto a large rimmed baking sheet and bake in your pre-heated oven for about 15 minutes, or until browned and crisp, stirring once halfway through the cooking time. Remove and set aside to cool.
To serve, ladle the warm soup into bowls. Top with the croutons and an additional drizzle of heavy cream, if desired.
Leftover soup can be stored in an airtight container in your refrigerator for 2-3 days.