This post was originally published here on March 29, 2014. I've since updated the text and photographs. This simple, rustic dish is easy and versatile. It can be served as a main dish, side dish or an appetizer. I hope you try it out!
I love these quiet days between Christmas and New Year's Eve. They feel easy. And I feel calm. As a person who doesn't enjoy the hustle and bustle of Christmas, I'm always relieved when it's behind me. It's as if I can breathe once again. And it's comforting to be back within my normal limits of space and time.
I've been going out to the ocean every day, getting my house in order, cooking and eating simply, and working at a "moderate" pace.
Boring stuff, I suppose. But it feels restorative. A miniature recalibration, if you will. There's no reason to wait until January 1st to do things that make us feel good, right?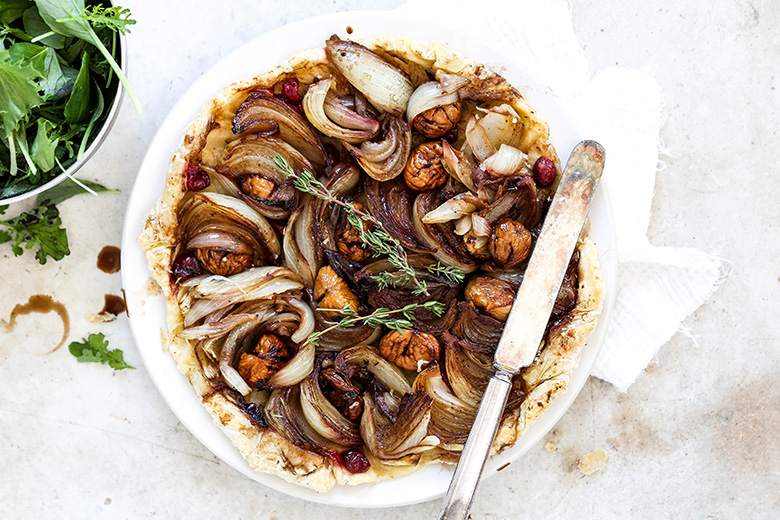 One dish that I love to make this time of year is an onion tarte tatin. It's a rustic, elegant dish that epitomizes the concept of the phrase "greater than the sum of its parts". If you've never had an onion tarte tatin before, then be prepared to be amazed at just how lovely and delicious a few kitchen staples can turn out to be!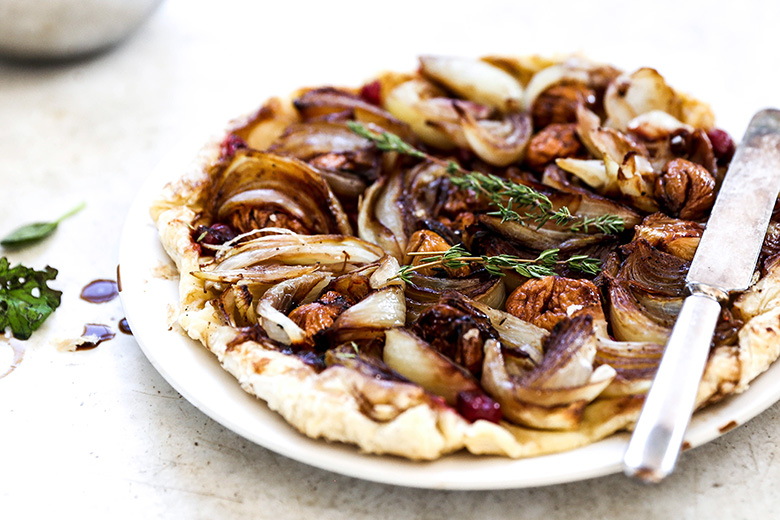 This Onion Tarte Tatin with Chestnuts and Cranberries has a bit more flare than the version I typically make (which omits the chestnuts and cranberries). But I'm digging these small, festive changes. It feels a bit more dressed up. And I'm liking the idea of cutting it up into small wedges and serving it as part of a New Year's Eve appetizer spread. Caramelized onions and buttery puff pastry should definitely be a part of everyone's New Year's Eve celebrations!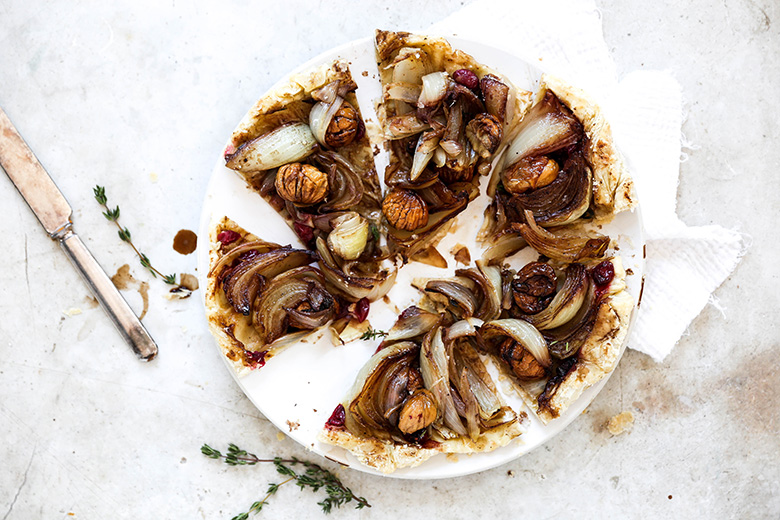 I hope you all find some peace and joy in these last few remaining days of 2018. I'm looking forward to spending 2019 together with you. Thanks for being here and for your continued support!
Cheers,
Liz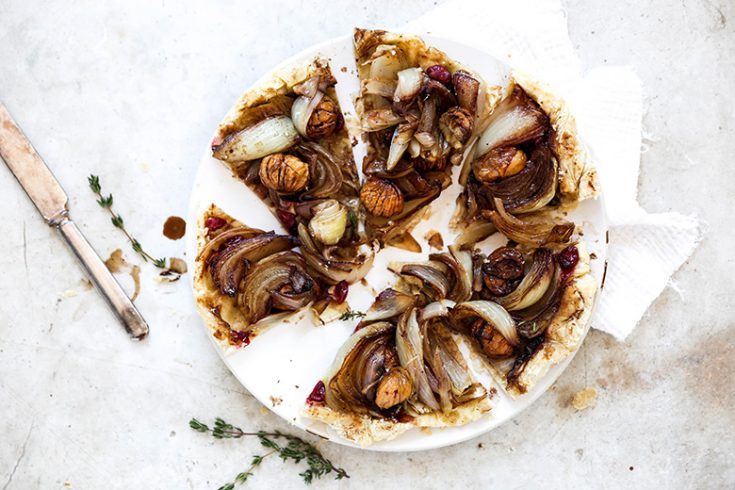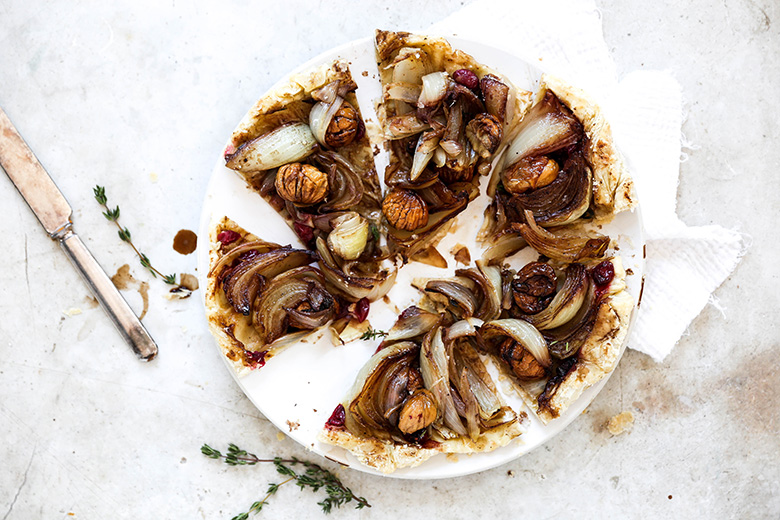 Onion Tarte Tatin with Chestnuts and Cranberries
Yield: Serves 4-6
Prep Time: 15 minutes
Cook Time: 45 minutes
Total Time: 1 hour
Ingredients
3-4 medium yellow or sweet onions
1 tablespoon unsalted butter
1 1/2 tablespoons extra-virgin olive oil
3/4 tsp. salt
1/2 tsp. black pepper
1 tablespoon balsamic vinegar
10-12 whole, peeled chestnuts
1/3 cup fresh cranberries
1 tablespoon fresh thyme leaves
1 sheet puff pastry, thawed according to the package instructions
Instructions
Leaving the root end attached, peel the onions and slice each one into eight wedges. Set aside.
Pre-heat your oven to 375 degrees.
Place an 8- or 10-inch ovenproof skillet over medium high and melt the butter in the olive oil. Place the onion wedges in the skillet (they should fit together very snuggly at this point), arranging them in a pinwheel-like pattern, and sprinkle with the salt and black pepper. Cook the onion wedges for 8-10 minutes. Then using a pair of tongs, carefully flip them over and cook them for an additional 8-10 minutes on the second side. The onion wedges should be tender and caramelized in some spots.
Sprinkle the balsamic vinegar over the onion wedges and cook for 1 minute more. Then remove the skillet from the heat.
Using a pair of tongs, re-arrange the onion wedges so they are evenly spread around the skillet. Then add the chestnuts and cranberries, tucking them into the spaces between the onion wedges. Sprinkle with the thyme leaves.
Roll/stretch the puff pastry dough so it's slightly larger than the surface of the skillet. Then lay the dough over the cooked onion wedges, tucking the excess in around the sides. Pierce the puff pastry a couple times with a small paring knife to allow steam to escape during baking. Then transfer the skillet to your pre-heated oven and bake for 22-25 minutes, or until the pastry is risen and golden. Remove the skillet from the oven and set it aside for 5-8 minutes to cool slightly.
Place a large serving plate or baking sheet over the skillet and carefully flip it over. The tarte tatin should easily come out onto the serving plate/baking sheet. If a few onion wedges are left behind in your skillet, simply use your tongs to remove them and place them back on the puff pastry.
Slice the tarte tatin into wedges and serve while still warm.