Disclosure: I'm so grateful to have received a copy of Adeena Sussman's new cookbook, Sababa. I hope you all enjoy this little sneak peek!
People always ask me how is it that I can come up with so many different recipes. But I never really have a satisfactory answer. I'll usually respond with something like "it's just a skill that comes naturally to me!". A statement that is often returned with a skeptical stare.
But it's true! I've cooked and baked my whole life. And I've always been around other people that cook and bake. Kitchen work is the kind of work that I just instinctively know how to do. I can't really explain it much better than that.
All that being said, I do still occasionally find myself in a rut when it comes to recipes. I, too, suffer from those "what the heck should I make for dinner" moments. But this problem is easily fixable. Want to know my secret solution? I simply pick up a new cookbook and BOOM! Those creative juices start flowing and I'm back in action!
If you're looking for a little pick-me-up around the kitchen, I can't say enough good things about Adeena Sussman's new cookbook, Sababa. Filled with 125 vibrant, flavorful recipes, her cookbook delivers a big dose of inspiration, straight from her Israeli kitchen into yours.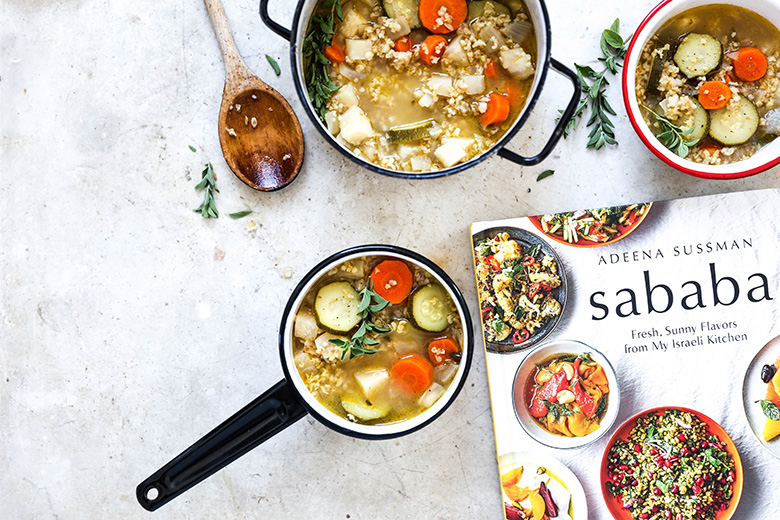 There is a lot of crossover between Israeli and Armenian cuisines, so many of the ingredients in Sababa feel familiar to me. But there are so many that I've never tried before. Like freekah, which is one of the main ingredients in this hearty Freekeh Vegetable Soup. Freekah is a whole grain derived from durum wheat, making it similar to bulgur, which is a staple in Armenian cuisine and probably the reason why I never ventured to try it before. I just kept gravitating towards bulgur! But now I've got a bag of freekah sitting in my pantry and I'm excited to incorporate it in my cooking!
Freekah has a nuttiness and a chewy texture, like bulgur. But freekah also has a subtle smoky flavor, a welcome side effect from the way the grain is processed. And as Adeena describes it in her recipe notes for this soup "The freekah adds just a wisp of smoky flavor, as though a blown-out match had passed through each spoonful for a second.". Don't you just love that!?!?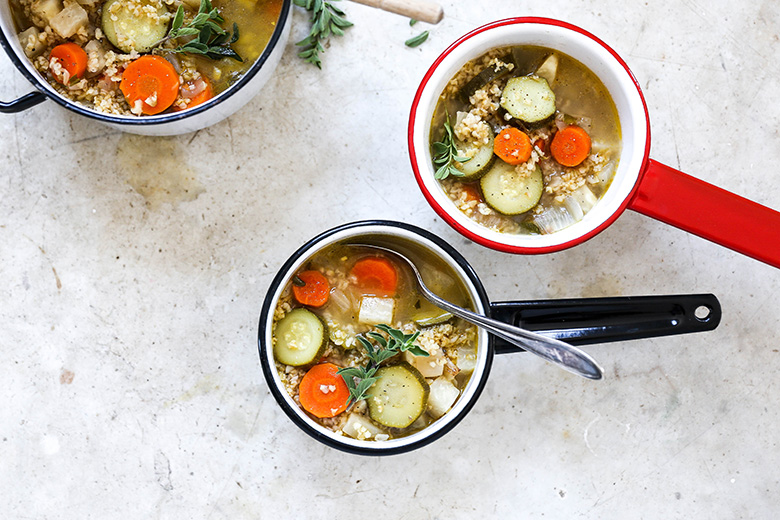 In addition to wanting to try freekah for the first time, I also chose to make this recipe because it seemed like the perfect "transition soup" for this time of year. I'm still finding lots of zucchini, kohlrabi and herbs at the markets. And this soup helps me to use them all up! It's exactly what I'm craving right now, as I gently ease my way into a new season of cooking.
Sababa is available now. I hope you check it out. Because I know you'll find something to explore within its pages!
Cheers,
Liz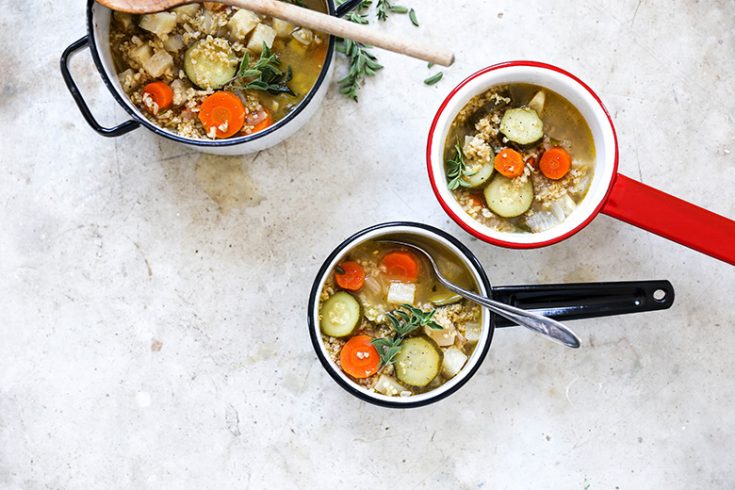 Freekeh Vegetable Soup
Yield: Serves 6-8
Prep Time: 15 minutes
Cook Time: 50 minutes
Total Time: 1 hour 5 minutes
Ingredients
1 cup freekeh
3 tablespoons extra-virgin olive oil
1 large onion, peeled and diced
1 medium kohlrabi, peeled and diced
2 carrots, peeled and sliced
1 tsp. salt
1/2 tsp. black pepper
3 garlic cloves, peeled and minced
8 cups vegetable broth
2 medium zucchini, sliced
1 Parmesan rind
2 tsp. fresh za'atar or oregano, roughly chopped
1/4 tsp. cayenne pepper
Instructions
Place the freekeh in a medium bowl and cover it with cold water. Set aside.
Heat the olive oil in a large heavy bottom pot over medium heat. Add the onion and cook, stirring occasionally, until softened, about 7-8 minutes. Add the kohlrabi, carrots, salt and black pepper and cook, stirring occasionally, for 5 minutes. Stir in the garlic and cook for 1 minute more.
Drain the freekeh and rinse it under cold water. Then add the rinsed freekeh to the pot along with the vegetable broth, zucchini, Parmesan rind, za'atar/oregano and cayenne pepper. Bring the soup to a boil and then reduce the heat to maintain a simmer. Cook, uncovered, until the soup has thickened and the vegetables are soft, about 25-30 minutes.
Remove and discard the Parmesan rind. Taste and season with additional salt and black pepper, if desired.
Leftovers can be stored in an airtight container in your refrigerator for 2-3 days.
Notes
This recipe has been reprinted from Sababa by arrangement with Avery Books, a member of Penguin Group (USA) LLC, A Penguin Random House Company. Copyright ©2019, Adeena Sussman.