This post was originally published here August 19, 2013. I've adjusted the recipe slightly. And I've updated the text and photographs to reflect those changes.
I'm not ready to give up on Summer just yet. But I can sense that it's slowly starting to slip through my fingers. Fall is creeping in. And soon there will be no more pool days, outdoor concerts, boat rides…
I'm not crying, you're crying.
To clarify, I do love Fall. I'm just not fully there yet.
I am, however, fully here for this Vegan Potato and Green Bean Curry. It's a little bit of Summer mixed with a little bit of Fall. Which basically means it's the perfect meal for right now. You should go and make it ASAP.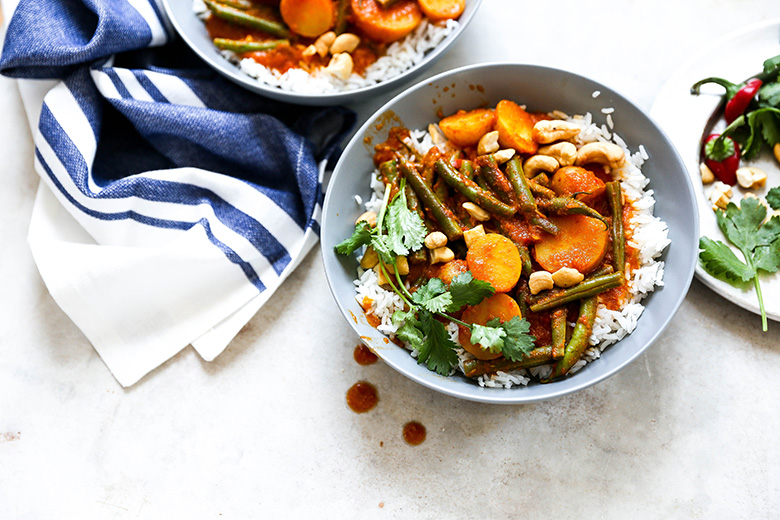 The ingredient list might seem long-ish. But I promise you this curry is a breeze to make. The first twelve ingredients just go straight into your food processor (we're whirling up our own curry paste here). And the rest of the recipe cooks up on the stovetop in just about 30 minutes. It's totally do-able for a weeknight meal. Even if you're trying to navigate a whole new Fall routine.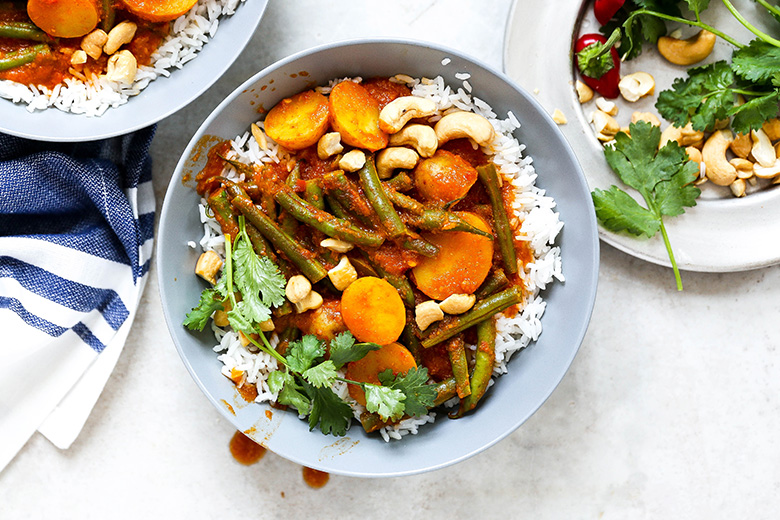 The last time I made this Vegan Potato and Green Bean Curry, I straight up tossed in two whole jalapeño peppers without really thinking. And shit. It was spicy. I was *this* close to throwing away the whole dish. But I hate wasting food. So I suffered through it for days (this recipe makes a lot of leftovers when you're just one person!). I mention this not to scare you off from attempting the recipe, but to remind you to start with just a single jalapeño pepper and only add in the second one if you want more heat. Jalapeño peppers are notorious for not being all that consistent with their spice level (their Scoville rating can vary by thousands of heat units), and I must have gotten two very hot ones. Yikes.
In summary. Do as I say and not as I do. You'll be much happier. And less sweaty.
Cheers,
Liz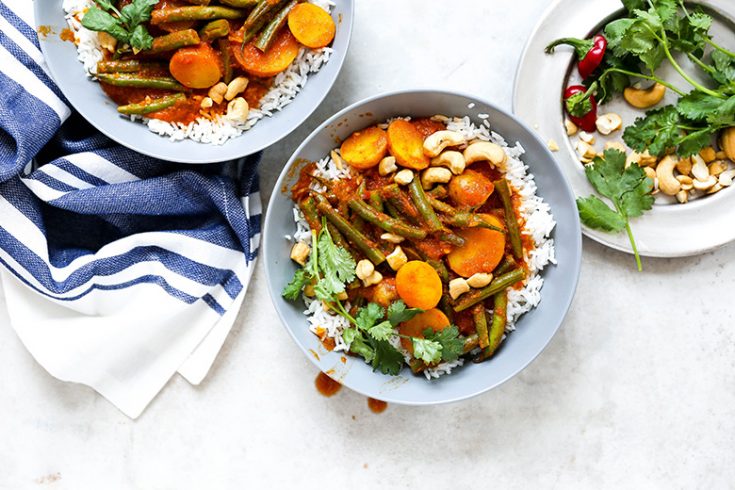 Vegan Potato and Green Bean Curry
Yield: Serves 4-6
Prep Time: 10 minutes
Cook Time: 25 minutes
Total Time: 35 minutes
Ingredients
For the Curry:
1 medium onion, peeled and roughly chopped
1 lemongrass stalk, tough outer layer removed and roughly chopped
3 garlic cloves, peeled and roughly chopped
1-2 jalapeño peppers, roughly chopped
1-inch piece fresh ginger, peeled and roughly chopped
1 tsp. salt
1 tsp. ground cumin
1 tsp. ground curry powder
1 tsp. ground coriander
1/2 tsp. ground turmeric
1 tablespoon vegetable oil
1 tablespoon water
2 lbs baby potatoes, cut into 1-inch pieces
1 (13.5-ounce) can lite coconut milk
1 (15-ounce) can tomato sauce
2 cups green beans, trimmed and cut into 2-inch pieces
For Serving:
White or brown rice
Roasted, salted cashews, roughly chopped
Fresh cilantro, roughly chopped
Instructions
To make the curry paste, add the first twelve ingredients (through the water) to the bowl of your food processor fitted with the blade attachment. Process until a thick, mostly smooth paste forms, stopping to scrape down the sides of the bowl as necessary.
Pour the curry paste into a large, heavy bottom saucepan set over medium-high heat. Cook the paste, stirring frequently, for 2-3 minutes. Then stir in the potatoes, coconut milk and tomato sauce. Cover the saucepan and lower the heat to maintain a simmer. Simmer the potatoes until they are tender, about 15-18 minutes. Then stir in the green beans and cook for an additional 5 minutes. Remove the saucepan from the heat.
Serve the curry over rice, garnished with chopped cashews and cilantro.
Leftovers can be stored in an airtight container in your refrigerator for 2-3 days.