This post was originally published here June 16, 2014. I've adjusted the recipe slightly. And I've updated the text and photographs to reflect those changes. I hope you give this savory cobbler a try!
Today I'm bringing you the ultimate tomato recipe.
And yes, I'm aware that it's the first week of September. But if you know me, then you know that I refuse the rush the seasons. Just because we've turned a page on the calendar doesn't mean it's all pumpkin and cranberries from here on out.
Nope.
The first couple of weeks in September is when we get some of the best, most flavorful tomatoes. And this Savory Tomato Cobbler with Blue Cheese Biscuits is a great way to showcase them.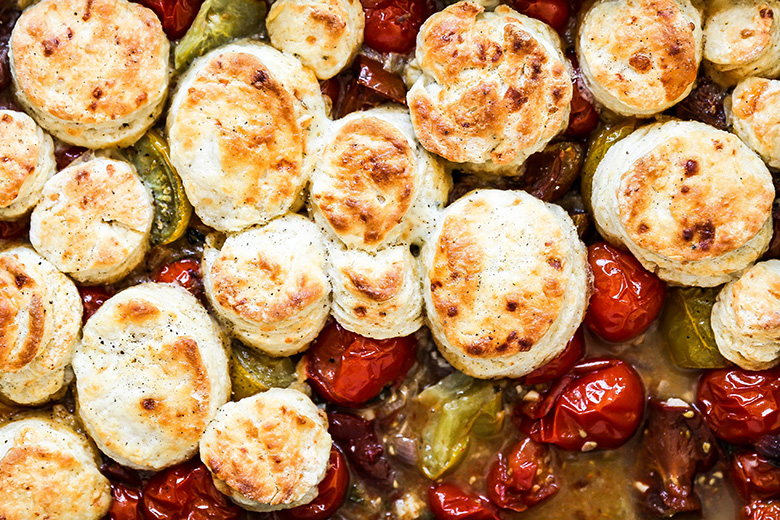 When I first entered into the world of savory cobblers (thank you Joy the Baker for holding my hand), I was a bit skeptical. It just sounded weird. The word cobbler is supposed to be paired with words like "peaches" or "blackberries". Right?!?!
But I'm glad I challenged my beliefs and tried this savory version. Because damn, it's good.
The tomatoes bake up all soft and jammy, surrounded by caramelized onions, garlic and fresh herbs. And in case you needed even more convincing, they're topped with golden brown buttermilk biscuits dotted with pockets of tangy blue cheese.
Basically heaven. This is all that I want to eat until the last of the local tomatoes have been plucked from their vines.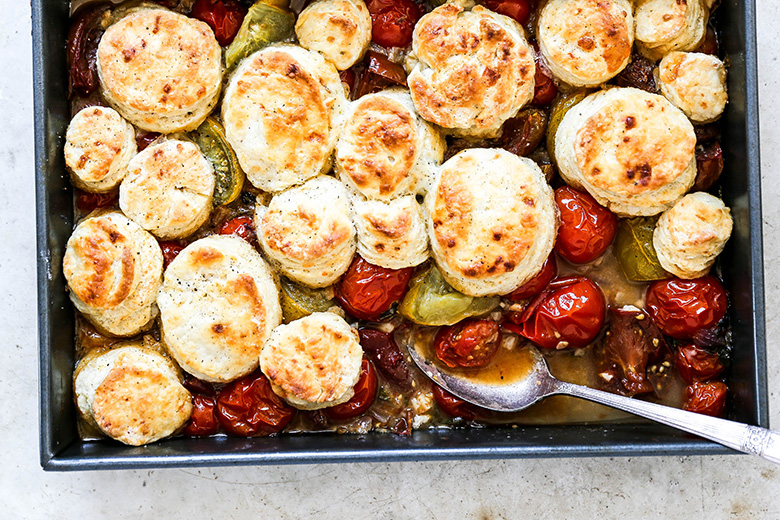 To make this Savory Tomato Cobbler with Blue Cheese Biscuits a real show stopper, I have a couple of tricks up my sleeve. First, I like to use a mix of tomatoes, which frankly, seems like the right thing to do given their current abundance. I keep the cherry tomatoes whole. Then I tuck in wedges of different colored heirloom tomatoes between the spaces of the cherry tomatoes. This not only helps to create a more even bottom layer for the cobbler. But it also gives additional color, texture and flavor to the final dish. The second thing I like to do is make different sized biscuits for the top, and arrange them sporadically to give a "cobbled" look. I happen to have a set of biscuit cutters of all different sizes that I used to achieve this. But you can also use 2-3 different sized drinking glasses to get the same look. It's a fun and easy way add a little something extra to the presentation.
Have I convinced you to try this savory cobbler? I sure hope so! Now hurry up and get on it while those Summer tomatoes are still in season!
Cheers,
Liz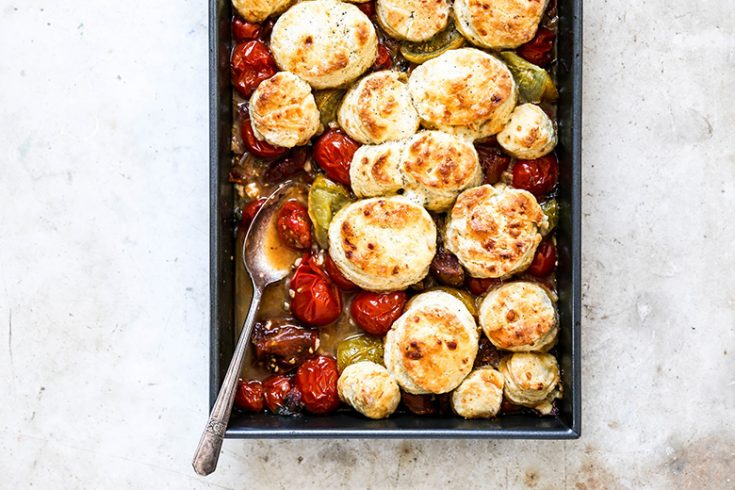 Savory Tomato Cobbler with Blue Cheese Biscuits
Yield: Serves about 8
Prep Time: 40 minutes
Cook Time: 1 hour
Total Time: 1 hour 40 minutes
Ingredients
For the Biscuits:
2 cups all-purpose flour
2 tablespoons baking powder
1 tablespoon sugar
1/2 tsp. salt
1/2 tsp. black pepper
6 tablespoons unsalted butter, cubed and chilled
1/2 cup crumbled blue cheese
3/4 cups plus 2 tablespoons cold buttermilk, divided
For the Filling:
2 tablespoons extra-virgin olive oil
1 tablespoon unsalted butter
1 cup sliced yellow onion
1 cup sliced red onion
1/2 tsp. salt
1/4 tsp. black pepper
4 garlic cloves, peeled and minced
2 lbs cherry tomatoes
1/3 cup fresh basil leaves, roughly chopped
1 tablespoon fresh thyme leaves
3 tablespoons all-purpose flour
2 tablespoons balsamic vinegar
1/2 tsp. red pepper flakes
About 1 1/2 lbs heirloom tomatoes, sliced into wedges
Instructions
Make the biscuit dough. In a large bowl, combine the flour, baking powder, sugar, salt and black pepper. Add the cold butter and use your fingers to break up/rub the butter into the dry ingredients, working until the butter is broken down into pea-sized pieces. Stir in the blue cheese.
Create a well in the center of the flour mixture. Pour 3/4 cups of the buttermilk into the well, and use a fork to quickly incorporate the buttermilk into the flour mixture. The dough will be shaggy at this point.
Use your hands to bring the dough together and shape it into a disk. Wrap the disk in plastic wrap and place it in your refrigerator to chill while you prepare the filling.
Pre-heat your oven to 375 degrees.
To make the filling, warm the olive oil and butter in a large non-stick skillet over medium heat. Add the sliced onions, salt and black pepper. Cook the onions, stirring occasionally, until they are very soft and starting to brown, about 15 minutes. Stir in the minced garlic and cook for 2 minutes more. Remove the skillet from the heat and stir in the cherry tomatoes, basil, thyme, flour, balsamic vinegar and red pepper flakes.
Lightly grease a 9 X 13-inch baking dish with non-stick cooking spray. Transfer the cherry tomato mixture to your prepared baking dish and spread it out evenly. Then add in the heirloom tomato wedges, fitting them in between the cherry tomatoes to help create an even layer. Transfer the baking dish to your pre-heated oven and bake for 20 minutes.
While the filling bakes, finish preparing the biscuits. Remove the dough disk from your refrigerator and roll it out onto a lightly floured work surface so that it's about 1-inch thick. Use biscuit cutters or drinking glasses to cut out circles from the dough. Re-shape/re-roll the dough scraps and continue cutting out circles until the dough has been used up.
After the filling has baked for 20 minutes, remove the baking dish from the oven and arrange the biscuits on top of the filling. Brush the tops of the biscuits with the remaining 2 tablespoons of buttermilk. Then place the baking dish back in your pre-heated oven for 22-25 minutes. The biscuits should be risen and lightly brown on top. And the filling should be bubbling.
Remove the baking dish from your oven and allow the cobbler to rest for 10-15 minutes before serving. Enjoy while still warm.
Leftovers can be stored in an airtight container in your refrigerator for 2 days.