Guess what? It's still Winter.
I know. I'm disappointed, too. I'm always hopeful when we turn the calendars to March that it's magically going to start feeling like Spring. But that's never the case.
You'd think I'd have learned my lesson by now.
But there is still good news. Because I'm getting in one final brand new soup recipe before the season ends!
Broccoli is my favorite vegetable. So I wanted to create a broccoli soup recipe that actually tasted like broccoli. And not just like cheddar cheese, heavy cream and bacon. Don't get me wrong. I love all those things. But I just don't need them in my broccoli soup.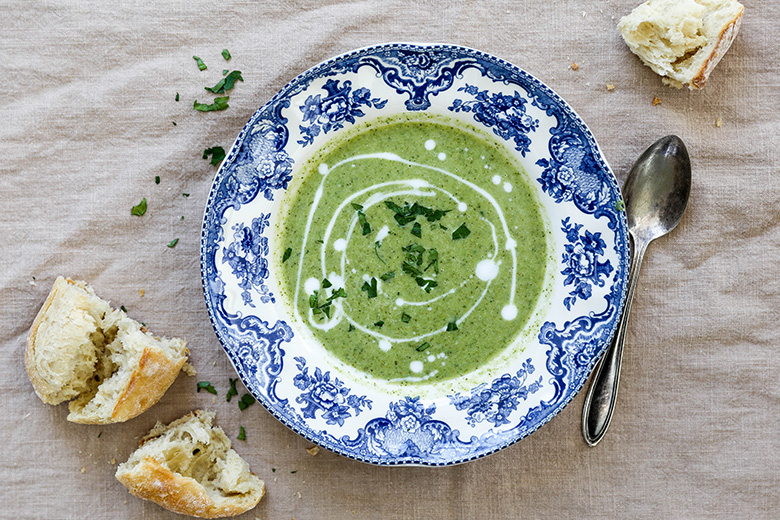 This Creamy Broccoli Celery Soup with Coconut is very vegetable forward. Which you probably could have guessed just from looking at it. Because it's the prettiest shade of green! This soup is full of broccoli (we are using both the stems and florets for zero waste!), celery, spinach, parsley and jalapeño pepper. And I even kicked the heavy cream to the curb, opting to use a few splashes of coconut milk (you want to use canned lite coconut milk for this recipe) instead. The coconut milk gives it that creamy, luscious texture that you'd expect from a broccoli soup. And it also has a nice cooling effect, which offsets the spice from the jalapeño pepper.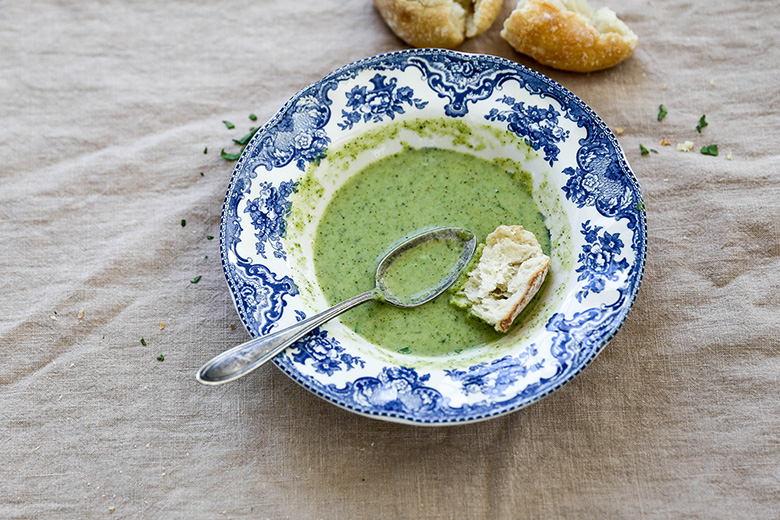 There are two tricks to making this green soup green. First, don't let the vegetables brown while you're cooking them. You want them to be soft, but not browned. So keep an eye on them as they cook. And lower the heat as needed. Second, hold off on adding the spinach and parsley until the very end. The residual heat from the soup is more than enough to soften them. And they will keep their vibrant green hue.
This vegan Creamy Broccoli Celery Soup with Coconut a great recipe to get us through this Winter to Spring transitional period. If you try it out, please let me know!
Cheers,
Liz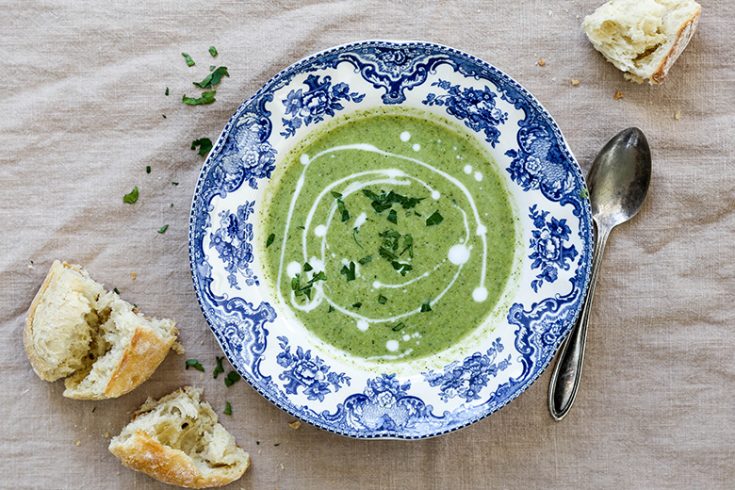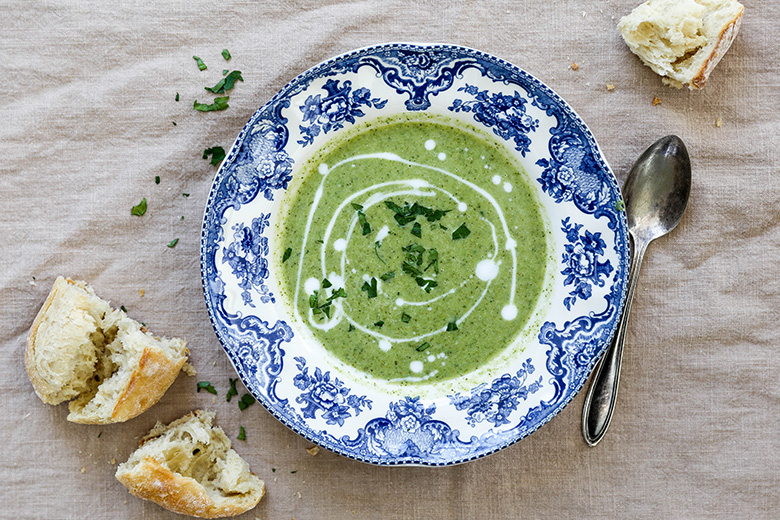 Creamy Broccoli Celery Soup with Coconut
Yield: Serves about 4
Prep Time: 10 minutes
Cook Time: 30 minutes
Total Time: 40 minutes
Ingredients
2 tablespoons extra-virgin olive oil
4 celery stalks, chopped (about 2 cups)
1 shallot, peeled and diced (about 1/2 cup)
2 heads broccoli, chopped (about 1/2 cup stems and 4 cups florets)
1 tsp. salt
1/2 tsp. black pepper
2 garlic cloves, peeled and minced
1 tablespoon minced jalapeño pepper
3 cups vegetable stock
2 cups fresh spinach leaves
2 tablespoons fresh parsley leaves
3/4 cups lite coconut milk
Instructions
In a large stockpot, warm the olive oil over medium heat. Add the chopped celery, diced shallot, chopped broccoli stems, salt and black pepper. Cook for 10 minutes, stirring occasionally, until the vegetables are softened. You don't want them to brown, so lower the heat as needed.
Stir in the minced garlic and jalapeño pepper and cook for 2 minutes more. Then stir in the broccoli florets and vegetable stock. Turn up the heat to bring the soup to a simmer. Then cook with the lid slightly ajar for 15 minutes.
Turn off the heat and stir in the spinach and parsley leaves. Once the soup is cool enough to handle, purée it using either a blender, an immersion blender or a food processor fitted with the blade attachment. Work in batches, if necessary.
Return the puréed soup to your stockpot and re-warm it over medium heat. Stir in the coconut milk. Taste and adjust for salt and black pepper, if needed.
Ladle the warm soup into bowl. Garnish with a drizzle of coconut milk and minced fresh parsley, if desired. Enjoy immediately.
Leftovers can be stored in an airtight container in your refrigerator for 2-3 days.