This post was originally published here on March 9, 2014. I've since updated the photographs and adjusted the recipe ever so slightly. I hope you give this delicious "three season" soup a try!
I learned a new term this month: fools Spring.
Do you know this term? It's basically Mother Nature's version of a "kick me" sign on your back. Or maybe a wet willy. Or perhaps the ever so uncomfortable wedgie.
My point is this: I've learned my lesson. It's still VERY much Winter here in New England. And it's still VERY much soup season.
With the weather being as fickle as it is, I decided it was time to re-visit one of my favorite soup standbys: Chicken Meatball Soup. I used to make this recipe ALL THE TIME. But then, well, it just kind of fell off my radar. But today, I'm bringing it back full force. Because it's a recipe that deserves to be in the spotlight.
One reason that I love this Chicken Meatball Soup recipe so much is that it truly is a "three season" soup. Fall, Winter or Spring. It's all good. Not too heavy and not too light. This Chicken Meatball Soup is just right (cue: Goldilocks). So whether you've been fooled into thinking it's Spring, or you've just realized that you're still in for another month or two of Wintery conditions, this soup will do the trick.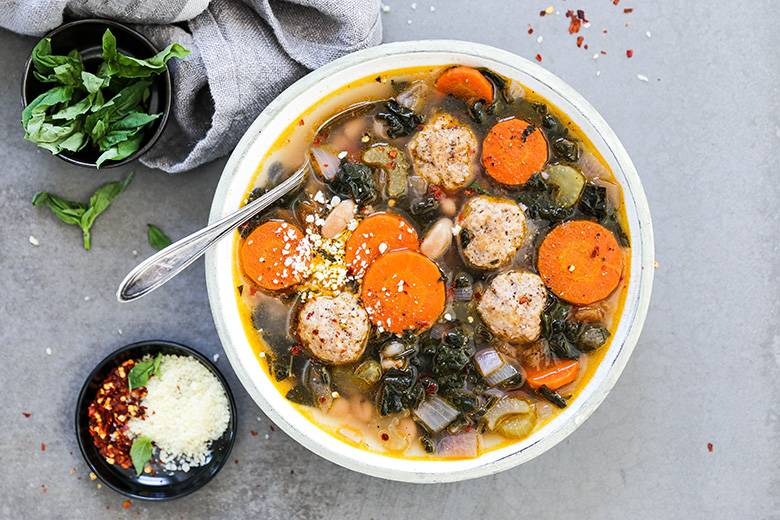 I've heard that some people shy away from making meatballs because they hate the act of rolling/shaping the raw meat. I sympathize with this sentiment. I too have found myself feeling "weirded out" at times when having to handle ground meats. If this speaks to you, then you're in luck with this recipe. Because while I do recommend rolling/shaping the meatballs by hand (they will look much prettier this way!), you certainly don't have to do that for this recipe. You can easily use two spoons to roughly form the meatballs and then just "plop" them into the soup. They will instantly firm up and begin cooking when they hit the hot liquid. No messy hands!
Cheers,
Liz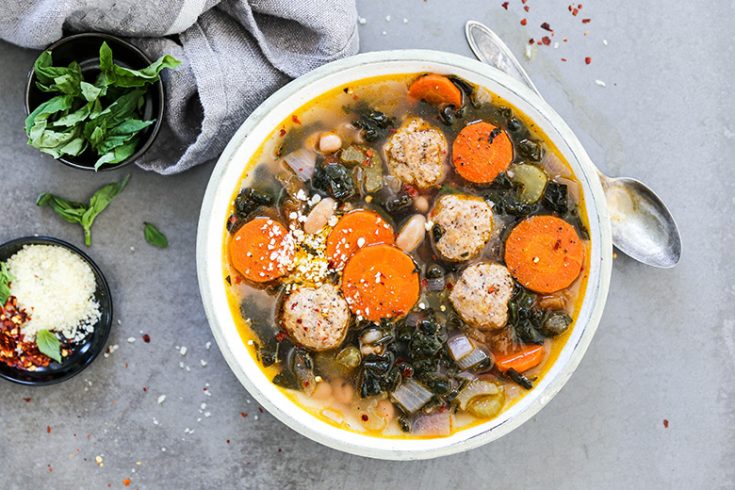 Chicken Meatball Soup
Yield: About 6 servings
Prep Time: 15 minutes
Cook Time: 1 hour 5 minutes
Total Time: 1 hour 20 minutes
Ingredients
For the Soup:
2 tablespoons extra-virgin olive oil
1 red onion, peeled and chopped
2 carrots, peeled and chopped
2 celery stalks, chopped
1 large tomato, seeded and chopped
2 garlic cloves, peeled and minced
1/2 tsp. salt
1/2 tsp. black pepper
1/4 tsp. red pepper flakes
1 cup red wine
4 cups chicken broth
2 cups water
1 (15-ounce) can white beans, rinsed and drained
1 bay leaf
3 cups kale, chopped
1/4 cup fresh basil leaves, chopped
For the Meatballs:
1 lb ground chicken
1/4 cup grated Parmesan cheese
1/4 cup bread crumbs
1 egg
1/2 tsp. salt
1/2 tsp. black pepper
Instructions
In a large stock-pot over medium-high heat, warm the olive oil. Add the chopped red onions, carrots and celery. Cook, stirring occasionally, for 6-8 minutes. Then stir in the chopped tomato, minced garlic, salt, black pepper and red pepper flakes and cook for 2 minutes more.
Add the red wine and bring the mixture to a boil, scraping the bottom of the pot to loosen any browned bits. Then add the chicken broth, water, white beans and bay leaf. Bring the mixture to a boil and then reduce the heat to maintain a simmer. Simmer with the lid slightly ajar for 30 minutes.
After 30 minutes, remove and discard the bay leaf. Then stir in the kale. Increase the temperature to bring the soup back up to a low boil.
Meanwhile, in a medium bowl combine all the ingredients for the meatballs. Shape the chicken mixture into balls, using about 1 1/2-2 tablespoons per ball, and drop them into the hot soup (they will firm up as they come into contact with the hot liquid). Once you've added all the meatballs to the soup, cover your stock-pot and cook the soup for an additional 13-15 minutes. Stir in the fresh basil.
Taste and adjust for any seasons. Then ladle the hot soup into bowls and serve with additional grated Parmesan cheese, red pepper flakes or basil, if desired.
Leftovers can be stored in an airtight container in your refrigerator for 2-3 days.