When I'm hosting a party, I'm all about the easy appetizers. My goal is to make something that can be assembled in about 15 minutes on the day of the party (OR make something that can be made well in advance, but that's another blog post entirely). Because I don't like dealing with long, complicated cooking techniques when guests are arriving at my house.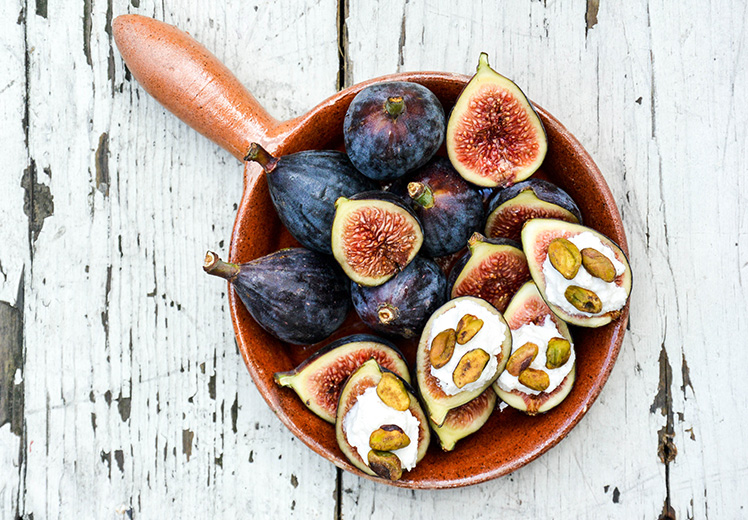 These Fresh Figs with Lemon-Vanilla Ricotta and Toasted Pistachios certainly fit my quick and easy criteria. If you can zest a lemon and toast up some nuts (I know you can!), then you are pretty much well on your way to having these babies done. Creamy, crunchy, sweet and fruity: that's pretty close to appetizer perfection right there.
I think these taste best when the figs are at room temperature. So if you are storing your figs in the refrigerator, make sure to set them out on your counter for a bit to allow them to warm up.
Cheers,
Liz
Ingredients
1/4 cup shelled pistachios
1/2 cup ricotta cheese
1 tablespoon honey
1 tsp. finely grated lemon zest
Scraped seeds from 1/2 fresh vanilla bean
12 fresh figs
Instructions
In a dry skillet over medium-high heat, toast the pistachios until they are just starting to become fragrant, about 1-2 minutes. Remove from the heat and set aside to cool. You can chop the pistachios if you like, but I leave them whole.
In a small bowl combine the ricotta cheese, honey, lemon zest and vanilla bean seeds. Set aside.
Cut the figs in half. Using your thumb or a small spoon, press down on the fleshy part (the cut side) to make a small indentation. Place about a teaspoon of the ricotta cheese on each fig half and then sprinkle with a few toasted pistachios. Serve immediately.
https://www.floatingkitchen.net/fresh-figs-with-lemon-vanilla-ricotta-and-toasted-pistachios/