You'll never get me to admit that Summer is over. And I'll be over here continuing to enjoy all my favorite Summertime activities and foods for as long as the warm weather holds. But I understand that this coming weekend marks the unofficial end of Summer for many people. So I figured I throw in one last "hurrah" before the internet turns into a big pumpkin.
These Cherry Tomato Jam and Cream Cheese Crackers are easy and addicting. They would be the perfect appetizer or snack for any Labor Day Weekend festivities that you may have planned!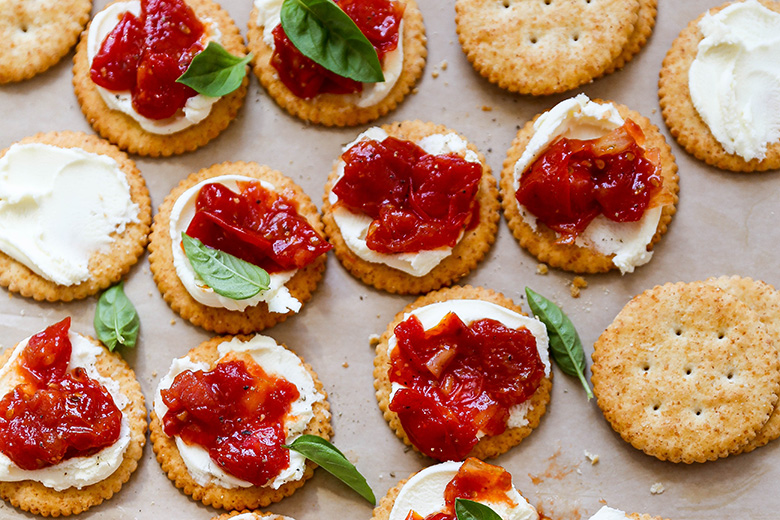 We've got some real wild-child cherry tomato plants that have taken over a small section on the farm. And I've been having fun foraging for them when I finish up my work day. There is nothing like eating a freshly plucked cherry tomato when it's still warm from the sun!
I can generally find more ripe cherry tomatoes than I can eat in a day, so I decided to make a batch of cherry tomato jam. If you like chutneys, or dare I even say ketchup, then I think you'll enjoy this savory-sweet cherry tomato jam. It's quick to make, requiring just 20 minutes of active time. And it can be added to so many things, including grilled cheeses, burgers, toasts, etc. And it's an easy way to elevate any cheese and cracker situation.
These Cherry Tomato Jam and Cream Cheese Crackers are certainly not fancy (I reached for tried and true Ritz Crackers and Philadelphia Original Cream Cheese for assembly). But they kind of feel like it. And that's the best kind of appetizer, in my humble opinion.
I hope you all have a safe and fun Labor Day Weekend! And get your fill of Summer produce while it lasts!
Cheers,
Liz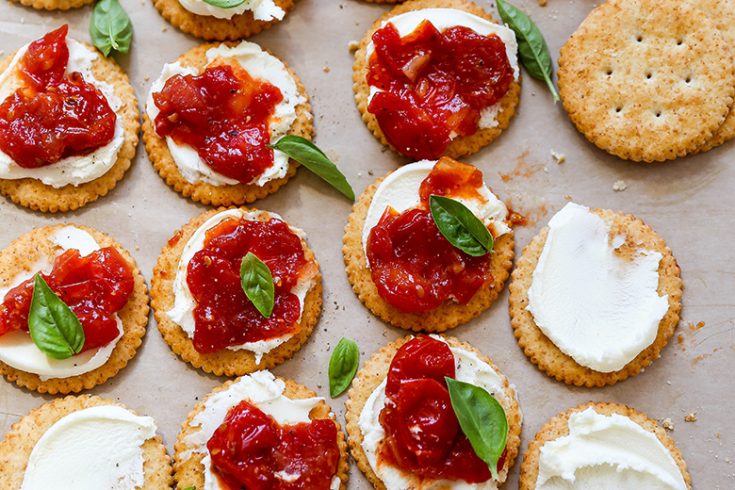 Cherry Tomato Jam and Cream Cheese Crackers
Yield: Makes about 40 crackers
Prep Time: 10 minutes
Cook Time: 15 minutes
Additional Time: 1 hour
Total Time: 1 hour 25 minutes
Ingredients
For the Cherry Tomato Jam:
1 pint cherry tomatoes, halved
5 tablespoons granulated sugar
1/2 tsp. salt
1/3 cup diced shallots
Juice and zest from 1 lime
1/8 tsp. cayenne pepper
For Assembly:
About 40 plain crackers (I like Ritz Crackers)
About 4 ounces cream cheese, softened (I used Philadelphia Original)
Freshly ground black pepper
Fresh basil leaves, torn if large
Instructions
Add the tomatoes to a medium bowl and sprinkle with the sugar and salt. Stir to coat. Let the tomatoes sit for 1 hour at room temperature. If you can, give them a stir 1-2 times during this time.
Heat a large non-stick skillet over medium heat. Add the tomatoes, plus all the liquid that has been released, and the shallots to the skillet. Cook, stirring frequently, until the tomatoes are mostly broken down and the jam is thick and glossy. You can use the back of your spoon to press on the tomatoes during cooking to help break them down further. Stir in the lime juice, zest and cayenne pepper and cook for 1-2 minutes more. Remove the skillet from the heat and transfer the jam to a clean container. Let it cool about 10-15 minutes at room temperature. Then transfer to your refrigerator. The jam can be used as soon as it's chilled. Or it can be stored in an airtight container in your refrigerator for 7-10 days.
Spread the cream cheese onto your crackers. Top with 1-2 teaspoons of the jam. Then garnish with freshly ground black pepper and basil leaves. Enjoy immediately.