Guess what? It's still Summer. And I'm standing tall on my annual August soapbox, telling anyone that will listen that Summer isn't over yet.
We've still got a few weeks left of this glorious season. And I refuse to wish it away with Fall decorations, Halloween costumes and pumpkin recipes. That's just insanity to me. Instead, I'm still going full throttle with recipes featuring Summer produce (which by the way, is the tastiest AND most abundant this month). So buckle up!
I've been eating my weight in watermelon these past few weeks. We've been trapped in a rather long heat wave. And cold, juicy watermelon has been one of the few foods that I've been excited to eat on a daily basis. I'm also continuing with my habit of over-purchasing Summer berries. And we all know that the shelf life on those can be tenuous. So into a big bowl they all went for this Watermelon and Berry Salad with Pickled Red Onions!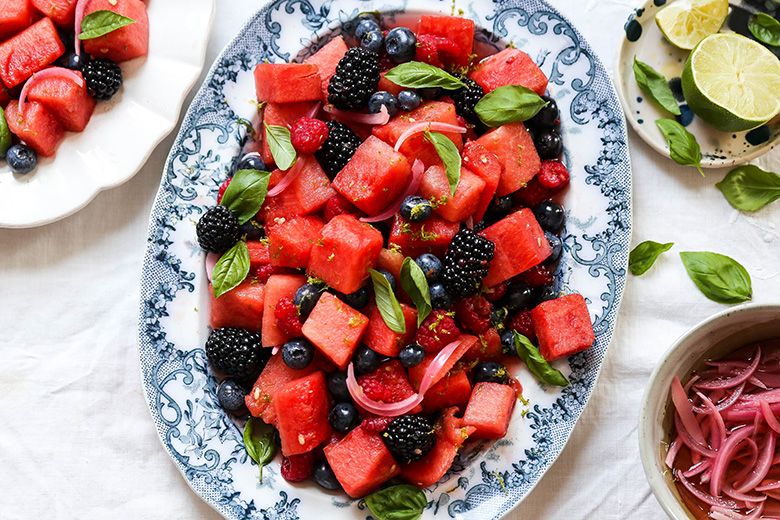 This Watermelon and Berry Salad with Pickled Red Onions is made up mostly of cubed watermelon. Then I add in a generous handful each of blueberries, raspberries and blackberries. I love all the colors and textures of the three different berries (you could certainly add/swap strawberries, if you had them) with the watermelon. This salad is as visually pleasing as it is tasty!
And then for the real fun part: toss in some pickled red onions. If you're a fan the classic feta cheese and watermelon combo, or if you enjoy adding fresh fruit to your salads, then I think you'll really love the pickled red onions in this recipe. Their savory/tart flavor goes a long way here in making this salad much more interesting. It's fruit salad, but elevated! I recommend starting with one-third of a cup of pickled red onions, but feel free to add more in to your liking. The recipe makes plenty!
The pickled red onions are easy to make and can be done in advance. But the rest of the salad I would recommend serving within a couple hours of assembly. The fruits will release a lot of juices as they sit. And the more delicate berries tend to get overly soft as time passes.
If you make this Watermelon and Berry Salad with Pickled Red Onions and love it, then be sure to try my Pickled Raspberry Crostini with Sharp Cheddar and Mint. Pickling + fruit is having a real moment here on Floating Kitchen. I think I'm officially obsessed!
Cheers,
Liz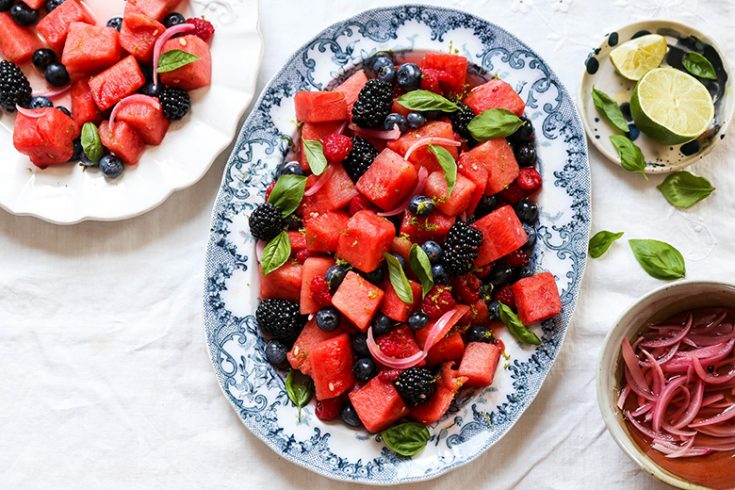 Watermelon and Berry Salad with Pickled Red Onions
Yield: Serves 4-6
Prep Time: 10 minutes
Cook Time: 5 minutes
Additional Time: 2 hours
Total Time: 2 hours 15 minutes
Ingredients
For the Pickled Red Onions:
1/2 cup water
1/4 cup distilled white vinegar
1/4 cup apple cider vinegar
1 tablespoon honey
1 tsp. salt
1/4 tsp. black peppercorns
1/4 tsp. red pepper flakes
1/2 red onion, peeled and thinly sliced
For the Salad:
2 tablespoons fresh squeezed lime juice
1 tablespoon pickling liquid
1 tablespoon honey
Zest from 1/2 lime
6 cups cubed watermelon
1 cup fresh blueberries
1 cup fresh raspberries
1 cup fresh blackberries
1/3 cup pickled red onions, drained
1/4 cup fresh basil leaves, torn if large
Instructions
In a small saucepan set over medium-high heat, bring the water, vinegars, honey, salt, peppercorns and red pepper flakes to a simmer, stirring until the honey and salt are dissolved. Remove from the heat.
Add the red onion slices to a mason jar (or a similar type of heat-safe and re-sealable container). Pour the hot pickling liquid over the red onion slices. Cover and let them sit until the liquid comes to room temperature, about 15 minutes. Then place the mason jar in your refrigerator for at least 2 hours. Pickled red onions can be stored in your refrigerator for up to 2 weeks.
In a small bowl, whisk together the lime juice, pickling liquid, honey and lime zest.
Add the cubed watermelon to a large bowl. Pour the dressing over the watermelon and toss to coat. Then add all the berries, pickled red onions and basil leaves. Toss gently to combine. Enjoy immediately.
Notes
Recipe for the pickled red onions barely adapted from Cookie + Kate.