Summer entertaining foods should be EASY and breezy. And these Pickled Raspberry Crostini with Sharp Cheddar and Mint definitely fit into that category. These simple little toasts require just a small amount of effort on your part. But they deliver BIG in both the taste and looks department. Your guests will certainly be impressed when you serve these at your next gathering. If, that is, you can stand to share them with other people. I found myself greedily eating the entire tray!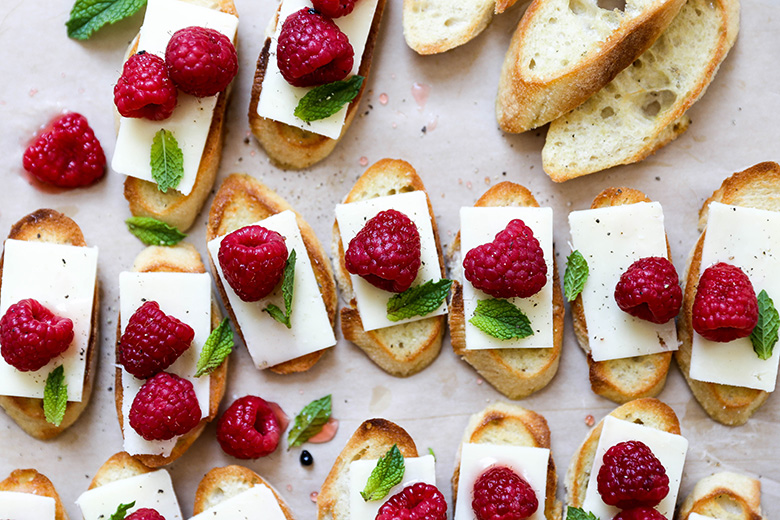 I was inspired to make these Pickled Raspberry Crostini with Sharp Cheddar and Mint from Sher Castellano's blog post for pickled blackberries. When I first tried her recipe years ago, the idea of pickling something sweet seemed kind of odd to me. But I was instantly hooked once I tried it. And now here we are. I wanted to try for a similar idea, but using fresh raspberries, which I happened to have a lot of at the time and they were just begging for something creative to be done with them.
Raspberries are very easy to pickle and the whole process takes only a couple of hours. Start by preparing your pickling liquid, which requires just a handful of ingredients that you mostly likely already have in your pantry. Then pour this liquid over the fresh raspberries and let them sit for 1-2 hours to soak up the flavors. That's it! Normally, a good rule of thumb when pickling foods is that letting them sit longer in the picking liquid makes for a better product, because they have more time to soak up the flavors from the pickling liquid. But I found this isn't the case with pickled raspberries. Due to their delicate nature, I'd recommend using these within a maximum 4 hour time period. Any longer and they start to get too limp/soggy. And make sure you start with fairly firm raspberries. If they are already starting to go past their peak, they won't hold they're structure through the pickling process.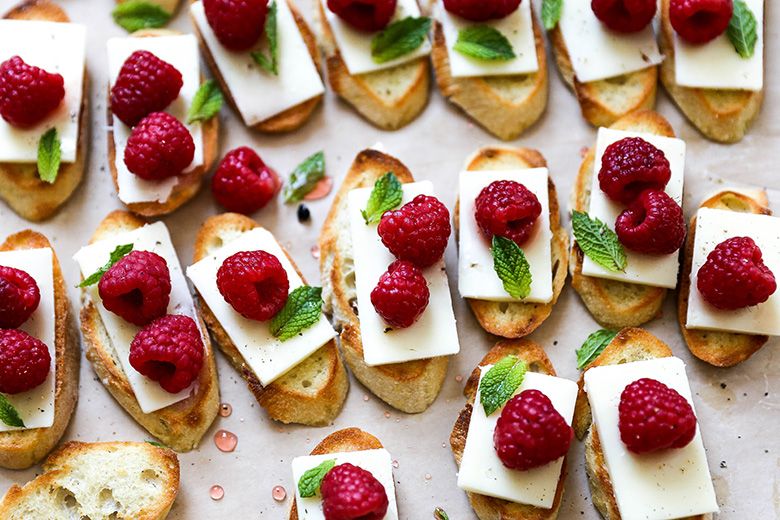 I think you could pair these pickled raspberries with just about any cheese. I'm a sucker for a sharp white cheddar, so that's why I've used here. But I think a blue cheese, goat cheese, brie or Havarti would also be excellent!
Cheers,
Liz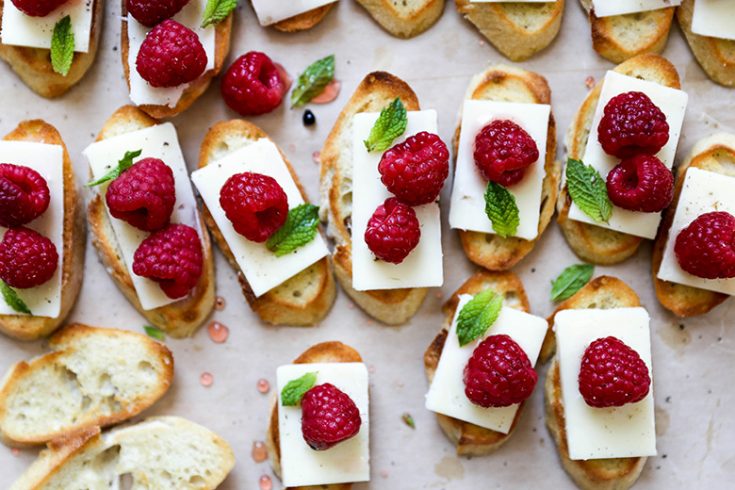 Pickled Raspberry Crostini with Sharp Cheddar and Mint
Yield: Makes about 2 dozen crostini
Prep Time: 5 minutes
Cook Time: 5 minutes
Additional Time: 2 hours
Total Time: 2 hours 10 minutes
Ingredients
For the Pickled Raspberries:
1/2 cup water
1/2 cup apple cider vinegar
2 teaspoons honey
1/2 tsp. black peppercorns
1/4 tsp. mustard seeds
1/4 tsp. salt
1 cup fresh raspberries
For Assembly:
Small French baguette, sliced on the diagonal
About 2 tablespoons extra-virgin olive oil
About 4 ounces sharp white cheddar cheese, thinly sliced
Fresh mint leaves, torn if large
Freshly ground black pepper
Instructions
In a small saucepan set over medium heat, bring the water, vinegar, honey, peppercorns, mustard seeds and salt to a simmer. Stir until the honey and salt are dissolved. Remove from the heat.
Add the raspberries to a bowl. Pour the hot pickling liquid over the raspberries. Cover and let sit until the liquid comes to room temperature, about 15 minutes. Then place the bowl in your refrigerator for 1-2 hours.
Meanwhile, pre-heat your broiler. Brush the baguette slices with olive oil and spread them out onto a large baking sheet. Place the baking sheet under your pre-heated broiler and broil until the edges of the baguette slices start to brown, about 1-2 minutes. Remove and set aside.
Transfer the baguette slices to a serving plate. Top each with a slice of cheddar cheese, 1-2 pickled raspberries (I use a fork to gently remove them from their bowl, allowing some of the liquid to drain off), fresh mint and a sprinkle of black pepper. Enjoy immediately.