This post was originally published here February 1, 2014. I've changed the recipe slightly. And I've updated the text and photographs to reflect those changes.
Last week I talked about my blueberry picking obsession. But did I also mention that there are raspberry bushes at this pick-your-own farm, too?
Well, there are. Lots and lots of raspberry bushes. So in addition to a blueberry "problem". I also now have a raspberry "problem".
Which I'm not complaining about. Just casually mentioning it.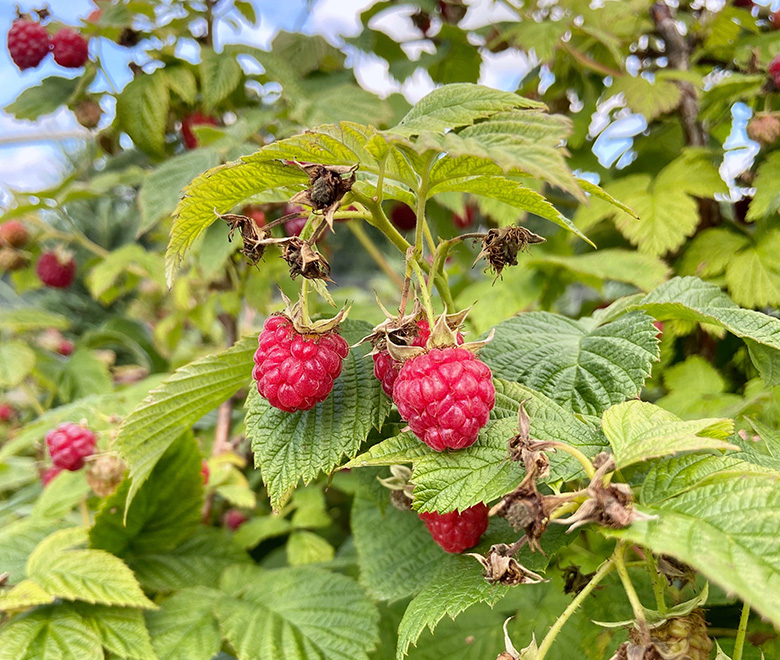 These Vegan Raspberry Smoothies are a pretty delicious way to use up lots of fresh raspberries. Although if you made this recipe with frozen raspberries, I wouldn't be mad about it. But since raspberries ARE in season at the moment, I would encourage you to try it with fresh raspberries first.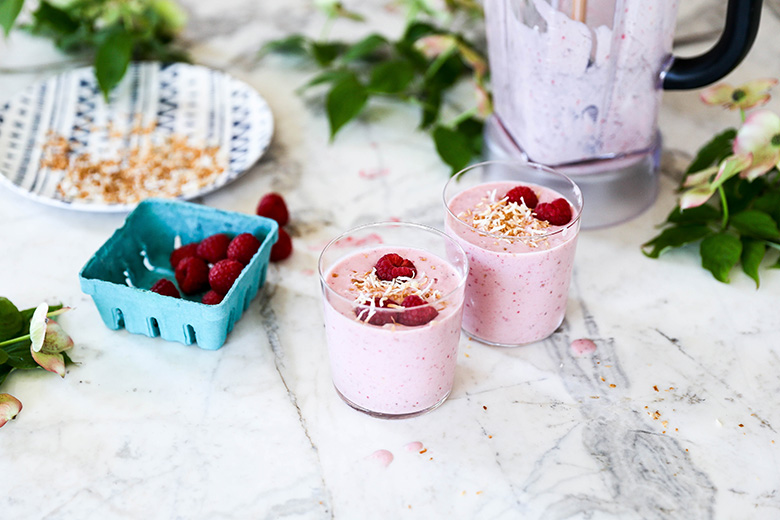 In additional to the two whole cups of fresh raspberries, this smoothie also gets a boost of extra raspberry flavor from a couple tablespoons of raspberry jam. Yes! This is a great little trick to achieve even more over-the-top raspberry flavor. And it's one of those ingredients that I always have in my refrigerator (I'm still a hardcore peanut butter and jelly sandwich fan!), so it's easy for me to just sneak it in wherever and whenever.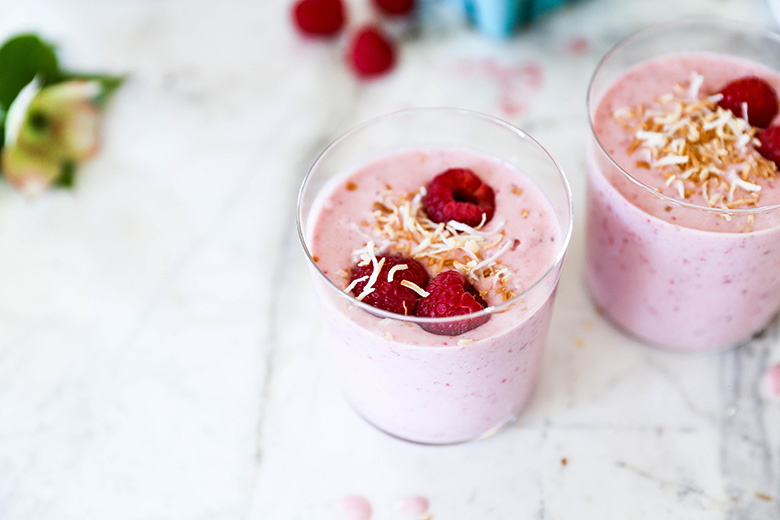 As you may have gathered from the title of this post, this smoothie is in fact vegan. There are plenty of way to achieve this, so I'm leaving it up to you to make the final decision(s) on how to do this based on your dietary preferences. I, of course, have my own preferences. For the non-dairy yogurt, I typically reach for coconut yogurt. But soy yogurt is an equally good choice. And for the non-dairy milk, I use either almond or oat milk. But again, you could use soy milk, hemp milk, coconut milk, etc. We're lucky to have so many options these day. So you do what's right for you and your taste buds!
Cheers,
Liz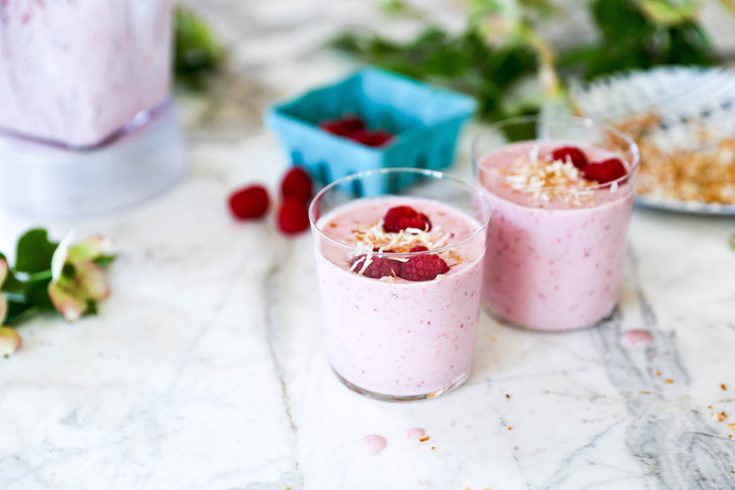 Vegan Raspberry Smoothies
Yield: Serves 2
Prep Time: 5 minutes
Total Time: 5 minutes
Ingredients
2 cups fresh raspberries, plus more for garnish
1 peeled banana, frozen and cut into chunks
2 tablespoons raspberry jam
6 ounces non-dairy yogurt (I like coconut yogurt)
1 1/4 – 1 1/2 cups non-dairy milk (I like almond or oat milk)
1/4 tsp. vanilla extract
5-6 ice cubes
Toasted coconut, for garnish
Instructions
Add all the ingredients except for the garnishes to your blender. Blend on high until smooth.
Divide the smoothie between two glasses. Top with the reserved raspberries and toasted coconut. Serve immediately.