This post was originally published here August 4, 2014. I've adjusted the recipe to make a smaller batch of shortcakes. And I've also updated the filling. I'm featuring blueberries here, but any Summer berry would be delicious! These shortcakes are a must-make this season!
You may remember from past Summers that I have a healthy obsession with the pick-your-own blueberry farm located in the next town over from me. As soon as they announce that the blueberries are ready for picking, I'm there with my big bucket and an even bigger smile on my face. It's one of my favorite activities. And I'm a repeat offender for as long as the bushes keep producing, which is typically well into mid-August.
So blueberries become sort of a "problem" for me. And you can expect to see your fair share of blueberry recipes here on Floating Kitchen each Summer.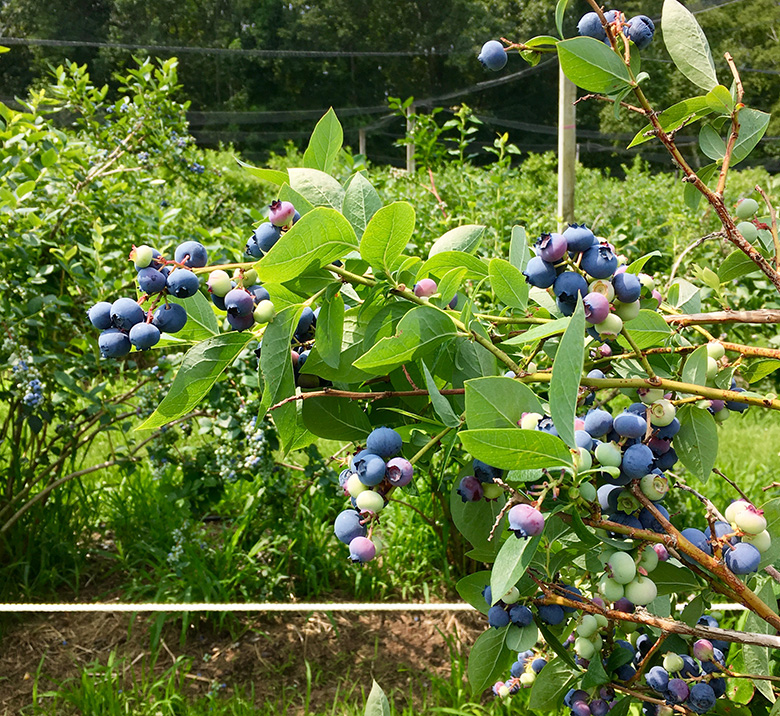 These Snickerdoodle Blueberry Shortcakes are a bit of a reboot from a recipe that was published back in the infancy of this blog. I was never really that blown away by the taste or texture of the shortcakes that appeared in the original version of this recipe, so I started looking for something better and BOOM snickerdoodle-flavored shortcakes from Joy the Baker landed in my lap. My mind was officially blown (one of my favorite cookies turned into shortcakes!!!). And so were my taste buds.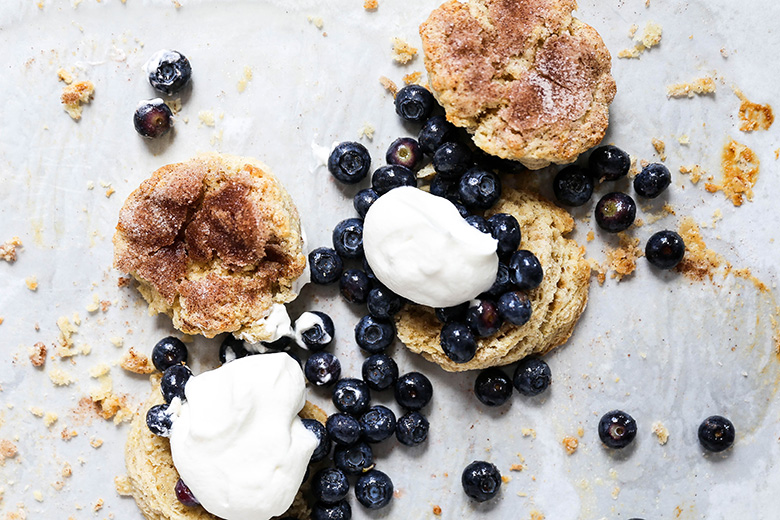 If you love snickerdoodle cookies, then you're going to go crazy for these Snickerdoodle Blueberry Shortcakes. There is a touch of cinnamon in the shortcake dough. And a heavy dusting of cinnamon-sugar on top of each shortcake, which gets all crackly and crisp during baking. Please don't skimp out on this part. It will probably seem like a lot of cinnamon-sugar topping. But this is not meant to be a dusting. It's meant to be a generous coating. Trust the process.
There is no need to unnecessarily fuss with the blueberries here. Just toss them with some of the cinnamon-sugar mixture and a squeeze of fresh lemon juice. And you're good to go!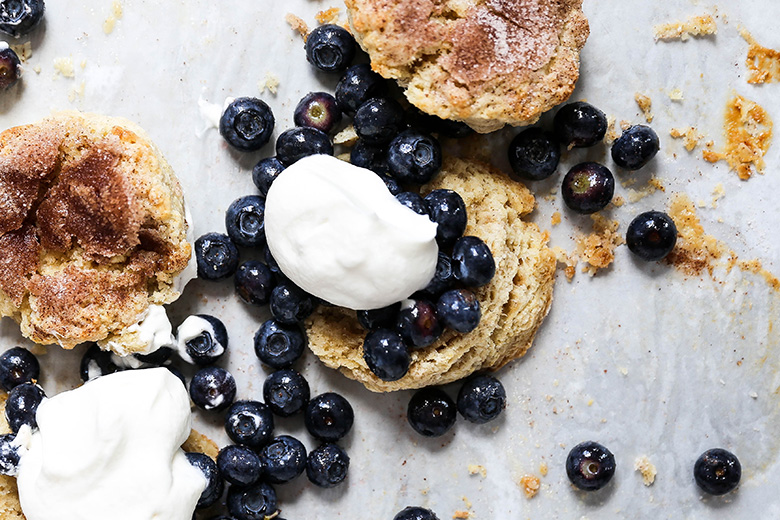 I would also recommend keeping the peaks on your whipped cream nice and soft. Some dessert recipes call for stiff peaks. But here, the whipped cream should be light and pillowy so that it almost melts into the other components of the shortcakes as you're eating them. Doesn't that sound heavenly?
If you give my Snickerdoodle Blueberry Shortcakes a try this Summer, please let me know! I'd love to hear about it!
Cheers,
Liz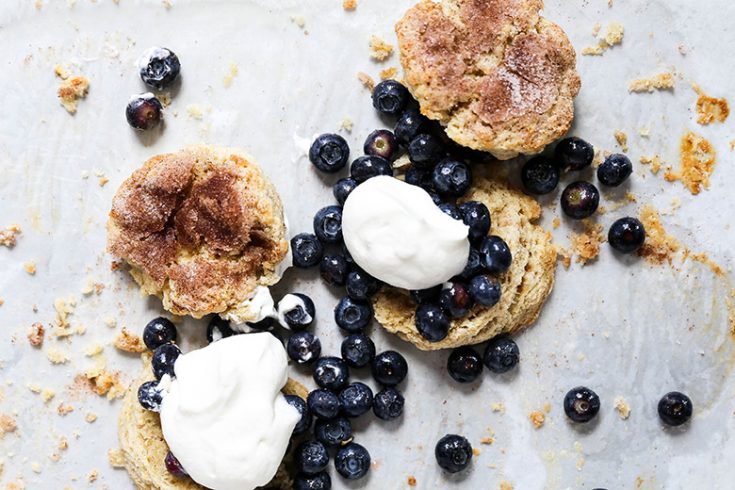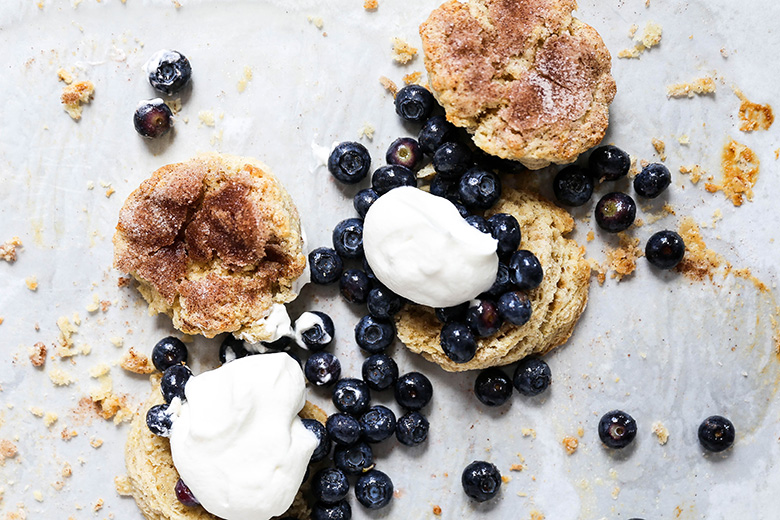 Snickerdoodle Blueberry Shortcakes
Yield: Serves 6
Prep Time: 20 minutes
Cook Time: 15 minutes
Additional Time: 20 minutes
Total Time: 55 minutes
Ingredients
For the Biscuits:
2 cups all-purpose flour
1/3 cup plus 1/4 cup granulated sugar, divided
2 tsp. baking powder
1/2 tsp. baking soda
1/2 tsp. salt
1 tsp. ground cinnamon, divided
1/2 cup (8 tablespoons) unsalted butter, cubed and chilled
1/2 cup full-fat Greek yogurt
1 egg, beaten
1 tsp. vanilla extract
1 tsp. fresh squeezed lemon juice
1-2 tablespoons heavy whipping cream
For the Blueberries:
2 cups fresh blueberries
1 tsp. fresh squeezed lemon juice
For the Whipped Cream:
1 cup heavy whipping cream, cold
2 tablespoons powdered sugar
1 tsp. vanilla extract
Instructions
In a large bowl, stir together the flour, 1/3 cup of the granulated sugar, the baking powder, baking soda, salt and 1/2 tsp. of the cinnamon. Add the butter and use your fingers to quickly squeeze/rub it into the dry ingredients until the butter pieces are about the size of peas.
Create a well in the middle of the dry ingredients and add the Greek yogurt, beaten egg, vanilla extract and lemon juice. Stir with the wooden spoon until the dry ingredients are moistened and the dough has just come together.
Dump the dough out onto a well-floured surface and use your hands to bring it together and shape it into a 3/4-inch thick disk. Don't overwork the dough. It will still look a bit "craggy".
Use a 2 1/2-inch biscuit cutter to cut out rounds. Place the rounds on a parchment paper-line baking sheet, spacing them about 2-inches apart. Then re-shape the dough scraps and continue cutting out rounds until the dough has been used up. Place the baking sheet in your refrigerator for about 20 minutes to chill the rounds.
Meanwhile, pre-heat your oven to 400 degrees.
In a small bowl, stir together the remaining 1/4 cup of granulated sugar and the remaining 1/2 tsp. of cinnamon.
In a medium bowl, toss the blueberries with the lemon juice and 1 tablespoon of the cinnamon-sugar mixture. Set aside.
Remove the baking sheet from your refrigerator and brush the tops of the rounds with heavy cream. Then generously sprinkle them with the remaining cinnamon-sugar mixture. Transfer to your pre-heated oven and bake for 13-15 minutes, or until puffed and the tops are golden brown. Remove from the oven and set the baking sheet aside on a wire rack to cool.
Place the bowl of your mixer and the whisk attachment in your freezer for about 5 minutes to chill them. Then remove them from the freezer and immediately add the heavy cream, powdered sugar and vanilla extract to the bowl and start whisking on medium-high speed. Once the cream starts to thicken, increase the speed to high and continue whisking just until soft peaks form.
To serve, slice the shortcakes in half. Spoon blueberries and whipped cream over the bottom round, then place the top round on top. Enjoy immediately.