I haven't really done much baking the past couple of months. Once the warm weather settles in, I get hyper-focused on ice cream and popsicles. And some of my usual baked goods start to fall by the wayside. But with local Summer blueberries starting to appear, I couldn't resist baking up these Pavlovas with Lemon Curd and Blueberries!
Lemon and blueberries are such a classic flavor combo, so it just made sense to put them together in these pavlovas. And it also makes sense to make a lemon curd because the meringue recipe (i.e. the base for pavlovas) uses egg whites only, so I'm forever left with the problem of what to do with the leftover egg yolks. Well, I can now officially say that I've smartened up considerably. Because instead of throwing away the egg yolks, I've used them to make lemon curd. And let me tell you, lemon curd spooned into meringues and then topped with fresh whipped cream and blueberries is a real treat.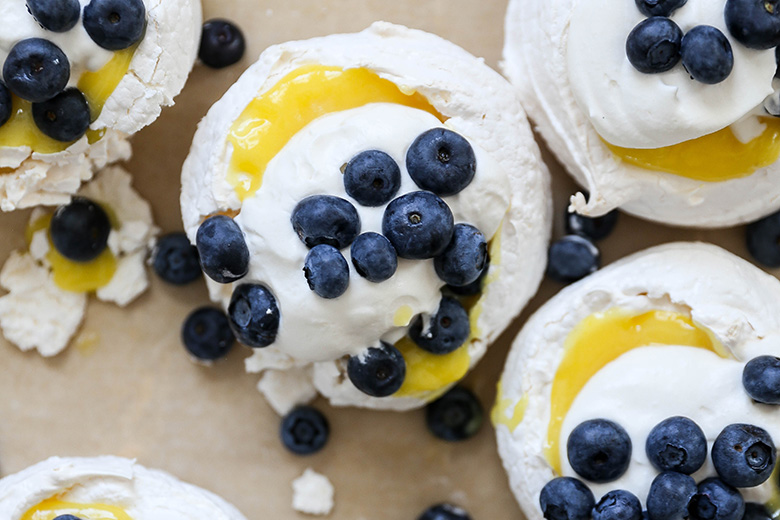 There are several steps to making this dessert, but there are a few make-ahead options that might be useful if you have time constraints. The lemon curd can be made several days in advance and stored in your refrigerator. And the meringues can be made and stored undecorated at room temperature for 2-3 days. But I will caution you that moisture is not your friend here. If it's intensely humid where you live (like it is for me during New England Summers!), the meringues will absorb that moisture and start to lose their characteristic crispy outer shell and become tacky to the touch. So if you live in a humid environment, I suggest making the meringues no more than 1 day in advance. Or use them as an excuse to crank up your air conditioning!
I've got more tips and tricks for making pavlovas in this post here. I highly suggest checking it out before starting.
These Pavlovas with Lemon Curd and Blueberries would be a great dessert for 4th of July. You could even add in a few raspberries or strawberries for a complete red, white and blue vibe!
Cheers,
Liz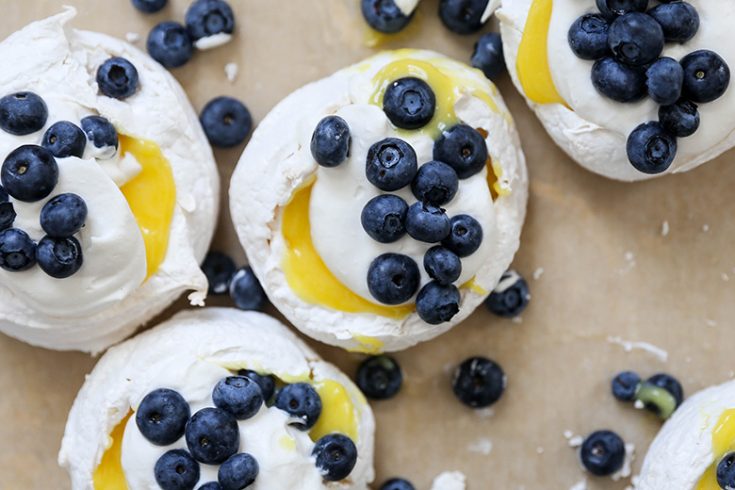 Pavlovas with Lemon Curd and Blueberries
Yield: Makes 6 pavlovas
Prep Time: 30 minutes
Cook Time: 1 hour
Additional Time: 30 minutes
Total Time: 2 hours
Ingredients
For the Meringues:
3 egg whites, at room temperature (save the egg yolks for the lemon curd)
1/4 tsp. cream of tartar 
1/8 tsp. salt 
3/4 cups granulated sugar 
1 tablespoon cornstarch
1/2 tsp. vanilla extract
For the Lemon Curd:
3 egg yolks
6 tablespoons granulated sugar
Finely grated zest from 1 lemon
1/4 cup fresh squeezed lemon juice
4 tablespoons butter, cubed and chilled
For Topping:
1 cup heavy whipping cream
2 tablespoons powdered sugar
1/2 tsp. vanilla extract
About 1 pint fresh blueberries
Instructions
Pre-heat your oven to 275 degrees. Line a large baking sheet with parchment paper and set it aside.
Add the egg whites, cream of tartar and salt to the bowl of your stand mixer fitted with the whisk attachment. Whisk on low speed for about 1 minute. Then increase the speed to medium and whisk for another 2 minutes. The egg whites should have small, uniform bubbles throughout.
In a small bowl, stir together the sugar and cornstarch. Then with your mixer on medium speed, slowly add the sugar/cornstarch mixture to the egg whites. Once all the sugar/cornstarch mixture has been added, increase the speed to high and whisk until the batter is thick, white, glossy and holds stiff peaks, about 4-5 minutes. Add the vanilla extract and whisk until incorporated.
Using a large spoon, scoop the batter out onto your prepared baking sheet into 6 mounds, placing them about 2-3 inches apart from each other. Using the back of the spoon, create a small indent in the middle of each mound. Be careful not to make the mounds too thin/flat, because they will spread out during baking. If this happens, you can use the back of the spoon to coax/lift the batter back up into a taller shape.
Transfer the baking sheet to your pre-heated oven and reduce the temperature to 250 degrees. Bake the meringues for 50-55 minutes. They should feel dry to the touch when they are done. Turn your oven off and let the meringues rest in the oven as it cools, about 20-30 minutes. Then remove the baking sheet and allow the meringues to finish cooling at room temperature. Cooled, undecorated meringues can be used immediately. Or stored in a single layer in an airtight container at room temperature for 2-3 days.
While the meringues bake, prepare the lemon curd. In a small saucepan, whisk together the egg yolks, sugar, lemon zest and lemon juice. Place the saucepan over medium heat and cook, stirring constantly with a wooden spoon, until the mixture has thickened enough to coat the back of the spoon, about 4-5 minutes. Remove the saucepan from the heat. Add the butter cubes one at a time, stirring until fully melted and incorporated.
Place a fine mesh strainer over a clean bowl and strain the lemon curd, using a spatula or spoon to help push as much of it through the strainer as possible. Discard any collected solids. Cover the bowl with plastic wrap and place it in your refrigerator to chill the lemon curd for at least an hour before using. The lemon curd can be made several days in advance and stored in an airtight container in your refrigerator.
While the lemon curd and meringues cool, make the whipped cream. Place the bowl of your mixer and the whisk attachment in your freezer for about 2-3 minutes to chill them. Then remove them from the freezer and immediately add the heavy cream, powdered sugar and vanilla extract to the bowl and start whisking on medium-high speed. Once the cream starts to thicken, increase the speed to high and continue whisking until soft peaks form.
To serve, divide the lemon curd into the center of each of the meringues. Top with whipped cream and fresh blueberries. Enjoy immediately.