My citrus obsession continues!
If you're like me, which I think you are, then I bet you also have a ton of citrus currently in your possession. Like WAY more than you could reasonably consume in a single season. Am I right?
But don't worry. Because you've come to the right place. These Lemon Curd Linzer Cookies will help you tackle that bag of lemons you have rolling around in your produce drawer. With a homemade lemon curd filling sandwiched between two buttery, lemon-flavored cookies, these adorable little linzers are a dream for any lover of lemon desserts!
A few quick notes on the recipe. For the cookie dough, I used a combination of all-purpose flour and almond flour. I really love the hint of nuttiness and texture that the almond flour provides to these cookies. But if you prefer to make the dough with only all-purpose flour, that will work out just fine. Another option would be to substitute the almond flour with hazelnut flour, which I've done in the past. I've also added in some finely minced fresh rosemary to the cookie dough. Rosemary is a favorite herb of mine to use in buttery cookies. But you can leave it out if you're not feeling that wee bit of savory-ness that the rosemary adds.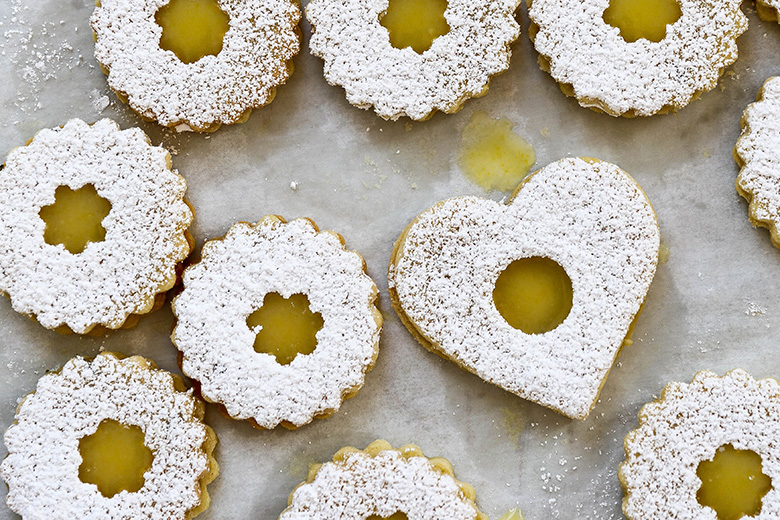 If you haven't made lemon curd before, you're about to become totally hooked! It's a very simple and straightforward process. And the flavor is much more lemon-forward than some of the store-bought versions that I've encountered (one of which unfortunately tasted strongly of eggs and I promptly threw away!). I've scaled down my go-to lemon curd recipe so you shouldn't have too much leftover after you've assemble all your cookies. But if you want leftovers, it can be easily doubled. I wouldn't blame you if you decided to go that route.
Since Valentine's Day is right around the corner (yay or nay?), I snuck in a few heart-shaped linzers just for fun. But any plain, medium-sized cookie cutter (i.e. avoid those with elaborate shapes) could be used for these cookies. So feel free to have a little fun with them!
Cheers,
Liz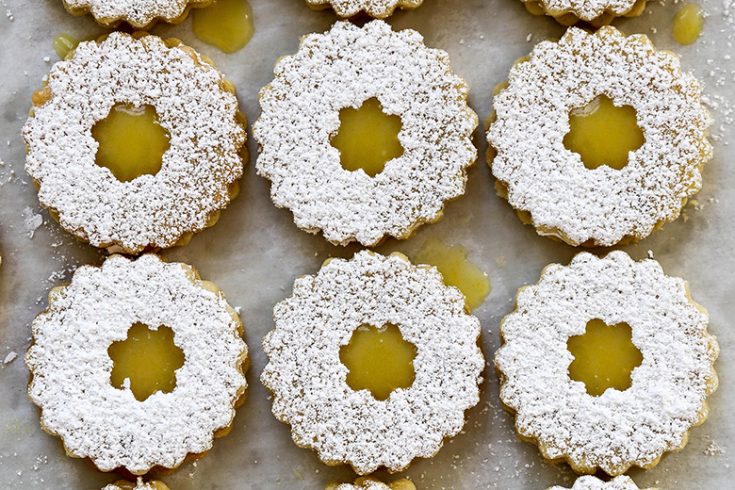 Lemon Curd Linzer Cookies
Yield: Makes about 2 dozen cookies
Prep Time: 1 hour
Cook Time: 30 minutes
Additional Time: 3 hours
Total Time: 4 hours 30 minutes
Ingredients
For the Cookies:
12 tablespoons unsalted butter, softened at room temperature
1/2 cup granulated sugar
Finely grated zest from 1 lemon
1 tsp. fresh rosemary, finely minced
1 egg yolk
1/2 tsp. vanilla extract
1 cup all-purpose flour
3/4 cups almond flour
1/4 tsp. salt
Powdered sugar, for dusting
For the Lemon Curd:
8 tablespoons unsalted butter, cubed
3/4 cups granulated sugar
2 eggs, separated
Finely grated zest from 2 lemons
1/2 cup fresh squeezed lemon juice (from 2-3 lemons)
Instructions
In your stand mixer fitted with the paddle attachment, beat together the butter, sugar, lemon zest and rosemary on medium-high speed until light and fluffy, about 2-3 minutes. Scrape down the sides and bottom of the bowl. Add the egg yolk and vanilla extract and beat until combined.
With your mixer on low speed, slowly add in the flours and salt, beating until no more white steaks remain. Remove the dough from the bowl and divide it into two portions. Wrap each portion in plastic wrap, flattening them to form a disk, then place the disks in your refrigerator to completely chill the dough, at least 2 hours or up to overnight.
Meanwhile, make the lemon curd. Melt the butter in a medium heavy-bottom saucepan set over medium heat. Once melted, turn off the heat.
In a separate bowl, whisk together the sugar, egg whites, lemon zest and lemon juice. Set aside.
Add the egg yolks to the melted butter, whisking constantly as you do. Then whisk in the egg white mixture. Turn the heat back on to low and cook the lemon curd, whisking constantly, until the mixture has thickened and coats the back of a spoon, about 5-6 minutes. Do not let the lemon curd come to a full boil. Remove the saucepan from the heat.
Place a fine mesh strainer over a clean bowl and strain the lemon curd, using a spatula or spoon to help push as much of it through the strainer as possible. Discard any collected solids. Cover the bowl with plastic wrap and place it in your refrigerator to chill the lemon curd. It will thicken slightly as it cools. You should have about 1 1/3 cups of lemon curd.
On a well-floured work surface, roll out one of the chilled dough disks to a 1/4-inch thickness. Use a round cookie cutter (mine was about 2-inches in diameter) to cut out cookies. Then using a smaller round cookie cutter, make peak-a-boo cutouts in the center of half of the cookies. Transfer the cookie cut-outs to a parchment paper-lined baking sheet. The cookies won't spread significantly, so you can space them fairly close together on the baking sheet. I can typically fit 16-18 cookies on each baking sheet.
Re-roll the scraps and continue to cut out cookies until the dough has been used up. Repeat with the second dough disk.
Place the baking sheets in your refrigerator to chill the cookie cut-outs for 30 minutes.
Pre-heat your oven to 350 degrees. Transfer the baking sheets directly from your refrigerator to your pre-heated oven and bake the cookies for 9-10 minutes. They should be lightly browned around the edges. Remove the baking sheets from your oven and let the cookies cool for 5 minutes before transferring them to a wire rack to continue cooling.
Once the cookies are completely cooled, you can assemble them with the lemon curd. Place about a tablespoon of the lemon curd in the center of the flat side of the intact cookies. You want the lemon curd filling to cover about three-quarters of the surface of the cookies (it will spread slightly when you place the second cookie on top). Set aside.
Spread the cookies with the peak-a-boo cutouts out on a baking sheet. Generously dust the tops with powdered sugar. Then place these dusted cookies on top of the cookies with the lemon curd filling to create a cookie sandwich.
Assembled cookies can be stored in an airtight container in your refrigerator for 3-5 days. The cookies will soften over time.