Blood oranges are just begging for our attention. Their bold hue screams out "pick me, pick me!" from the produce aisle. And well, who am I to ignore those screams? So I may or may not have purchased way too many bags from the grocery store this past week. But I'm not sorry about it. Because they will not go to waste around my house!
These Candied Blood Orange Slices Dipped in Dark Chocolate are very easy to make. And unlike some other homemade candies, they don't require any special equipment (like a candy thermometer). But they do require a bit of pre-planning, so be prepared for that. Because after you've simmered the slices in the cooking liquid (which is a vanilla-flavored simple syrup), you need to let them dry for 18-24 hours before dipping them in the melted chocolate. And then if you plan on storing the slices, you'll need to wait another couple of hours for the chocolate to fully set. So be sure to factor in about a whole day of inactive prep time.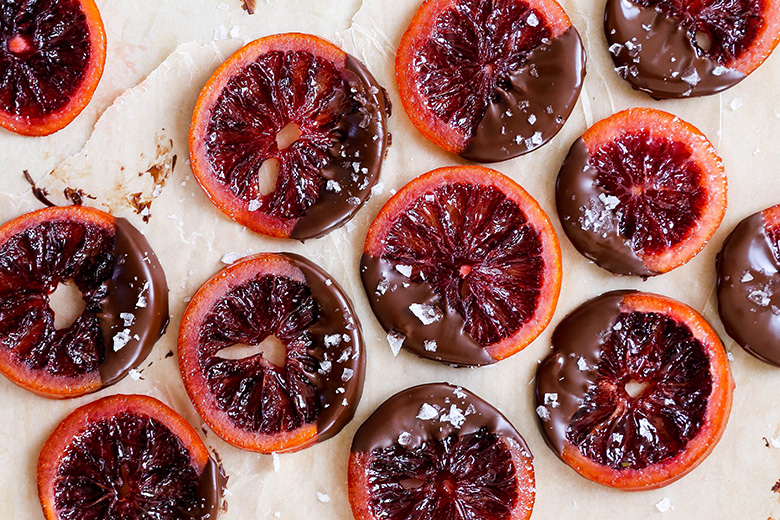 I have always loved the combination of chocolate and orange, so I can't stop myself from gobbling these Candied Blood Orange Slices Dipped in Dark Chocolate up all on their own. They're the perfect little chewy treat to satisfy your sweet tooth. You can also use them to decorate cakes, puddings, quick breads, etc. They make beautiful garnishes!
If you're wondering if you can do this with other varieties of citrus, the answer is yes you absolutely can! I've done this with Cara Cara oranges, which are a bit sweeter and have more of a pink-orange hue. And I've also done this with Meyer lemons, which I then dipped in melted white chocolate. All are great choices, in my humble opinion. There are so many tasty and fun citrus varieties available right now. Feel free to play around!
Cheers,
Liz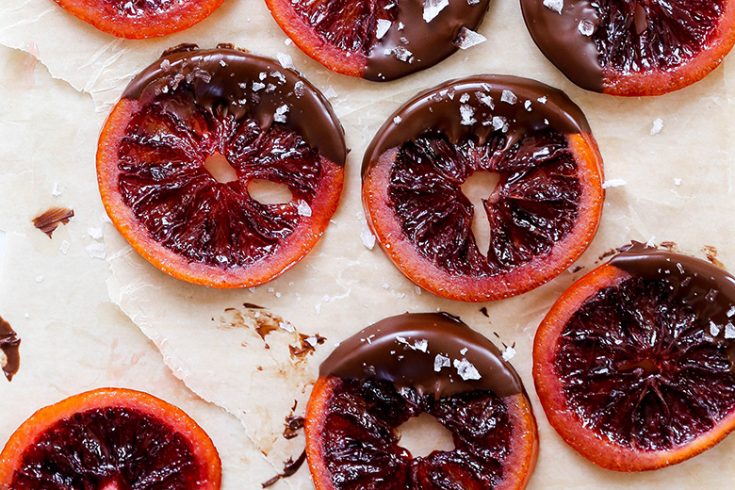 Candied Blood Orange Slices Dipped in Dark Chocolate
Yield: Makes about 12 slices
Prep Time: 5 minutes
Cook Time: 45 minutes
Additional Time: 1 days
Total Time: 1 days 50 minutes
Ingredients
2 blood oranges, scrubbed
2 cups water
1 cup granulated sugar
1 vanilla bean, split
2 ounces dark chocolate, chopped
Flaky sea salt
Instructions
Trim and discard the ends from the blood oranges. Then slice the remainder into 1/4-inch thick slices, removing and discarding any seeds. Set aside.
Add the water, sugar and vanilla bean to wide skillet set over medium-high heat. Bring to a simmer and cook, stirringly frequently, until the sugar is completely dissolved. Add the blood orange slices to the cooking liquid. The cooking liquid should be deep enough so that the slices are floating off the bottom. And the skillet should be wide enough so that the slices are mostly in a single layer.
Adjust the heat to maintain and low simmer and cook the orange slices for 45 minutes, flipping them over once with a pair of tongs halfway through the cooking time. Remove the skillet from the heat.
Set a cooling rack over a baking sheet (I lined mine with parchment paper for easy clean up). Using a pair of tongs, carefully transfer the orange slices to the cooling rack, keeping them in a single layer. Let the orange slices dry uncovered at room temperature for 18-24 hours. The orange slices will still be somewhat tacky, but they should be dry enough so that they can be easily handled and picked up with your fingers.
Place the chocolate in a microwave-safe bowl. Microwave it in 30 second intervals, stirring in between each interval, until it's completely melted and smooth. Partially dip the orange slices into the melted chocolate, letting the excess drip off before placing them on a piece of wax paper. Once all the orange slices have been dipped, sprinkle each with a pinch of flaky sea salt.
Once the chocolate has set, the orange slices can be stored between pieces of wax paper in an airtight container at room temperature for 4-5 days.
Notes
Recipe barely adapted from A Beautiful Plate and Waves in the Kitchen.
The cooking liquid can be transferred to a re-sealable container and stored in your refrigerator. It's great for making cocktails!