I feel vindicated by these shortbread cookies!
Why is that? Because in November and December I tried my damnedest to create a new shortbread recipe for the Holidays. And I just couldn't get it right. I failed over and over again. Some of my attempts were SO BAD that I even had to throw them away. And if you know me, you know that I never throw away food…especially cookies. So that should tell you just how bad they really were.
And even more unsatisfying is the fact that I never really figured out what was going wrong. I've made shortbread many times in the past with great success (I even have a couple shortbread recipes here on the blog!) But for whatever reason(s), the shortbread juju just wasn't aligning for me during those months. So I put the idea on the shelf and decided it was best to simply move on and revisit it later.
But now I'm back baby! And better than ever!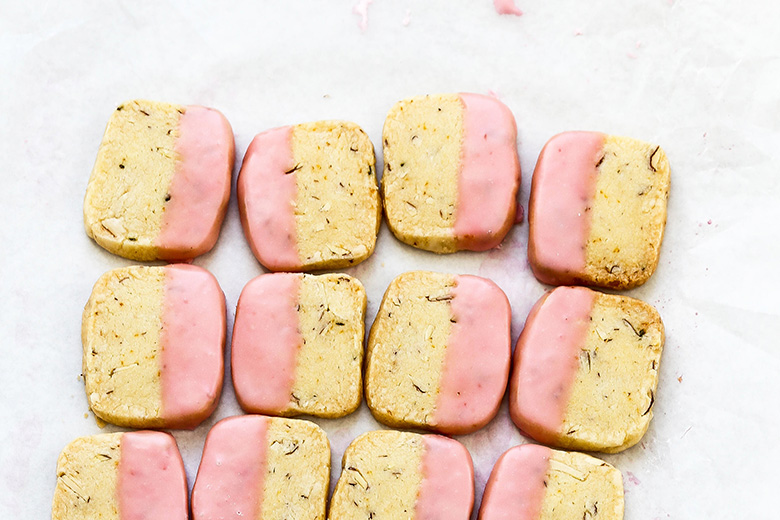 These Blood Orange, Almond and Rosemary Slice and Bake Shortbread Cookies are a total dream. The flavors feel very sophisticated. Definitely fancy and delicate enough to be enjoyed with a cup of afternoon tea with the Queen. But they still bring all the rich, buttery, crumbly goodness that shortbread is known for.
Oh and they are so easy! I love a good "slice and bake" cookie recipe. No shaping, rolling or cutting required. Simply form the dough into two logs, wrap them up in wax paper and stash them in your freezer for an hour to chill. Then using a sharp knife (I prefer a straight-edge knife for this task), simply do exactly as the name suggests: slice and bake.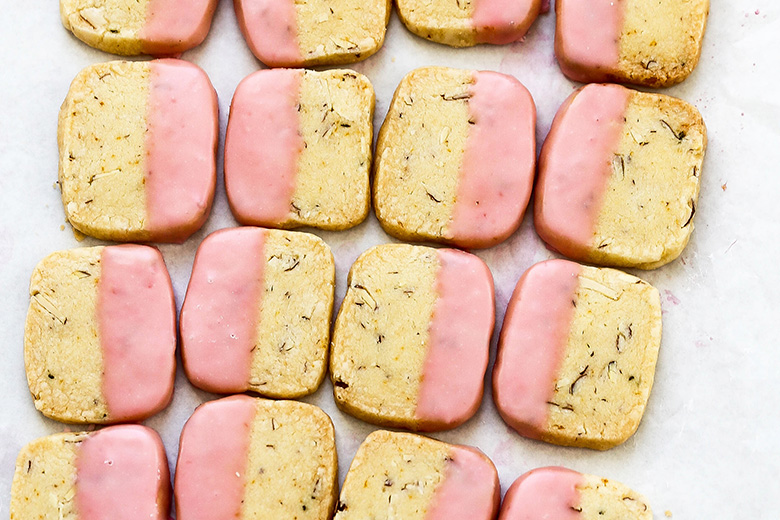 Since I'm still crushing on all the seasonal citrus varieties, I used a blood orange for this recipe. I added the zest of the blood orange to the dough. And then used the juice to make a beautiful blushing pink glaze. If you can't find blood oranges, you can use any type of orange you have on hand. It won't have a huge impact on the overall flavor of the shortbread.
Cheers,
Liz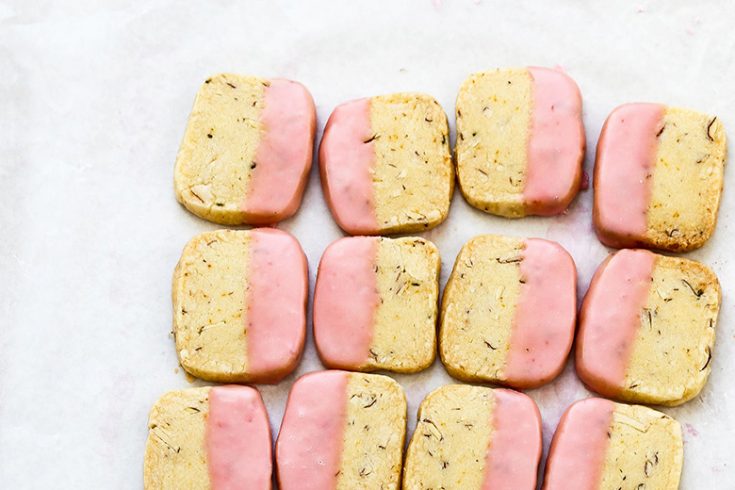 Blood Orange, Almond and Rosemary Slice and Bake Shortbread Cookies
Yield: Makes about 3 1/2 dozen cookies
Prep Time: 15 minutes
Cook Time: 25 minutes
Additional Time: 1 hour
Total Time: 1 hour 40 minutes
Ingredients
For the Shortbread:
1 cup (16 tablespoons) unsalted butter, softened at room temperature
1 cup powdered sugar
3/4 tsp. almond extract
Finely grated zest from 1 blood orange
1 tablespoon minced rosemary
2 cups all-purpose flour
1/2 tsp. salt
1/2 cup sliced almonds
For the Glaze:
1 cup powdered sugar
2-3 tablespoons blood orange juice
Instructions
In your stand mixer fitted with the paddle attachment, beat the butter and powdered sugar until smooth and well combined, about 2-3 minutes. Scrape down the sides of the bowl. Add the almond extract, blood orange zest and minced rosemary and beat to combine.
Add the flour and salt and mix on low speed until just combined. Scrape down the sides of the bowl. Then add the sliced almonds and mix until incorporated.
Divide the dough in half and use your hands to shape each half into an 8-inch long log that is approximately 2 1/2-inches in diameter. You can keep the logs round, or pat the sides flat to make more of a square shape. Wrap each log in wax paper and transfer them to your freezer to chill for 1 hour.
Pre-heat your oven to 325 degrees. Line two baking sheets with parchment paper and set aside.
Remove the logs from your freezer. Using a sharp knife, cut the dough into 1/4-inch thick slices. Place the slices on your prepared baking sheets, spacing them about 1-inch apart. Once all the dough has been cut, transfer the baking sheets to your pre-heated oven and bake for 20-25 minutes, or until the cookies are light brown around the edges. Remove the baking sheets from your oven and let the cookies rest for 5 minutes before transferring them to a wire rack to continue cooling.
Once the cookies are cooled, make the glaze. Stir together the powdered sugar and blood orange juice in a small bowl. The glaze should be thin enough so you can easily dip the cookies in it, but not runny.
Place your wire rack over a piece of parchment paper. Dip each cookie about halfway into the glaze and let the excess drip off. Place the dipped cookies on your wire rack.
Once the glaze is dry and set, transfer the cookies to an airtight container for storage. The cookies will stay fresh for about 5-7 days.