Hi Friends! I'm off to the Blue Ridge Mountains in Virginia this weekend to attend Mixed, a small and intimate food blogging conference. There are probably about 32 million reasons why I'm super excited about this conference. But one of the coolest things is that the conference is being held at the resort where they filmed Dirty Dancing!
Dirty-freaking-Dancing. Oh my gosh. The hopeless romantic in me is just bursting at the seams. I've been binge watching the movie for the past couple of days to, you know, prepare myself. I want to make sure I can recognize all the good scenes (= research)!
I'm sure I'll talk about all the amazing-ness of the conference once I'm back. But if you want to see what we're up to this weekend, just check out the hashtag #mixedcon on social media. And follow along with me on Instagram, Twitter and Facebook if you're not all ready doing so. Yeah!
Now let's talk about this Cranberry Upside Down Cake. I first made this cake from Elise last year and I was absolutely blown away by how good it was. In fact, it was so incredible that I made it another four times (FOUR!) shortly after that. Which is serious business. Making anything four times in one season is a big deal, especially if you're a food blogger.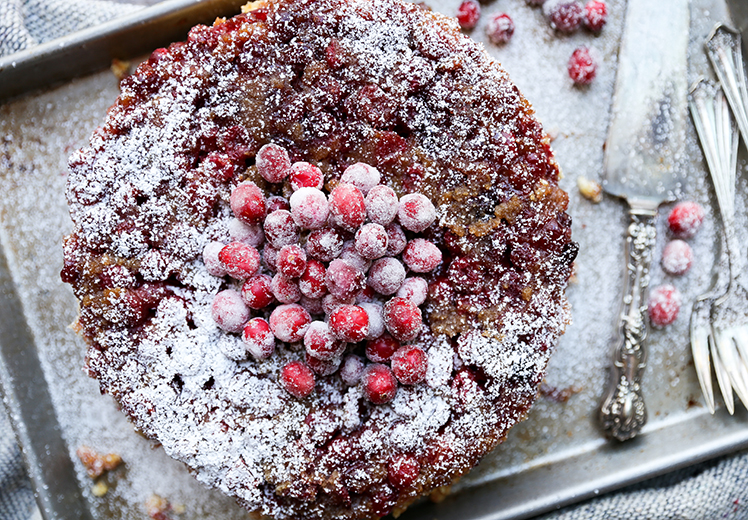 When cranberries starting showing up last month, I was chomping at the bit to make this recipe again. And since my love for this cake is so intense (much like my love for Dirty Dancing), I figured it was about time I shared it with you.
The cake is dense and moist, with a subtle orange flavor and just a hint of cozy spices. And the tart cranberries are perfectly balanced by the sticky-sweet caramel-like brown sugar topping. On it's own, this Cranberry Upside Down Cake is already one of the most festive things I can think of right now. But I like to make it even more over-the-top by garnishing it with a dusting of powdered sugar and some of my Sparkling Sugared Cranberries. Neither of these things are absolutely necessary, of course, but I don't think you should skip 'em either. Just saying.
Cheers,
Liz
Recipe barely adapted from Simply Recipes
Ingredients
For the Cake
3/4 cups brown sugar, packed
3/4 cups (1 1/2 sticks) unsalted butter, divided and softened at room temperature
12 ounces fresh cranberries
1 3/4 cups all-purpose flour
2 tsp. baking powder
1/2 tsp. salt
1/2 tsp. ground ginger
1/4 tsp. ground cinnamon
1/4 tsp. ground cardamom
1/8 tsp. ground cloves
1 1/2 cups granulated sugar
3 eggs
1 tablespoon orange zest
1/2 cup Greek yogurt
1/4 cup milk

For Garnish
Powdered sugar
Sparkling sugared cranberries
Instructions
Pre-heat your oven to 350 degrees. Generously grease the bottom and sides of a 9-inch cake pan. Set aside.
In a small saucepan, combine the brown sugar and 1/4 cup of the butter over medium-high heat, stirring frequently. Cook until the butter is melted and the mixture begins to simmer. Remove from the heat. Pour the mixture into your prepared cake pan. Spread the cranberries over top of the mixture. Set aside.
In a medium bowl, whisk together the flour, baking powder, salt, ginger, cinnamon, cardamom and cloves. Set aside.
In the bowl of your stand mixer with the paddle attachment, beat the remaining 1/2 cup of butter with the sugar until light and fluffy. Add the eggs one at a time, beating after each addition. Beat in the orange zest.
With your mixer on low, beat in about half of the dry ingredients. Then beat in the Greek yogurt, the remaining half of the dry ingredients, and finally the milk. The batter should be smooth and thick.
Pour the batter over the cranberries in your cake pan and spread it out evenly. Place the pan in your pre-heated oven and lower the temperature to 325 degrees. Bake the cake for 55-60 minutes, or until a toothpick inserted into the center comes out clean. Remove from the oven and place the cake pan on a wire rack to cool for 10 minutes.
Run a knife along the inside rim of the cake pan to loosen the cake from the sides. Carefully invert the cake pan (it will still be hot, so use potholders) over a serving platter and lift off the pan.
Allow the cake to continue cooling. Once cooled, slice the cake into wedges. Dust with powdered sugar and garnish with sparkling sugared cranberries before serving, if desired.
https://www.floatingkitchen.net/cranberry-upside-down-cake/