This post was originally published here February 13, 2015. I've since updated the text and photographs. I hope you give this "grown up" hot chocolate a try this season!
This Stout Hot Chocolate with Ice Cream is a favorite recipe of mine (and yours!). But sadly, it's been stuck in the archives for a while now. And it needed a glow-up.
So I traveled way back to 2015 and rescued it with some fresh photographs and text. The timing of which couldn't be more perfect. Because this would be a great fun and flirty recipe to try out for Valentine's Day!
And if you're not into celebrating Valentine's Day, then simply try it tonight! Because there is never a bad time for beer, chocolate and ice cream!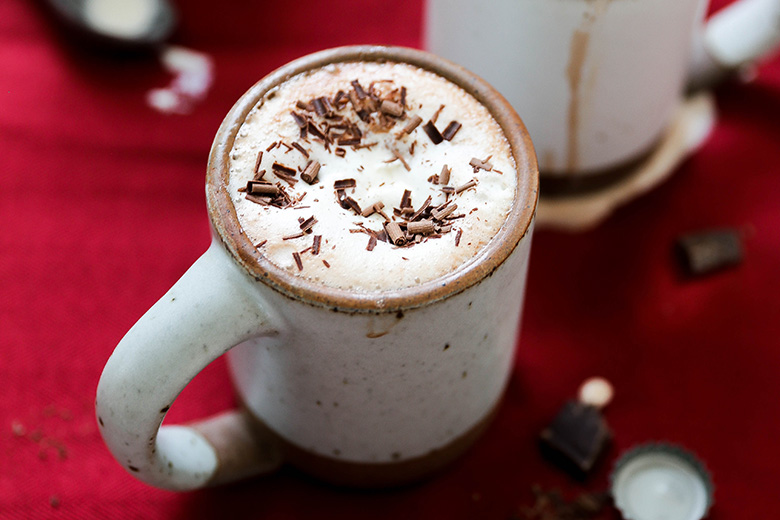 There are a few frequently asked questions that I get on this recipe, so let's just tackle them right here:
(1) Does this hot chocolate taste like beer? Yes! You're going to start by reducing the beer to make it more concentrated. This will cook-off some of the alcohol, but keep and enhance all the delicious flavors!
(2) What kind of beer should I use? Use whatever stout you enjoy drinking. Guinness is a great choice and is easy to find. Other favorites of mine include Rogue Ales Chocolate Stout and Deschutes Obsidian Stout.
(3) Does the ice cream melt? Of course! And that's what makes this hot chocolate so creamy and decadent. I like to add the ice cream to my mugs first, then slowly pour over the hot chocolate (similar to the way you would make an affogato).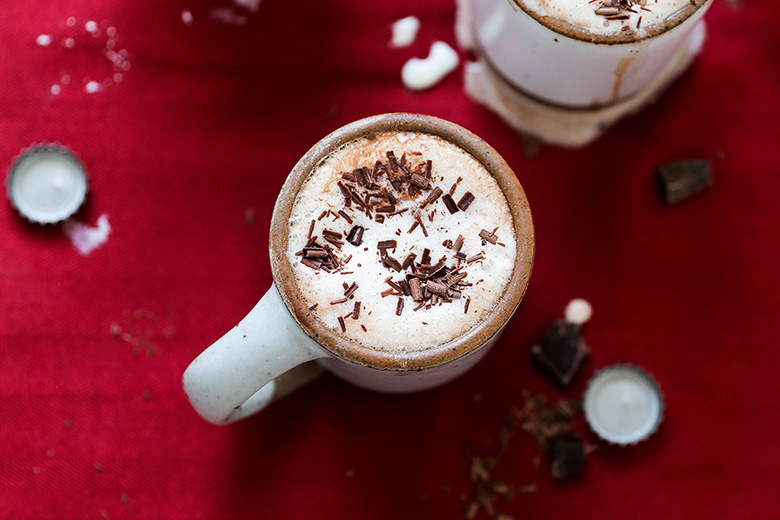 (4) Can I make this recipe dairy free? Yes. Dairy-free milks and ice creams have come a long way since I originally published this recipe in 2015. And I think many would work well here. But be aware that some stouts are brewed with added lactose, and thus wouldn't technically be considered dairy free. So if you're sensitive to dairy, please check the labels before you buy.
(5) Can I make and enjoy both mugs myself. Yes. And I highly recommend it!
Cheers,
Liz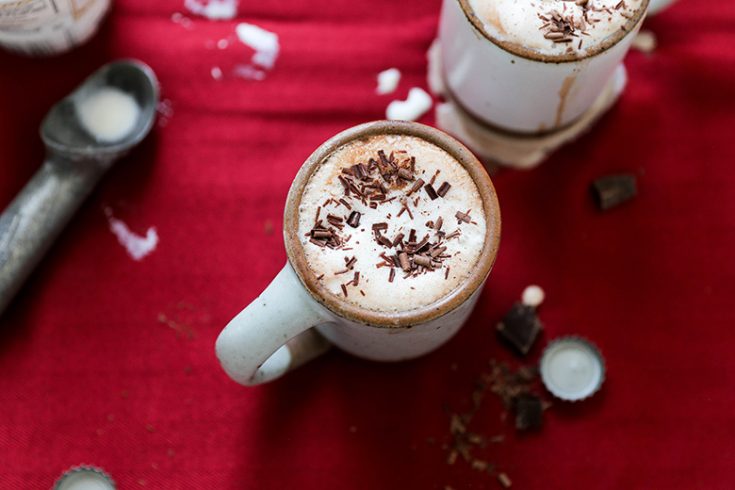 Stout Hot Chocolate with Ice Cream
Yield: Serves 2
Prep Time: 5 minutes
Cook Time: 20 minutes
Total Time: 25 minutes
Ingredients
12 ounces stout beer
2 cups whole milk
3 tablespoons unsweetened cocoa powder
4 ounces dark chocolate (60-70%), chopped
1 tablespoon sugar
1/8 tsp. cinnamon
2 scoops vanilla ice cream
Instructions
In a saucepan over medium-high heat, bring the beer to a simmer. Cook for about 10-15 minutes, or until the beer is reduced to about 3/4 cups. Remove from the heat and set aside.
In a separate saucepan over medium heat, heat the milk until it just starts to simmer. Do not let it come to a full boil. Add the cocoa powder, chopped chocolate, sugar and cinnamon. Whisk until well combined and smooth. Then whisk in the reduced beer. Remove the saucepan from the heat.
Place a scoop of vanilla ice cream into two large mugs. Pour the hot chocolate over the ice cream. Serve immediately.