You guys! There is so much awesome-ness happening today. I feel like my little heart is about to burst out of my chest.
First. It's Cinco de Mayo, which is one of my favorite eating days of the year. And let's be honest, it's also one of my favorite drinking days too. Hello margaritas the size of my face!
Second. It also happens to be 30 Minute Thursday. If you're not familiar with 30 Minute Thursday, it's a once a month thingy that myself and some of my blogging friends put together in which we share recipes that can be made in 30 minutes or less (you can find last month's 30 Minute Thursday post here). Be sure to check out the links posted below for all the goods. Hint: there are a lot of Mexican-inspired dishes happening in this month's installment. Try one out tonight!
And third. This little bloggity blog celebrated a Birthday a few days ago. Floating Kitchen is now THREE! Yahoo! But because I'm apparently a bad parent, I neglected to make a cake or any other type of celebratory dessert. Boo hoo. Instead, we're going to have to settle for these kick-ass vegetarian Plantain and Black Bean Tacos with Chimichurri Sauce.
So I think these tacos kind of speak for themselves. I mean, just look at them. Aren't they gorgeous? Who knew tacos could be so beautiful? They have me feeling all giddy inside.
I'm absolutely obsessed with using plantains for plant-based recipes. Although you wouldn't know that based on the collection of recipes on this site, for which there is only one other one that uses plantains. Shameful. I know. I'll work on fixing that. In the meantime, if you have any favorite plantain recipes, please tell me so I can try them out!
Plantains can be used for cooking at any stage of ripeness, but they will be sweeter and less starchy the more ripe they are. They are often sold while still green, but I prefer to wait until they start to turn yellow before using them.
I hope you enjoy lots of tacos, nachos and margaritas tonight! And if you try my Plantain and Black Bean Tacos with Chimichuri Sauce, or any of the other recipes from our #30MinuteThursday series, be sure to give us a shout out on social media. We love to see what you're cooking at home!
Cheers,
Liz
Recipe inspired by Minimalist Baker
Ingredients
For the Chimichurri Sauce
1 cup loosely packed fresh parsley
1 cup loosely packed fresh cilantro
1 tablespoon fresh oregano
1 garlic clove, peeled
Zest from 1/2 lime
1/4 tsp. salt
1/4 tsp. black pepper
1/4 tsp. red pepper flakes
1 tablespoon red wine vinegar
About 1/4 cup extra-virgin olive oil

For the Plantains
3 large ripe plantains, peeled and sliced into 1/2-inch rounds
2 tablespoons brown sugar
1 tsp. chili powder
1 tsp. ground cumin
1 tsp. ground cinnamon
1/2 tsp. salt
1-2 tablespoons extra-virgin olive oil

For the Black Beans
1 (15 ounce) can black beans, rinsed and drained
1 tsp. ground cumin
Juice from 1/2 lime
Pinch of salt

For Serving
Corn tortillas
Greek yogurt
Instructions
Make the chimichurri sauce. Add all of the ingredients, except for the olive oil, to the bowl of your food processor with the blade attachment. Pulse to combine. Then stop and scrape down the sides of the bowl. Add about 3 tablespoons of the olive oil and process until combined (you want some texture to the sauce, so don't over process it), adding more olive oil if you want the sauce to have a thinner consistency. Transfer the chimichurri sauce to a small container and refrigerate it until you're ready to use it.
Make the plantains. In a large bowl, toss the plantains with the brown sugar and spices. Set aside. Heat 1 tablespoon of the olive oil in a large skillet over medium heat. Add half of the plantain slices to the skillet, cooking them about 2 minutes per side, or until they are nicely browned and caramelized on each side. Transfer to a plate (don't place them on a paper towel because they will stick!) and cover to keep warm. Add a little more olive oil to the skillet and cook the remaining plantain slices. Once cooked, add them to the plate with the other plantains and cover to keep warm.
Make the beans. Add all of the ingredients to a microwave safe bowl, stirring to combine. Microwave the beans until warmed, about 1-2 minutes. Remove and cover to keep warm.
Assemble the tacos. Warm the tortillas so they are soft and pliable, either in your microwave, in a skillet or on your grill. Spread a small amount of yogurt onto each tortilla. Top with the black beans, plantains and a spoonful of the chimichurri sauce. Enjoy immediately.
https://www.floatingkitchen.net/plantain-and-black-bean-tacos-with-chimichurri-sauce/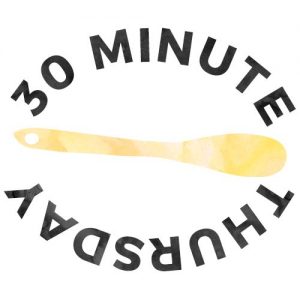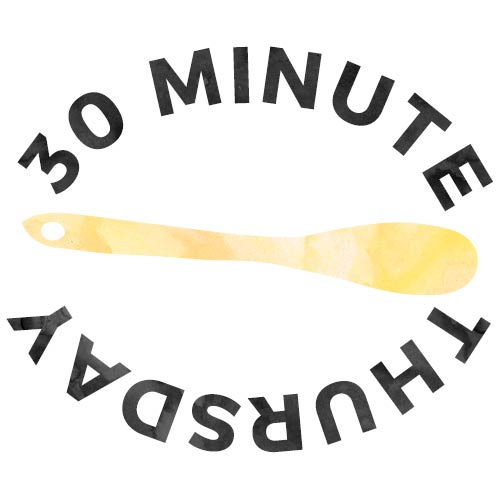 30-Minute Inside Out Enchiladas with Black Beans & Sweet Potato from She Likes Food
Baked Honey Garlic Chicken from Pumpkin N' Spice
Chicken Taco Pizza from My Kitchen Craze
20 Minute Ground Beef Tacos from Bake.Eat.Repeat
Fish Tacos with Strawberry Avocado Salsa from Flavor the Moments
Southwest Kale Chickpea Salad with Greek Yogurt Caesar Dressing from Sweet Peas & Saffron
Honey Lime Chicken Quesadillas from The Recipe Rebel
Tropical Grilled Chicken Mexican Salad Bowls from Whole and Heavenly Oven
Mexican Quinoa and Sweet Potato Skillet from Kristine's Kitchen
Balsamic Grilled Chicken with Strawberry Mint Salsa from With Salt and Wit
Mango Shrimp Tostadas from Flying on Jess Fuel
Hawaiian BBQ Chicken Tacos from Savory Nothings