Would you ever in a million years guess that this smoothie has a whole two cups of kale in it? It's not even the teeny tiniest bit green. It's like an undercover green smoothie. Totally stealth and totally freaking badass.
I mean, just LOOK at the beautiful, vibrant color of this Berry-Beet Smoothie. I could ramble on about the color of it all day loooong. Colorful food makes me feel all happy and giddy and like I'm winning at life.
But the awesome color of this smoothie isn't the only thing that it has going for it. It's also loaded with tons of healthy ingredients like berries, beets, chia seeds (hello Omega-3's!) and kale. It's super filling and satisfying. And it has a really unique, earthy, slightly sweet flavor that I find somewhat irresistible.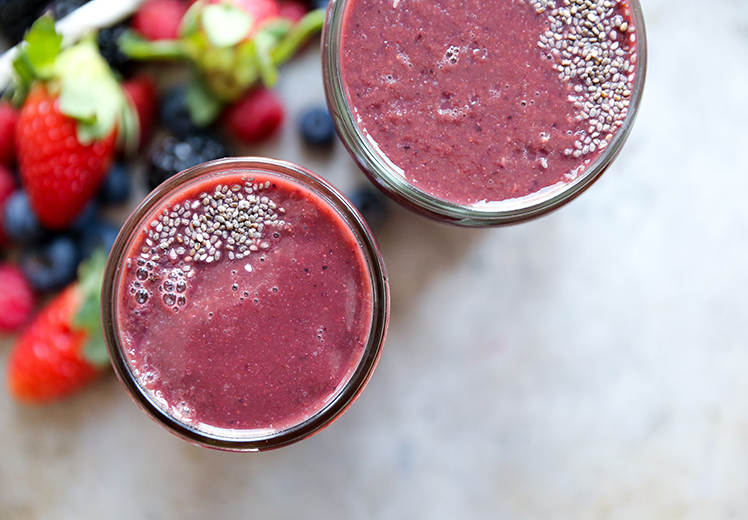 Smoothies shouldn't be labor intensive (the only one who should be working hard here is your blender!), so I don't mind taking a few shortcuts if I can. I opted for pre-frozen mixed berries (which are also more economical this time of year since berries aren't in season) and those ready to eat beets that you can find packed in the refrigerated produce section of your grocery store. But you can certainly cook and peel your own beets if you prefer. And if you have fresh berries you want to use, I recommend placing them in your freezer for a couple hours before blending them up, which will help to keep your smoothie thick and frosty.
Cheers,
Liz
Ingredients
1 tablespoon chia seeds
3/4 cups water
Juice from 1 lime
2 cups kale leaves, roughly chopped
1 cup frozen mixed berries
1/2 cup cooked and peeled beets
1 tablespoon maple syrup
Instructions
Add the chia seeds, water and lime juice to your blender. Let this sit for about 10 minutes.
Add the remaining ingredients to your blender. Blend on high until smooth. Pour into a glass and enjoy immediately.
https://www.floatingkitchen.net/berry-beet-smoothie/