Say this phrase three times fast: sheet cake shortcake.
Sheet cake shortcake.
Sheet cake shortcake.
Sheet cake shortcake.
Did you make it through? I didn't!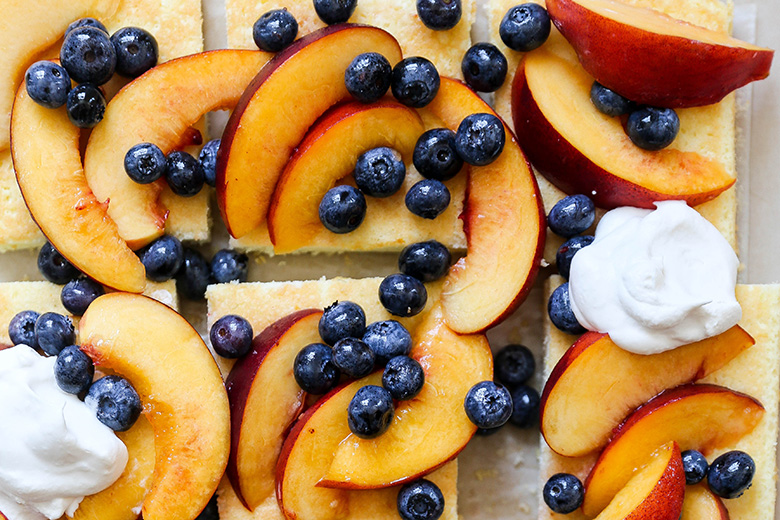 This Peach-Blueberry Sheet Cake Shortcake was inspired by a dessert that my Grandmother used to make. She wasn't a frequent baker. But she did always make me a sponge cake layered with whipped cream and strawberries for my June Birthday. I hadn't revisited her recipe in several years, so I thought it would be fun to do a late-Summer version with fresh peaches and blueberries. Both of which are so delicious and plentiful right now!
There are many things that I love about this recipe. But at the top of my list is the fact that the cake layer needs only 15 minutes to fully bake. And in this heat, that's a true blessing! How long does a pie take? 45 minutes or more? No thanks. I'll be waiting at least another month until I attempt those kinds of kitchen inferno-inducing shenanigans.
This Peach-Blueberry Sheet Cake Shortcake has such a simple, but pretty presentation. And it easily feeds twelve, but I bet you could squeak it to sixteen pieces if you really needed to. It's a perfect party cake. I think it would be great for a Labor Day weekend cookout!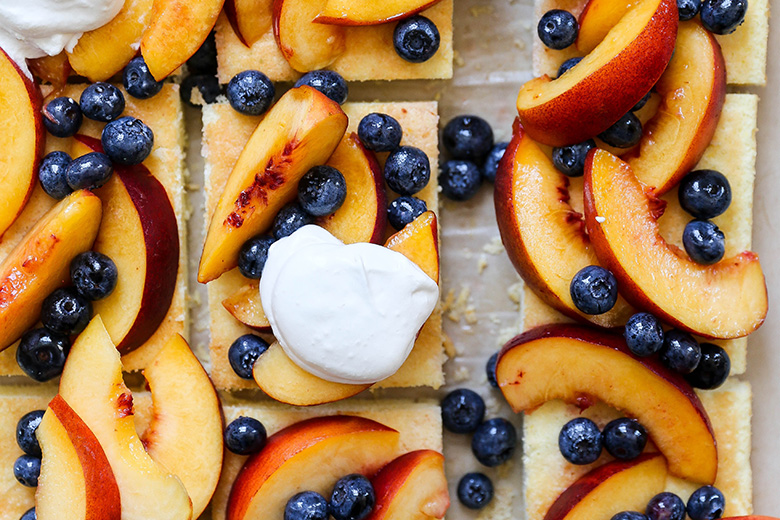 This cake uses only 1 cup of cake flour (the lower protein content of cake flour makes for fluffy, tender cakes), which means almost all the volume in the batter comes from the whipped egg whites and egg yolks. To get the most volume out of your eggs, make sure they're at room temperature to start. And when you're folding ingredients together, use large, sweeping strokes with your spatula to prevent the batter from deflating.
If you need a make-ahead option, you can bake, completely cool (through step 8) and wrap the cake for storage up to one full day in advance. Then continue with the rest of the recipe as your approach serving time.
Cheers,
Liz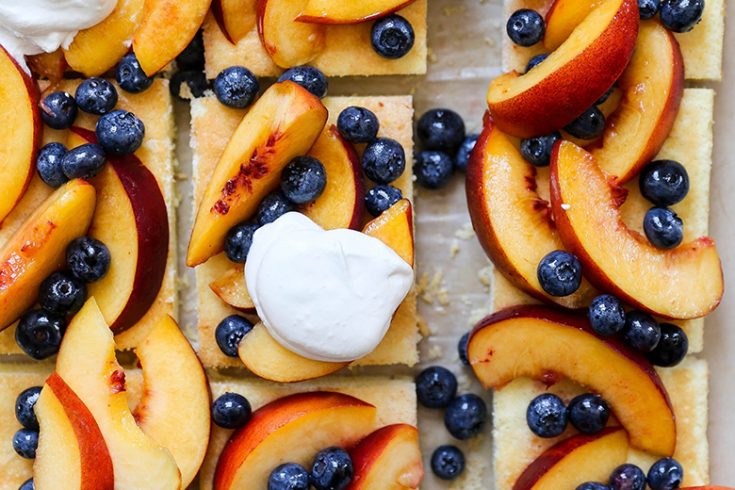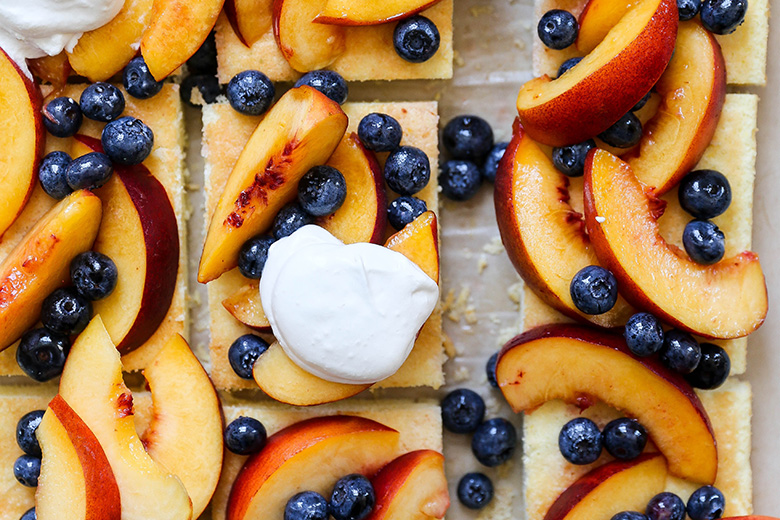 Peach-Blueberry Sheet Cake Shortcake
Yield: Serves 12
Prep Time: 20 minutes
Cook Time: 15 minutes
Additional Time: 15 minutes
Total Time: 50 minutes
Ingredients
For the Cake:
5 eggs, separated
1 cup granulated sugar, divided
2 tablespoons fresh squeezed lemon juice
1 tablespoon finely grated lemon zest
1 cup cake flour, sifted
1/4 tsp. baking powder
1/4 salt
For the Peach-Blueberry Topping:
3 medium-large peaches, pitted and sliced
2 cups fresh blueberries
2 tablespoons granulated sugar
2 tablespoons fresh squeezed lemon juice
For the Whipped Cream:
1 1/2 cups heavy whipping cream, cold
2 tablespoons powdered sugar
1 tsp. vanilla extract
Instructions
Pre-heat your oven to 350 degrees.
Line a 10 X 15-inch rimmed baking pan (often called a jelly roll pan) with parchment paper. Spray it lightly with non-stick cooking spray. Set aside.
In the bowl of your stand mixer fitted with the whisk attachment, whisk the egg whites on medium speed until small bubbles start to form. Then with your mixer running, slowly add in 1/2 cup of the sugar. Increase the speed to high and whisk until the egg whites become very thick and glossy, about 3-5 minutes. Transfer the egg whites to a clean bowl and set aside.
Add the egg yolks to the same mixing bowl (no need to clean it out) and whisk on medium speed until they become pale yellow. With your mixer running, slow add in the remaining 1/2 cup of sugar. Increase the speed to high and whisk until the mixture is smooth and has thickened slightly. Whisk in the lemon juice and zest.
Gently fold the egg whites into the egg yolks, stopping when the two are almost fully combined.
In a small bowl, stir together the cake flour, baking powder and salt. Then gently fold the dry ingredients into the egg mixture until no more dry spots remain.
Transfer the cake batter into your prepared pan and smooth the top to create an even surface. Transfer to your pre-heated oven and bake for 15 minutes. The edges of the cake should be slightly browned and starting to pull away from the sides of the baking pan.
Remove the baking pan from the oven and set it on a wire rack to cool for about 5 minutes. Run a knife along the edges of the cake to make sure it's not stuck to the side of the pan. Then carefully invert the baking pan over a parchment paper-lined wire rack. The cake should easily come out of the pan. If the parchment paper has stuck to the bottom of the cake, gently peel it off and discard it. Allow the cake to cool completely.
In a large bowl, toss the sliced peaches and blueberries together with the sugar and lemon juice. Set aside at room temperature for 10-15 minutes.
To make the whipped cream, start by placing the bowl of your mixer and the whisk attachment in your freezer for 2-3 minutes to chill them. Then remove them from the freezer and immediately add the heavy cream, powdered sugar and vanilla extract to the bowl and start whisking on medium-high speed. Once the cream starts to thicken, increase the speed to high and continue whisking until soft peaks form.
Slice the shortcake into twelve rectangular pieces. Spoon the peach-blueberry topping, including any juices that have collected at the bottom of the bowl, evenly over the surface of the shortcakes. Then add a spoonful of whipped cream to the top of each piece. Enjoy immediately.