I'm back today with one of my favorite types of recipes: a "non-recipe recipe".
Sometimes I'm hesitant to share these types of recipes on the blog because they seem too embarrassingly easy. Like, we all know how to make toast by now, right? It's a rather intuitive process. But these Chive Ricotta Toasts with Slow Roasted Tomatoes are one of the best things I've made and eaten in recent weeks, so I decided you needed to know about it. Here we go!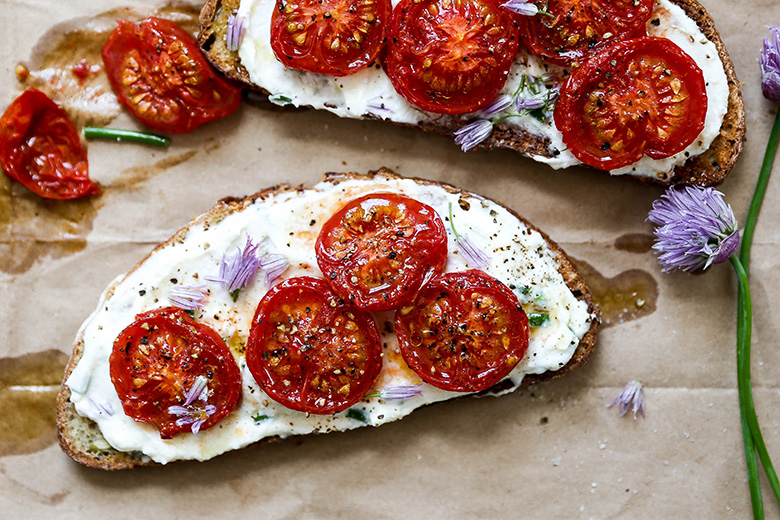 The first step in making these toasts is roasting the tomatoes low and slow. I like to use cocktail tomatoes for this (they are mid-sized and typically sold on the vine), but you can use the smaller cherry/grape tomatoes if that's all you can find. Cut the tomatoes in half, drizzle the cut sides with olive oil and season with salt and black pepper, then slide them into your oven. After about an hour of roasting, they should come out glossy, juicy and soft. And unbelievably delicious!
The spread for the toast is a simple mixture of ricotta cheese (I use the full-fat version), olive oil, salt, black pepper and chives. But here's the fun part: we're using both the chive stems and blossoms!
Chive blossoms are totally edible (and adorable!). They have a lovely, delicate onion flavor. And they can be added to all sorts of savory dishes (soups, salads, etc.). Just be sure to give them a good rinse before using them, because little bugs love to hide out in them!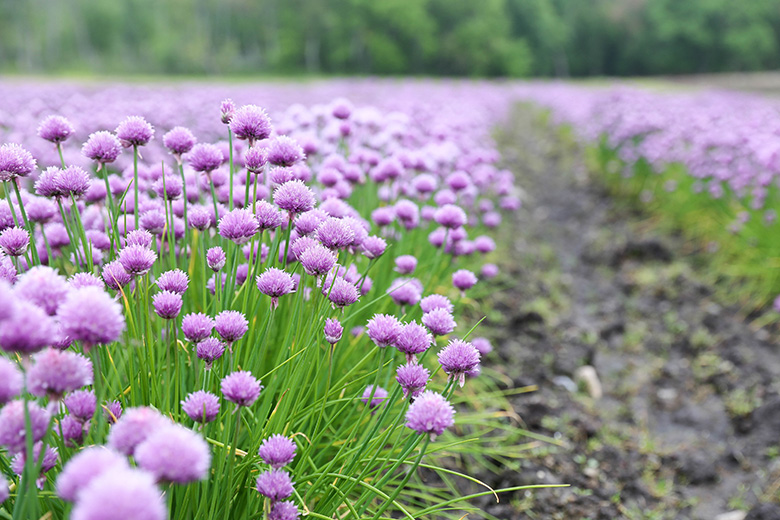 If you have chives growing in your garden, or frequent a local farmers market, you should have easy access to chive blossoms this time of year. Our chive fields have absolutely exploded in recent weeks, and that was what initially inspired me to create these Chive Ricotta Toasts with Slow Roasted Tomatoes.
To finish these toasts, spread some of the ricotta mixture over your toasted bread slices. Then top with the slow roasted tomatoes, a few additional chive blossoms (because we want our toasts to be pretty!) and a pinch of salt and black pepper, if desired.
I like these Chive Ricotta Toasts with Slow Roasted Tomatoes for breakfast. But they also make a great light Summer lunch. I hope you try them. And I hope it leads to more chive blossom experimentation in your future!
Cheers,
Liz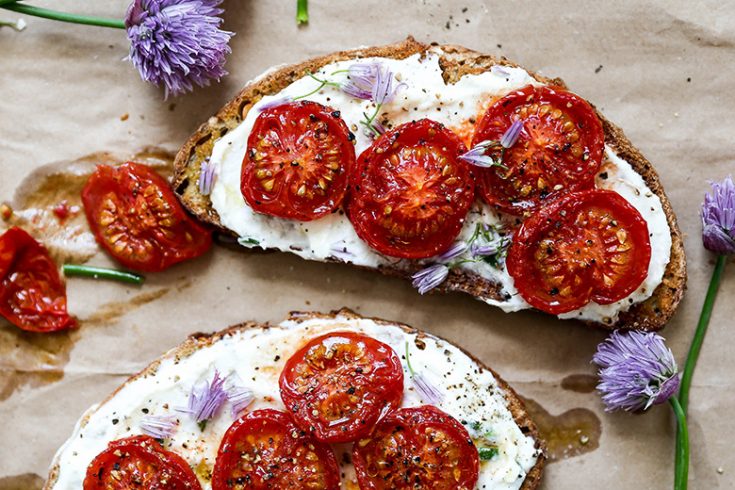 Chive Ricotta Toast with Slow Roasted Tomatoes
Yield: Serves 2
Prep Time: 10 minutes
Cook Time: 50 minutes
Total Time: 1 hour
Ingredients
For the Slow Roasted Tomatoes:
6-8 cocktail tomatoes, sliced in half
About 2 tsp. extra-virgin olive oil
1/4 tsp. salt
1/4 tsp. black pepper
For the Toast:
1/2 cup ricotta cheese
2 tablespoons minced chive stems
1 tablespoon chive blossoms, washed and separated
2 tsp. extra-virgin olive oil
1/4 tsp. salt
1/4 tsp. black pepper
4 slices multi-grain bread, toasted
Instructions
Pre-heat your oven to 300 degrees. Place the tomatoes cut side-up in a medium baking dish. Drizzle the tops with olive oil and sprinkle them with salt and black pepper. Transfer the baking dish to your pre-heated oven and roast the tomatoes for 50-60 minutes. The tomatoes should be wrinkly and soft, but still glossy (i.e. not completely dried out) and able to hold their shape. Remove and set aside.
In a small bowl, stir together the ricotta cheese, minced chive stems, about half the chive blossoms, the olive oil, salt and black pepper.
Spread the ricotta mixture over the toasted bread. Top with the roasted tomatoes and the remaining chive blossoms. Season with additional salt and black pepper, if desired. Enjoy immediately.