This post was originally published here May 20, 2015. I've since updated the text and photographs. Next time your grilling your dinner, go ahead and grill your salad too!
Big F*cking Salads aren't just limited to a single season. But if they were, Summer would most definitely be it.
So as you can imagine, I'm as happy as a clam right now. Because Summer produce is abundant. Which means it's just day after day after day of BFS's (and ice cream!). What else could a girl ask for?
This Grilled Romaine Salad with Corn and Avocado was my first BFS that really became popular (or "went viral" as the kids say these days). But after a couple years, it kind of fell by the wayside and eventually became a victim of the blog archives. Womp womp.
But today I'm bringing it back. Bigger and better than ever before!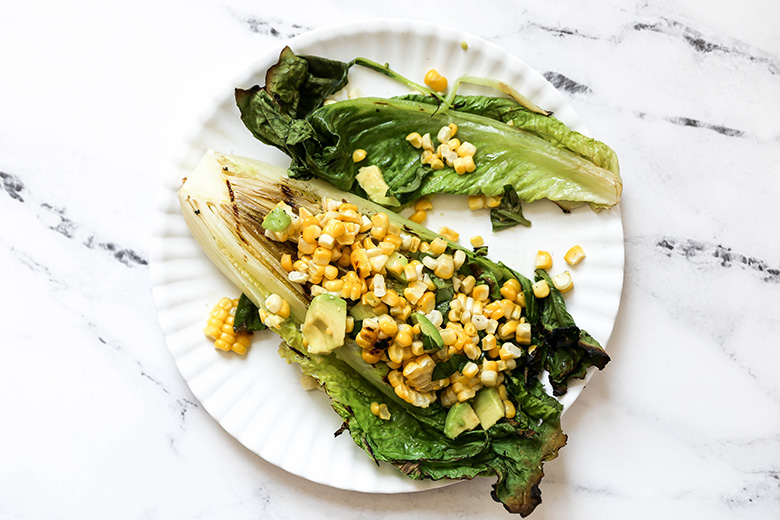 My first ever encounter with a grilled salad was met with great skepticism. I was pretty convinced it was going to be gross. Like, wouldn't the lettuce end up all wilted and mushy??? But nope. I was wrong. And once I was brave enough to take a bite, I was immediately hooked on the idea.
The key to making a great grilled salad is simple: don't get too overzealous with the grilling. A couple of minutes of cooking time is all you need. Resist the urge to do more. Because any longer and you'll end up with a sad, limp salad. And we don't want to go there.
The grilled romaine lettuce halves serve as the base for this salad. They are then topped with a combination of grilled corn (sliced off the cob), diced avocado and fresh basil. And drizzled with a homemade dressing that I consider to be one of the most delectable, spoon-licking, irresistible salad dressings that I make. Seriously. Don't skip out on making this dressing. It's made with lemon juice, maple syrup, miso paste, mirin and garlic. It's a wonderful combination of umami flavors. Basically, it's dressing nirvana.
Another other fun, "non-traditional" grillables I need to know about? Let me know in the comments!
Cheers,
Liz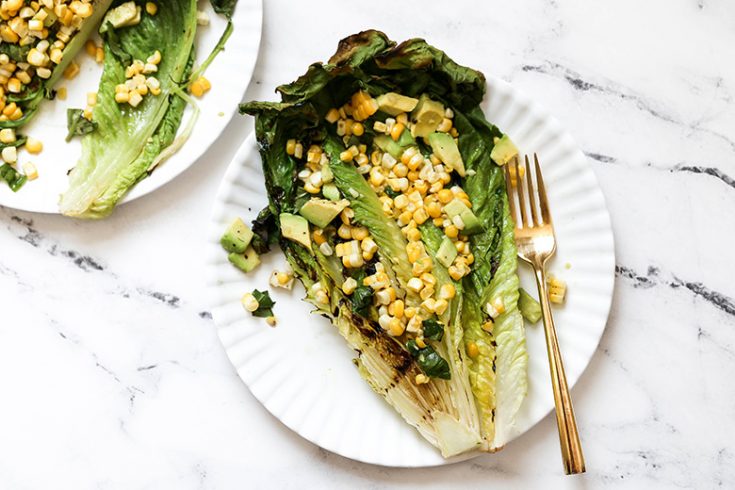 Grilled Romaine Salad with Corn and Avocado
Yield: Serves 2
Prep Time: 10 minutes
Cook Time: 10 minutes
Total Time: 20 minutes
Ingredients
For the Dressing:
2 tablespoons fresh squeezed lemon juice
2 tablespoons maple syrup
2 1/2 tablespoons canola or vegetable oil
1 tablespoon mirin or rice wine vinegar
1 tablespoon white miso paste
2 garlic cloves, peeled
For the Salad:
2 ears of corn, husks and silk removed
1/2 avocado, diced
1/4 cup thinly sliced fresh basil leaves
1/4 tsp. salt
1/4 tsp. black pepper
1 head romaine lettuce, sliced in half lengthwise
About 2 teaspoons extra-virgin olive oil
Instructions
Add all the ingredients for the dressing to the bowl of your food processor fitted with the blade attachment. Process until smooth. Set aside.
Pre-heat your grill to medium-high. Add the corn and cook on all sides until some of the kernels have started to blacken, about 5-7 minutes. Remove the corn from the grill and set it aside. Once it's cool enough to handle, slice the kernels off the cob and place them in a medium bowl.
Add the diced avocado, basil, salt and pepper to the bowl with the corn kernels. Drizzle with about 1 tablespoon of the dressing and toss gently to combine. Set aside.
Brush the cut sides of the romaine lettuce with some of the olive oil. Then place the romaine lettuce directly on your grill grates, cut-side down. Cook for about 2 minutes, or until some of the leaves start to blacken around the edges. Remove the romaine lettuce from the grill and place each half cut-side up on a serving plate.
Drizzle the romaine lettuce with some of the dressing. Then top with the corn/avocado mixture. Enjoy immediately.