My favorite tabbouleh salad recipe comes from a small cookbook that was put together by some of the members of our local Armenian church. I've been making it for years. And until recently, I had never strayed from the ingredient list. Or even really had the urge to do so. I guess when something works, you just keep sticking with it.
But then I bought the season's first bag of fresh cherries and well, I just had to try it!
I'm no stranger to adding cherries to savory salads, so I had an inkling before I even started that this Cherry Tabbouleh Salad would be a winner. And I was right! The sweet, juicy cherries are a wonderful compliment to the other ingredients in this recipe. But the parsley is still the predominant flavor here. So if you're a traditionalist when it comes to your tabbouleh, I think you'll still be on board with this version!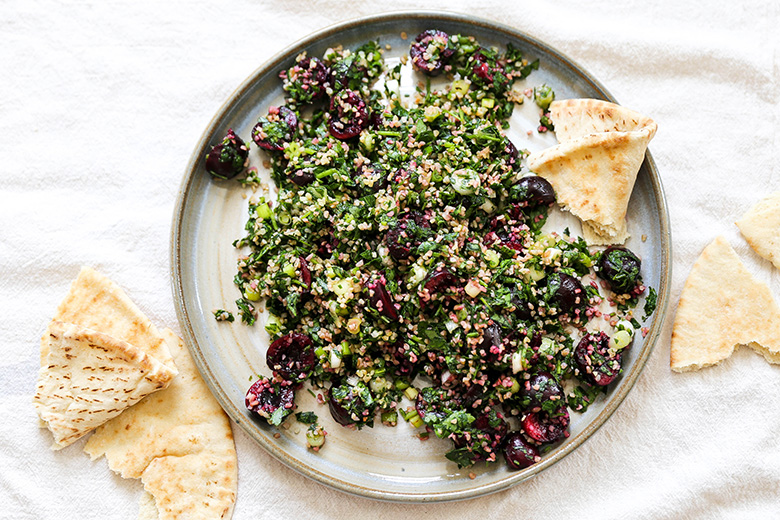 I used 2 big bunches of parsley for this recipe. And you'll be happy to know that I'm not overly fussy when it comes to plucking the parsley leaves off their stems (in fact, I don't do this at all!). So I don't think you need to be either. The only part of the parsley bunches that I don't use are the very bottom portions of the stems (approximately the bottom 2-inches), which is where they start to get thicker and more tough. But the tender parts of the stems is totally fair game!
Tabbouleh is a great make ahead dish and it travels well. So it's ideal for all of your fun Summer plans. If you're going to be making this Cherry Tabbouleh Salad recipe more than a day in advance though, I would wait to fold in the cherries until you're closer to serving time. This is purely for cosmetic reasons, because the cherry juices tend to stain bulgur. But if that's not an option, no worries. Your tabbouleh will simply be a beautiful blushing shade of pink!
Cheers,
Liz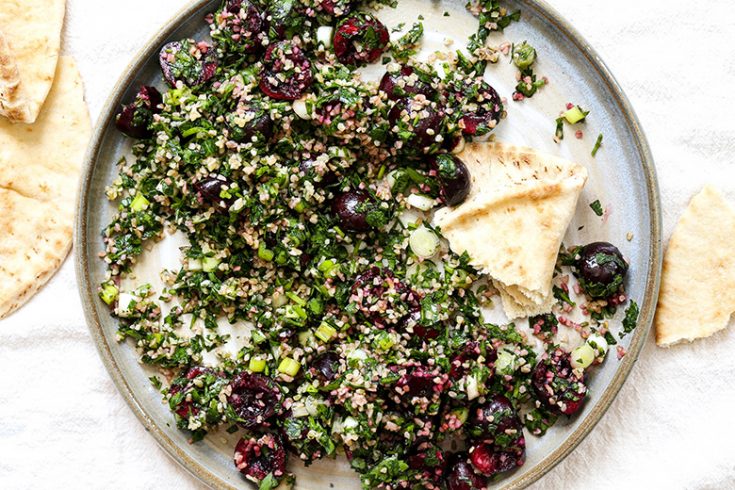 Cherry Tabbouleh Salad
Yield: Serves 4-6
Prep Time: 15 minutes
Total Time: 15 minutes
Ingredients
1/2 cup bulgur (sometimes labeled cracked wheat), rinsed and drained
1/4 cup hot water
2 tablespoons fresh squeezed lemon juice
2 large bunches of parsley, finely chopped
4 scallions, trimmed and thinly sliced
2 tablespoons fresh mint, finely chopped
About 1/3 cup extra-virgin olive oil
1/2 tsp. salt
1/4 tsp. black pepper
1 1/2 cups fresh cherries, pitted and halved
Instructions
Place the bulgur in a large bowl. Add the hot water and stir to combine. Then stir in the lemon juice. Let stand for about 10 minutes.
Add the parsley, scallions and mint to the bowl with the bulgur and stir to combine. Drizzle in the olive oil and add the salt and black pepper, stirring to combine. Fold in the cherries.
The tabbouleh can be served immediately. Or covered and chilled in your refrigerator for several hours before serving.
Leftovers can be stored in your refrigerator for 3-4 days.