Disclosure: This post is sponsored by Stonewall Kitchen. All opinions are my own. Thank you for supporting brands and companies that help to support Floating Kitchen.
I'm officially declaring today Opening Day for Summer salad season!
I think it's well within my powers to do such things.
Hallelujah! Summer salads are back!
Yes. I know. We all enjoy eating salads all year long. I'm right there with you. I would never turn down a Fall harvest salad. Or a bright, vibrant citrusy Winter salad. But there is just something so dreamy and effortless about Summer salads. They stand out from the crowd. And I can't seem to ever take my eyes off them.
Today, I'm ushering in Summer salad season with this Tender Butter Lettuce Salad with Strawberries, Rhubarb, Mango, Cucumbers and Rosé Vinaigrette. This salad is guaranteed to strike every taste receptor you've got. I know you're totally going to love it!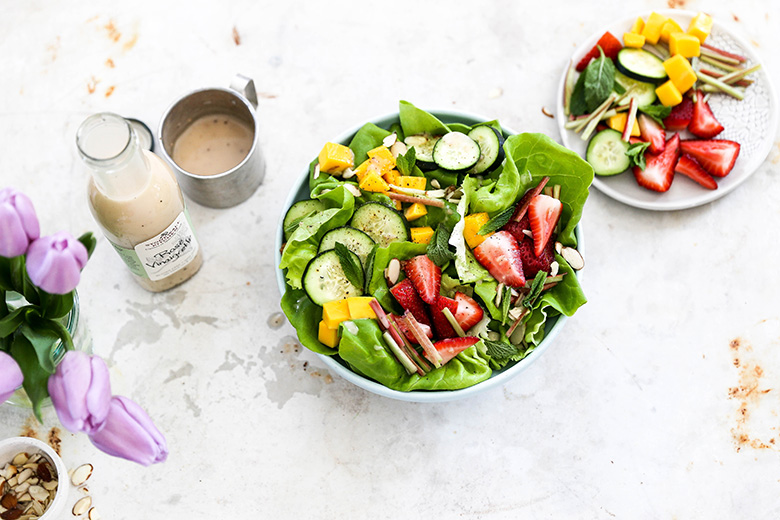 The inspiration for this recipe started with a bottle of Stonewall Kitchen's new Rosé Vinaigrette. I knew this tangy, rosé-based vinegar dressing would be the perfect pairing for sweet strawberries, juicy mango, crisp cucumbers and tender leaves of butter lettuce. But I wanted to add something a little more unexpected to the mix. I wanted this to be a salad you'd think about long after you'd taken your last bite. Then it hit me: rhubarb.
Rhubarb is one of my favorite late Spring/early Summer vegetables. This year, I had a particularly difficult time getting my hands on some at the start of the season (although now I'm seeing it everywhere!). So when I finally did, I went kind of crazy with it. Scones, cakes and many other rhubarb-themed sweet treats made their way through my kitchen. But then, with a measly half stalk remaining of my precious stash, I decided to go savory. And whoa. So damn good.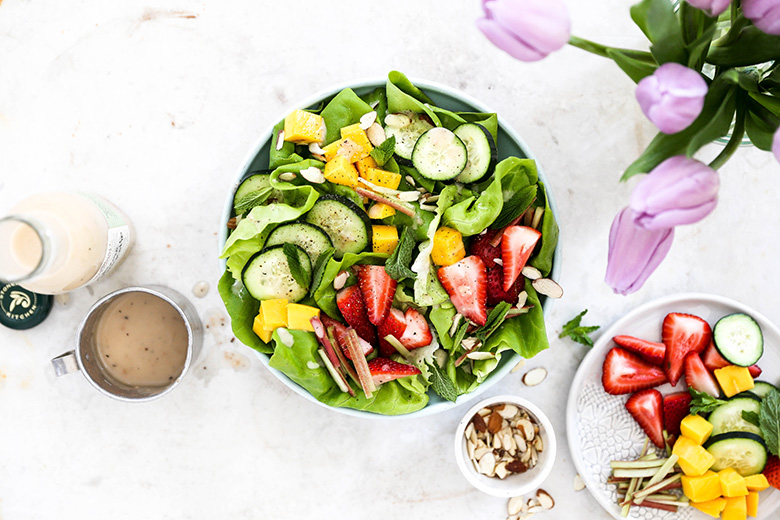 We don't often see rhubarb in savory applications. Or used raw. Because it's quite tart. And a bit tough (similar in texture to raw celery). But when quickly macerated with a little sugar, and correctly balanced with other sweet ingredients (like strawberries and mangos), it's a welcome, albeit unexpected, addition to salads and slaws.
And if I'm being completely honest, I just love the "pink theme" I've got going on in this salad. Strawberries, rhubarb and rosé. The little girl inside of me is totally smitten!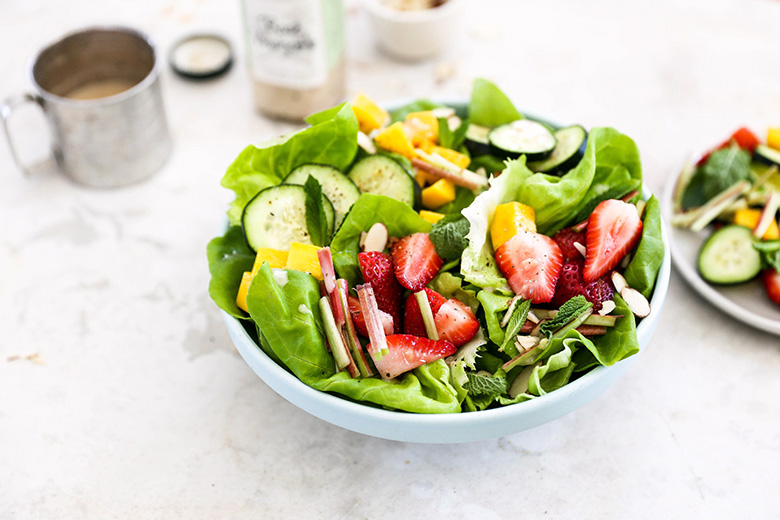 At times, I've been known to just toss whatever salad ingredients I have on hand into a big bowl and stir them together rather aggressively. But making this Tender Butter Lettuce Salad with Strawberries, Rhubarb, Mango, Cucumbers and Rosé Vinaigrette isn't one of those times. No. This salad lends itself better to being "assembled". Which results in a much nicer presentation. It's totally worth taking the extra 2 minutes to do this.
Maybe you could surprise Mom this Mother's Day with this beautiful, colorful and healthy salad!
Stonewall Kitchen's Rosé Vinaigrette really brings this whole recipe together. It's a product that can't be missed. Seriously. You will love it. I always keep several Stonewall Kitchen dressings and vinaigrettes on hand, because they are the best way to quickly add personality to any salad (my other go-to is their Apple Cider Vinaigrette!). So if you haven't checked out their full line, be sure to do that ASAP. And get yourself a bottle (or three!) of their Rosé Vinaigrette. You'll want to use it all Summer salad season long!
Cheers,
Liz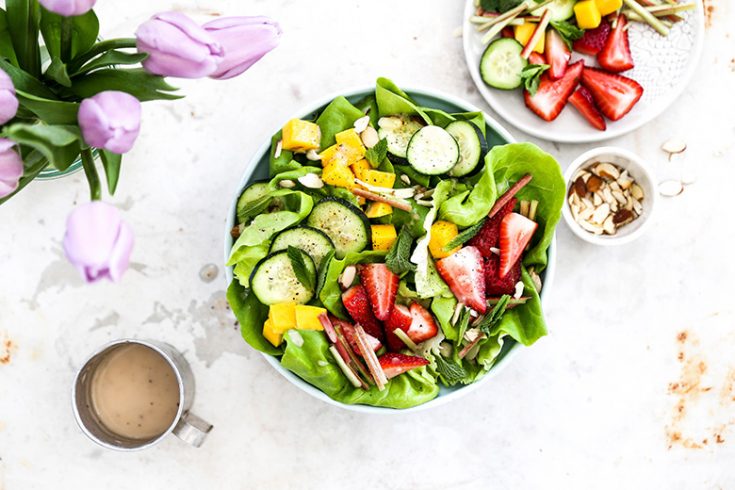 Tender Butter Lettuce Salad with Strawberries, Rhubarb, Mango, Cucumbers and Rosé Vinaigrette
Yield: Serves 4
Prep Time: 1 hour
Total Time: 1 hour
Ingredients
1 cup fresh rhubarb, cut into 1-inch matchsticks
1 tablespoon sugar
2 heads butter lettuce, leaves separated
1 lb strawberries, trimmed and quartered
1 champagne/honey mango, peeled and chopped
1 cucumber, thinly sliced
1/4 cup fresh mint leaves, torn
1/4 cup sliced almonds
About 1/4-1/3 cup Stonewall Kitchen Rosé Vinaigrette
Freshly ground black pepper
Instructions
Place the rhubarb in a small bowl and sprinkle with the sugar. Let sit at room temperature for 30-60 minutes.
To assemble the salads, divide the lettuce leaves between four serving plates. Top with the strawberries, mango, cucumber, mint, almonds and rhubarb. Drizzle with the vinaigrette. Finish with some freshly ground black pepper. Serve immediately.