Eeeeps! You guys! It's Margarita Week!!!
This is one of my favorite weeks of the entire year. It's a full seven days dedicated to all types of margarita-inspired recipes. Some of your favorite bloggers (cough, cough) from around the interwebs have been hard at work putting a margarita-themed spin on just about anything and everything. So get ready for a fun-filled week of cocktails, mocktails, desserts and more!
See what I posted for Margarita Weeks past here, here and here!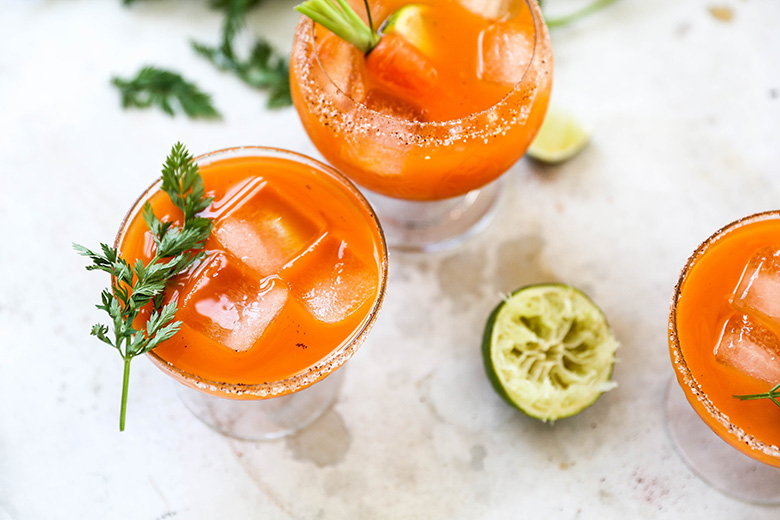 This annual event is coordinated by the lovely Kate from Hola Jalapeño (thanks Kate!). On Kate's dedicated Margarita Week webpage, not only will you find the links to all the recipes from this year's Margarita Week. But you'll also find the links to all the recipes from the previous years as well. That's over 150 recipes and counting!
That should be enough to get you through the Summer, right?
Need more? Follow along with the hashtag #margaritaweek on social media to stay on top of all the action!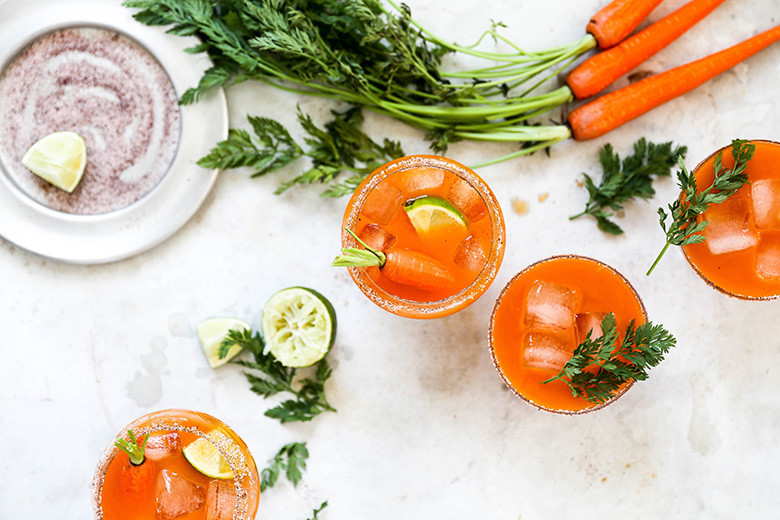 These Smoky Carrot Mezcal Margaritas are loosely based off a cocktail I had last year on my Birthday. And I say "loosely" because I was moderately drunk at the time when I was enjoying them (hey, it was my Birthday!). So I think it's safe to assume that my memory from that night is a little bit foggy. But I think I got the main points covered: carrot juice, mezcal, a spicy rim and cute garnishes (always cute garnishes!). The rest I kind of just made up as I went.
This was my first time creating a mezcal-based cocktail at home (mezcal is cooked in earthen pits, which gives it its distinctive smoky flavor over tequila). When I first started making my own margaritas, I tended to gravitate towards those that were unabashedly sweet. Because they seemed less intimidating and easier to "get right". But now I feel like the bar (get it, bar?) has been raised. And I'm eager to experiment with more smoky and spicy flavors at home.
Do you have a favorite mezcal-based cocktail? If you do, let me know! I've now got a whole bottle just begging to be used!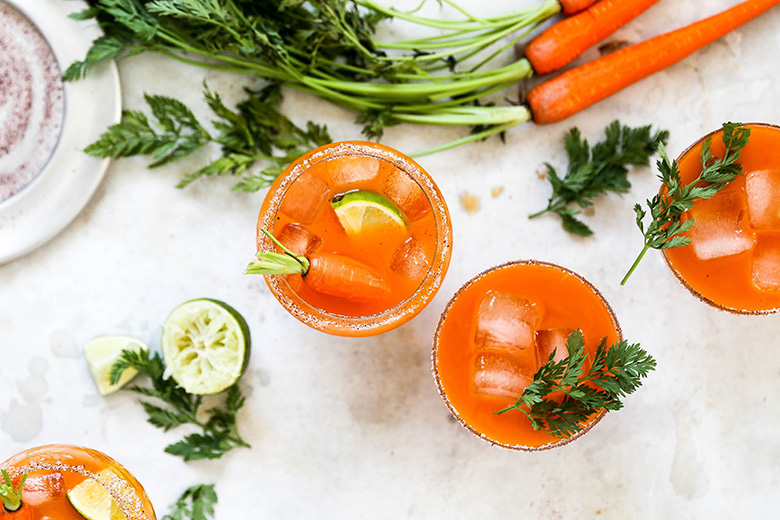 If you're skeptical about the savory-ness of this margarita, don't be. I think you'll be pleasantly surprised at just how sweet carrot juice can be (it's just not so cloying). Still not convinced? Try adding an ounce of orange juice to tip the scales.
And you don't need an expensive juicer to make this recipe (I don't have one). You can easily find carrot juice in all major grocery stores.
Cheers,
Liz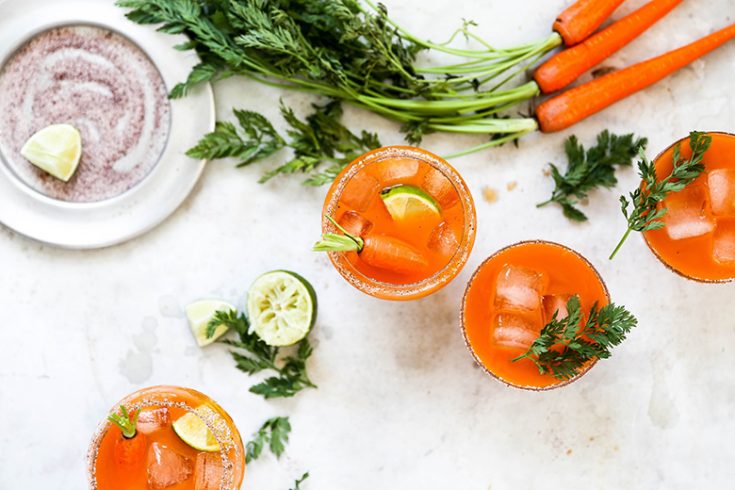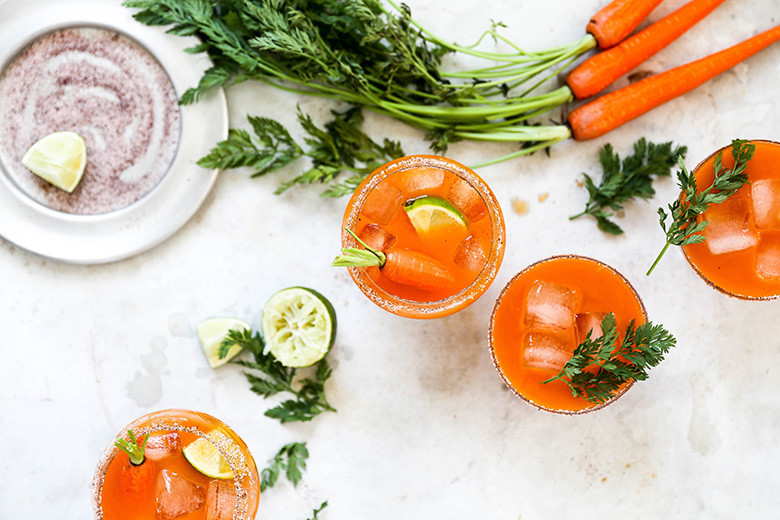 Smoky Carrot Mezcal Margaritas
Yield: Serves 1
Prep Time: 5 minutes
Total Time: 5 minutes
Ingredients
For the Cocktail:
3 ounces carrot juice
1 1/2 ounces mezcal
1/2 ounce orange liqueur
1/2 ounce fresh squeezed lime juice
Scant 1/2 ounce agave nectar
Ice
For Garnish:
Flaky sea salt
Ground chili powder
Lime wedges
Carrots/carrot greens
Instructions
Combine some sea salt with a few pinches of chili powder on a small plate. Set aside.
Run a lime wedge around the rim of a glass to moisten it. Then gently press the moistened rim down into the chili powder-salt mixture so that it adheres to the glass. Add ice and set aside.
Add all of the ingredients for the cocktail into a shaker with ice. Shake vigorously. Then strain into your prepared glass.
Garnish with lime wedges, carrots and/or carrot greens. Serve immediately.