Apparently today is National Chocolate Milkshake Day. Sadly, I don't have a milkshake recipe for you. But I do have a Healthy Chocolate Smoothie recipe to offer up as a peace treaty. Can we still be friends? Pleeeeaaaase!!!
Let's talk about chocolate beverages for a moment. Chocolate milk basically kept me alive for the first 16 years of my life. I was a very picky eater in my early career as a human being. I survived on grilled cheese sandwiches, peanut butter sandwiches and chocolate milk. That's it.
So to say that I drank a lot of chocolate milk would be a gross understatement. Because everyday I would have a glass for breakfast, one after school and one before bed. And I'm not talking about an 8 ounce glass. I'm talking a BIG 24 ounce glass. I told you it was a lot. And I was really OCD about the whole thing. I only drank it out of a certain cup. I had to have a bendy straw. I had a certain ritual with the adding and stirring in of the Hershey's syrup. AND after it was perfectly combined, I would microwave the chocolate milk for EXACTLY 50 seconds. So my parents and I started calling it "milk-5-0". And they still make fun of me about it today. Which I kind of deserve for being such a pain in the ass as a kid.
I'm still a big chocolate milk fan, but now I try to drink something with a little more substance to it. Empty calories are only acceptable in the form of beer, wine or bourbon. Just saying. So this Healthy Chocolate Smoothie recipe is my new favorite way to enjoy "chocolate milk" with a few extra vitamins thrown in.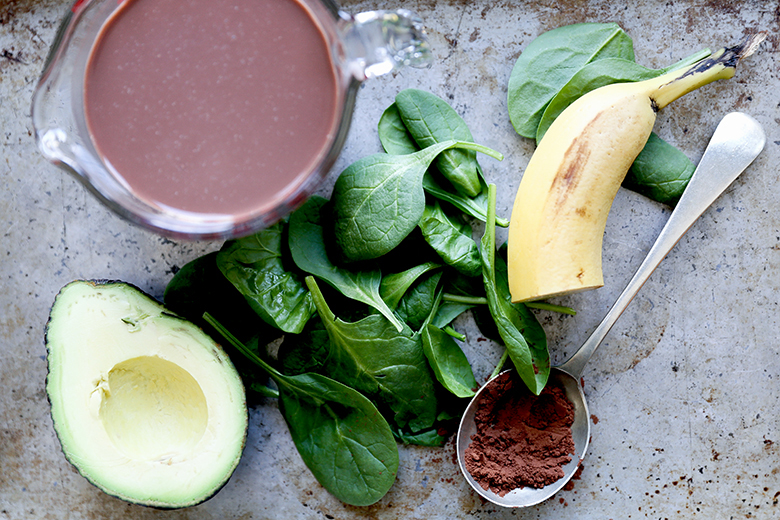 I start with unsweetened chocolate almond milk and a little cocoa powder. Then I blend in some good for you ingredients like avocado, spinach and a ripe banana. I add a little maple syrup for  extra sweetness, but you could totally skip it if you're cutting back on the sugars. It's "milk-5-0" for a grown up Liz. And it's pretty gosh darn good.
Cheers,
Liz
Ingredients
2-2 1/2 cups unsweetened chocolate almond milk
1 cup fresh spinach
1/2 avocado, pit and peel removed
1/2 frozen banana, peeled
1 tablespoon unsweetened cocoa powder
1 tablespoon maple syrup
Instructions
Add all of the ingredients to your blender and blend on high until smooth. Pour into glasses and serve immediately.
For a thicker smoothie, use 2 cups of almond milk. For a thinner smoothie, you can use 2 1/2 cups of almond milk.
Notes
1. Feel free to use any kind of milk you like Soy, rice, hemp or coconut milk are all great vegan options.
https://www.floatingkitchen.net/healthy-chocolate-smoothies/