I've been on a mission to really step-up my salad game this month. I love salads. And I eat one every single day. But I also tend to get lazy (I'm just a simple human being, after all). And let me tell you, a bowl full of undressed greens with whatever random shit I can find in my refrigerator thrown on top isn't particularly inspiring. Even I, a self-proclaimed salad lover, can lose motivation after several days in a row of that boring-ness.
So to pull myself (and maybe you, too!) out of my salad rut, I've started making this seasonal beauty: Winter Beet, Persimmon and Meyer Lemon Salad.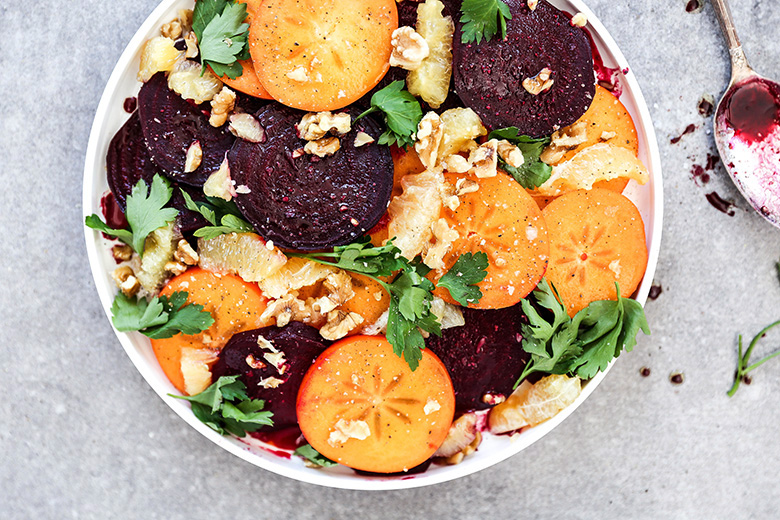 This vibrant vegan, gluten-free salad has really got it going on. Thinly sliced persimmons (I highly recommend Fuyu persimmons for a much more pleasant eating experience!) and roasted beets make up the bulk of this salad. Then it's garnished with Meyer lemon segments (again, worth seeking them out because of their exceptional flavor profile), parsley and walnuts. Tart, sweet, fresh, earthy and more.
And gorgeous. Have I mentioned that already?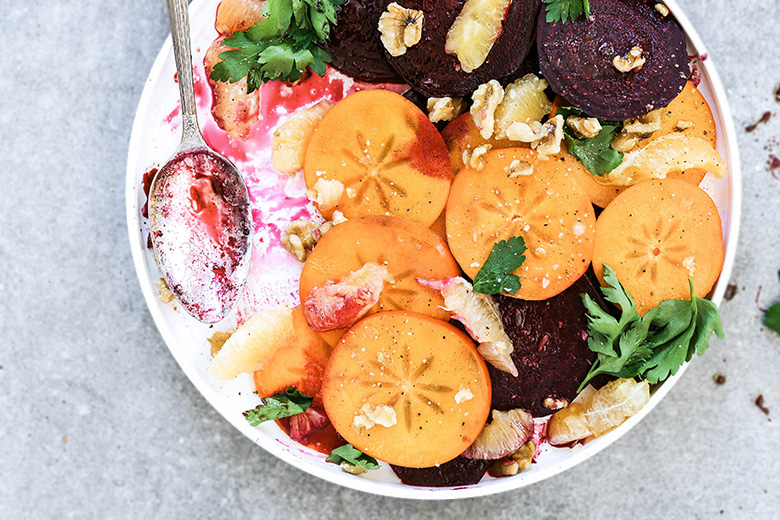 This salad is super easy to make. But there is a bit of a time commitment, so make sure you plan for that. It will take you about an hour to roast the beets. But while that's happening, you can prepare all the other ingredients. So it's really not all that bad.
I also recommend taking the time to arrange the ingredients for this salad by hand just before you're ready to serve it, because it makes for a much nicer presentation. If you simply toss everything together in a bowl, the juices from the beets will discolor all the other ingredients. And I think that kind of spoils the overall look of this dish.
Remember, we're trying to elevate our salad game. We're committed!
Now, I'm totally comfortable calling something a salad that doesn't have any leafy greens. But I know that some people are not. So if you're really craving them, you could certainly assemble all these ingredients over a bed of tender baby arugula. In fact, I might just have to do that myself next time!
Cheers,
Liz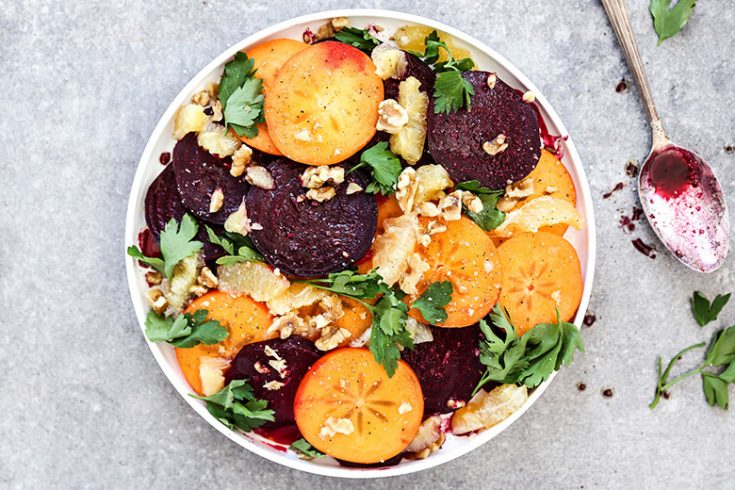 Winter Beet, Persimmon and Meyer Lemon Salad
Yield: 4-6 servings
Prep Time: 1 hour
Cook Time: 1 hour 10 minutes
Total Time: 2 hours 10 minutes
Ingredients
3 large beets, trimmed and peeled
About 1 tablespoon extra-virgin olive oil
Salt
Black pepper
2 Meyer lemons, peeled and segmented
1 tablespoon sugar
3 Fuyu persimmons, thinly sliced
1/2 cup loosely packed parsley leaves
1/2 cup chopped walnuts
Instructions
Pre-heat your oven to 400 degrees. Place the beets in the center of a square of aluminum foil. Then drizzle each beet with about a teaspoon of olive oil and sprinkle with a pinch of salt and black pepper. Wrap-up the aluminum foil, making a packet for the beets. Then place the packet in a baking dish (to catch any drips while the beets cook) and transfer to your pre-heated oven. Roast the beets until they can be easily pierced with a small paring knife, about 65-70 minutes. Remove and set aside to cool. Once the beets are cool enough to handle, slice them into rounds. Reserve any of the juices that were released into the aluminum foil packet.
Meanwhile, place the Meyer lemon segments in a shallow bowl and sprinkle with the sugar. Let stand at room temperature for about 1 hour. Then remove the segments with a slotted spoon, reserving any of the released juices.
To assemble the salad, arrange the sliced beets, persimmons and lemon segments on a large serving platter/tray. Top with the parsley and walnuts. Then drizzle with some of the reserved beet and lemon juices. Sprinkle with salt and black pepper. Enjoy immediately.