I've finally figured out the most fool-proof way to get delightfully crispy potatoes every single time. Ready for it? It's to do nothing.
Yes. I said nothing.
Simply slide your baking sheet into the oven and walk away.
I know. It's hard to do nothing. I get it. Because I too want to stir things. It's just something we've all come to understand about cooking. How many recipes contain a line in the instructions that tell us to "stir once halfway through the cooking time"? A lot of them. Including many on this blog. But for these Crispy Fingerling Potatoes with Chipotle Cream, the key is to resist the urge to stir them. If you can do that, you'll be rewarded with a beautifully browned surface that tastes as good as it looks!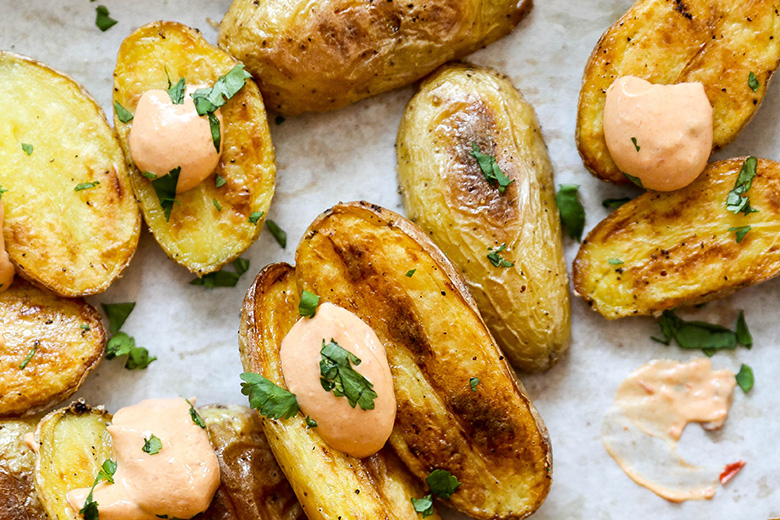 So as you may have gathered, making these Crispy Fingerling Potatoes with Chipotle Cream is easy and mostly hands off. Which makes them one of my go-to side dishes. Everyone loves roasted potatoes. And they pair well with just about everything.
Start by seasoning your fingerling potatoes with olive oil, salt and pepper. Then spread them out in a single layer on a baking sheet, making sure they're all cut-side down. Roast them for 30 minutes without touching them (I'll be watching you!). Then you can gently flip them over for the final 5-8 minutes of cooking. That's it!
These potatoes are delicious on their own. But the smoky chipotle cream takes them over the top. You can dollop it over the warm potatoes before serving. Or have it on the side for dipping. These fingerling potatoes remind me of an oversized baked French fry, so dipping them just seems kind of natural.
Cheers,
Liz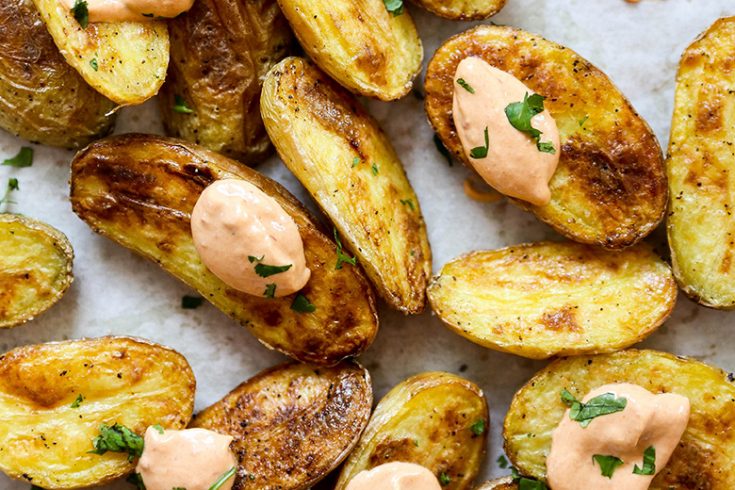 Crispy Fingerling Potatoes with Chipotle Cream
Yield: Serves 4-6
Prep Time: 5 minutes
Cook Time: 35 minutes
Total Time: 40 minutes
Ingredients
For the Potatoes:
1 lb fingerling potatoes, scrubbed and cut in half lengthwise
2 tablespoons extra-virgin olive oil
1/2 tsp. salt
1/2 tsp. black pepper
For the Chipotle Cream:
1 cup full-fat Greek yogurt
1 chipotle pepper in adobo sauce
1 garlic clove, peeled
1 tsp. olive oil
1 tsp. honey
1 tsp. fresh squeezed lime juice
1/8 tsp. salt
1/8 tsp. black pepper
Instructions
Pre-heat your oven to 400 degrees.
Line a large rimmed baking sheet with parchment paper. Add the potatoes and drizzle with the olive oil, tossing to coat. Sprinkle with the salt and black pepper. Arrange the potatoes in a single layer with the cut-sides facing down. Transfer the baking sheet to your pre-heated oven and roast for 30 minutes.
Using a pair of tongs, carefully flip the potatoes over so the cut-side is now facing up. Return to your pre-heated oven and roast for an additional 5-8 minutes. The potatoes should be well browned and easily pierced with a small knife. Remove from the oven and set aside.
Meanwhile, make the chipotle cream. Add all the ingredients to your food processor fitted with the blade attachment and process until smooth. Transfer to a clean container. You'll likely have more chipotle cream than you'll need for this recipe. Leftovers can be stored in an airtight container in your refrigerator for 5-7 days.
Transfer the potatoes to a serving plate and dollop with some of the chipotle cream. You can also serve the chipotle cream on the side for dipping, if preferred. Sprinkle with some minced fresh cilantro or parsley, if desired. Enjoy while still warm.