Roasted rack of lamb was often the centerpiece of our Holiday meals. And I particularly associate it with our Springtime celebrations, like Easter or Mother's Day.
I wanted to make a lamb dish to remember and honor those traditional family gatherings. But I also wanted to create something that would be easier and more accessible, so that it could be enjoyed any night of the week and not just on Holidays or special occasions. So today, I'm bringing you these flavor-packed Lamb Kufta Bowls.
Kufta (many other spellings exist, including kofta, kofte, kufte) is a spiced ground meat mixture common to many Middle Eastern cultures. It can be made from any ground meat, although beef and lamb are used most often. And it is typically shaped into either balls, ovals or patties, then baked or grilled and served with pita bread, rice and vegetable sides. It is also sometimes eaten raw, but that's not as common of a practice these days.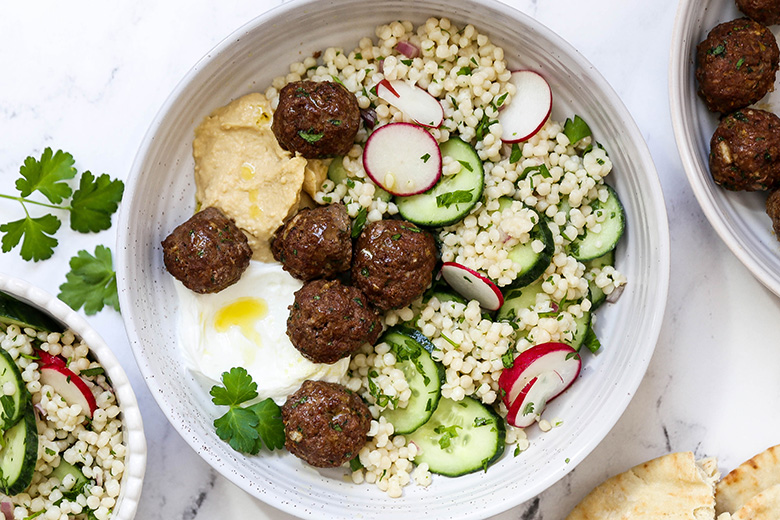 I couldn't find a family recipe for lamb kuftas (I'm sure it's floating around here somewhere!), but I pieced together the ingredients from my memory and from a few sources, including a couple old Armenian cookbooks from our church. I know the ingredient list for the kuftas looks long because of all the ground spices. But I'm confident that you already have most of them in your pantry. And while the spices might seem like overkill, trust me they are not. They are the key to making the kuftas extremely aromatic and flavorful. Which is what makes kuftas different from ground meat dishes of other regions.
The rest of the ingredients are straightforward, and if you've made other types of ground meat dishes before then you'll recognize them: onion, garlic, fresh herbs, breadcrumbs and ground lamb. And because I know someone will ask, yes you can use ground beef in this recipe instead of ground lamb. I recommend an 85% lean/15% fat mixture.
Once you have all your ingredients for the kuftas, simply mix everything together with your hands (the best tool for this job), then portion and roll it out into balls and bake in your oven. No pan frying or flipping required!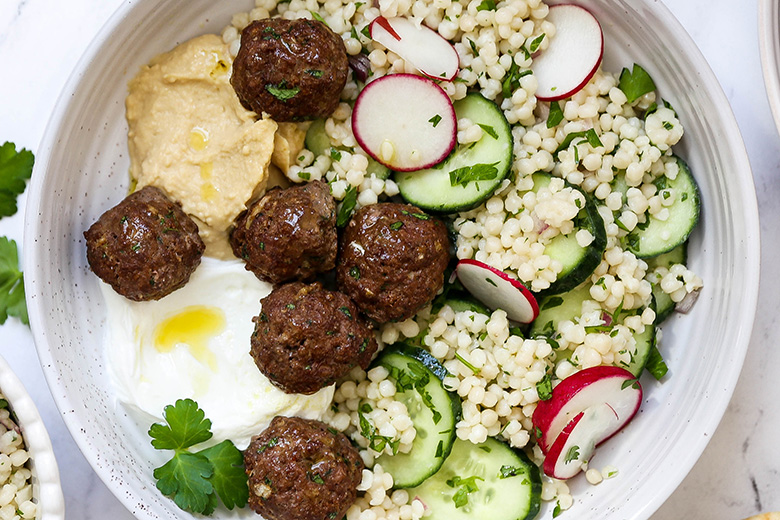 While the kuftas bake, I like to prepare the couscous salad and gather everything else I need for the bowls. The dressing on the couscous salad is very simple and light, because I like to kind of stir my hummus and yogurt into my salad as I'm eating. So I find that I don't need that much actual dressing on the salad itself. But if you're wanting more dressing, I'd recommend doubling the amount of olive oil and lemon juice.
From start to finish, these Lamb Kufta Bowls can be made in about 40 minutes. But they would also be fantastic as a make-ahead dinner. I'd recommend storing the kuftas and couscous salad separately in airtight containers in your refrigerator. Then just re-heat the kuftas, assemble and go!
Cheers,
Liz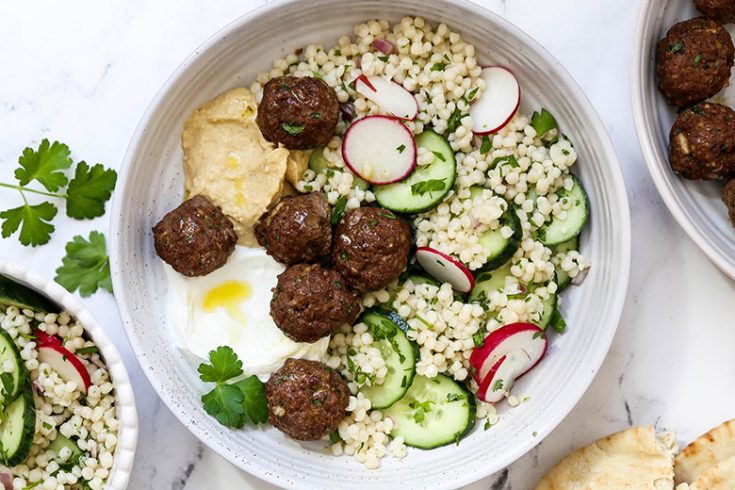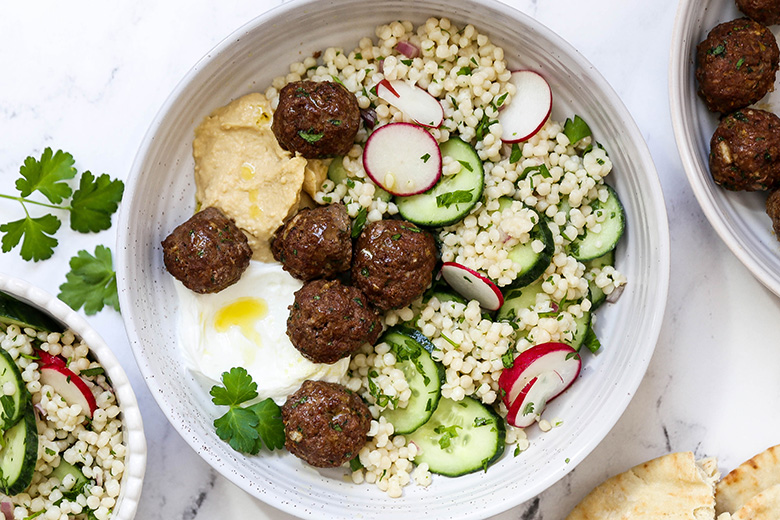 Lamb Kufta Bowls
Yield: Serves 3-4
Prep Time: 20 minutes
Cook Time: 20 minutes
Total Time: 40 minutes
Ingredients
For the Lamb Kuftas:
1/2 cup peeled and diced onion
2 garlic cloves, peeled
1/4 cup fresh parsley
1/4 cup fresh cilantro
1/4 cup breadcrumbs
1 tablespoon milk
1 tablespoon extra-virgin olive oil
2 tsp. ground paprika
2 tsp. ground cumin
2 tsp. ground coriander
1 tsp. ground cinnamon
1/2 tsp. salt
1/2 tsp. black pepper
1/2 tsp. cayenne pepper
1/4 tsp. allspice
1 lb ground lamb
For the Couscous Salad:
2 cups cooked and cooled pearl couscous
1 cup sliced cucumbers
1/2 cup sliced radishes
1/3 cup minced fresh parsley
2 tablespoons diced red onion
2 tablespoons extra-virgin olive oil
2 tablespoons fresh squeezed lemon juice
1/2 tsp. salt
1/2 tsp. black pepper
For Serving:
Hummus
Greek yogurt
Pita bread, warmed
Instructions
Pre-heat your oven to 350 degrees.
Line a large rimmed baking sheet with aluminum foil and lightly coat it with non-stick cooking spray. Set side.
Add the onion, garlic, parsley and cilantro to the bowl of your food processor fitted with the blade attachment. Pulse until finely minced. Then transfer to a medium bowl. Add the breadcrumbs, milk, olive oil and all the spices. Stir to combine and moisten the breadcrumbs and spices. Then add the ground lamb and use your hands to mix until everything is very well combined.
Scoop out the kufta mixture out into 1 1/2 tablespoon portions (I like using a medium trigger scoop) and roll each portion into ball. Place the balls on your prepared baking sheet, spacing them out evenly. You should have 18 kuftas. Transfer the baking sheet to your preheated oven and bake the kuftas for 18-20 minutes. Remove and cover to keep warm.
While the kuftas bake, make the couscous salad. Add the couscous, cucumbers, radishes, parsley and red onion to a medium bowl. In a separate bowl, stir together the olive oil, lemon juice, salt and black pepper. Then pour the dressing over the couscous salad and toss to coat. Set aside.
To serve, spoon some of the couscous salad into bowls. Add 1-2 tablespoons of hummus and Greek yogurt. Then top with the kuftas. Serve with warmed pita bread.
Leftovers can be stored in an airtight container in your refrigerator for 2-3 days.