I'm on a serious mission to "eat the Summer". Local produce is abundant (and almost overwhelming) at the moment. And I want to taste it all. I want to fill my belly with heirloom tomatoes, cucumbers, blueberries and everything in between. In hopes that when Old Man Winter arrives, I'll be able to retain some warm memories of the sweet, juicy flavors that this season has to offer.
But why should we just "eat the Summer" when we could also drink it? Farm-to-glass is just as important as farm-to-table. And that's exactly what today's post is all about. Welcome to the 2016 addition of #drinkthesummer! A crazy awesome round-up of bloggers bringing their best seasonally-inspired cocktail and mocktail recipes to the internet. I hope you're thirsty!
I couldn't think of a better recipe for #drinkthesummer than something that was actually created with the heat of the Summer sun. So I made a sun tea with fresh peaches, lemon and a little maple syrup. And I made damn sure to use the ripest, juiciest peaches that I could find for maximum peach flavor. I highly suggest you try and do the same.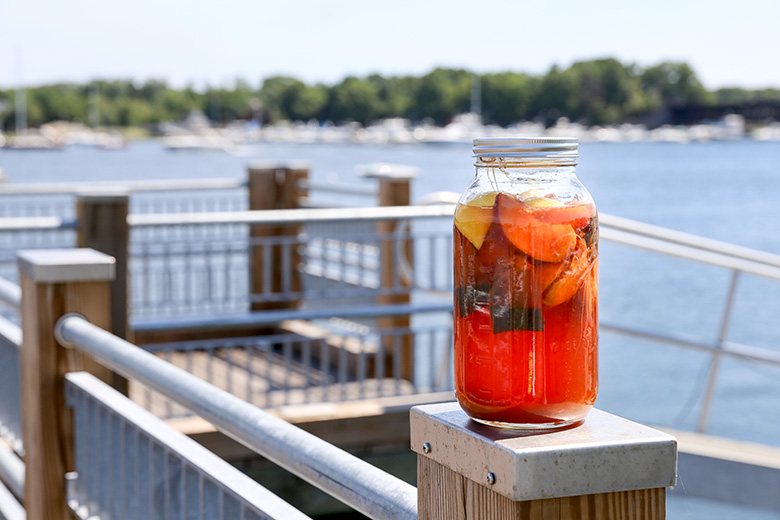 Sun tea is all about patience. You'll want to let your tea brew in direct sunlight for 4-6 hours. And then give it some time in your refrigerator to chill before serving. So be sure to start your journey early in the day if you want to enjoy these Peach Sun Tea and Bourbon Cocktails as an evening sipper.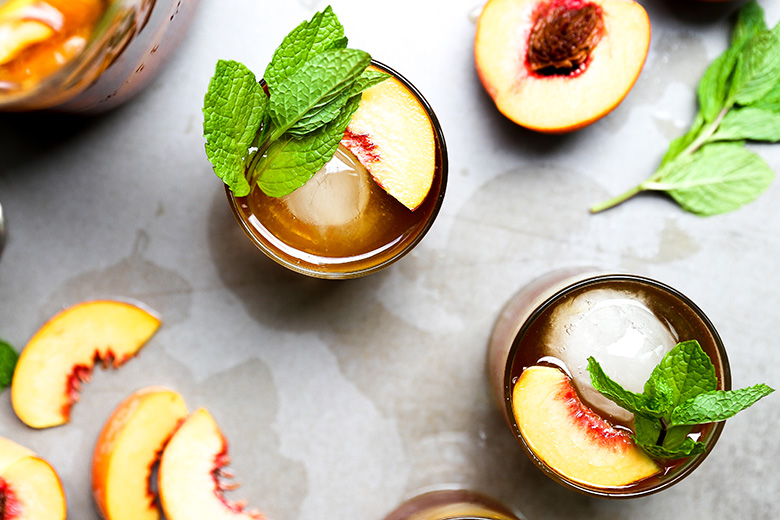 If you prefer, you can certainly serve this as a non-alcohol beverage. But the splash of bourbon and peach brandy is a nice addition, in my humble opinion. I hope you try it out.
You can find links to all the other bloggers recipes on Sherrie's blog right here. There are over 50 amazing recipes being contributed this year. Hooray! And I want to send out a big thank you to Sherrie for organizing the event and bringing us all together to #drinkthesummer!
Cheers,
Liz
Ingredients
For the Peach Sun Tea
8 cup pitcher or mason jar
7 black tea bags
2 peaches, sliced
1 lemon, quartered
3 tablespoons maple syrup
5 cups water

For the Cocktails
Peach Sun Tea
Bourbon
Peach brandy
Ice
Peach slices for garnish, if desired
Fresh mint leaves for garnish, if desired
Instructions
Make the sun tea. Add the tea bags and sliced peaches to your pitcher/jar. Squeeze the juice from the lemon into the pitcher/jar and then drop in the spent rinds. Add the maple syrup and water. Stir to combine. Seal your pitcher/jar and place it outside in the direct sun for 4-6 hours, stirring/shaking two or three times during this time.
After the tea has brewed, transfer your pitcher/jar to your refrigerator to chill.
Make the cocktails. For one cocktail, strain 1 cup of the peach sun tea into a glass with ice. Add 1 1/2 ounces (= 1 shot) of bourbon and 3/4 ounces (= 1/2 shot) of brandy. Stir to combine. Garnish with peach slices and fresh mint, if desired. Enjoy immediately.
https://www.floatingkitchen.net/peach-sun-tea-and-bourbon-cocktail/