Disclosure: This post is sponsored by Harry & David. All opinions are my own. Thank you for supporting brands and companies that support Floating Kitchen.
From now until December 31, 2018, Floating Kitchen readers can get 15% off their Harry & David orders! Just enter the code "KITCHEN" at checkout.
I still don't have a Christmas tree. And I haven't purchased a single present.
But I've baked. Oh, how I've baked.
Because baking is the one Holiday tradition that I would never miss out on.
When I was a kid, my Mom and I would tackle DOZENS of recipes in the weeks leading up to Christmas. And let me tell you, those sugar highs were the real deal. But these days, we've streamlined our baking efforts to include "just the essentials". Which typically means we make 2-3 of our family favorites (spritz! lebkuchen!). And then try out 1-2 new recipes, if time allows.
The whole "go big or go home" attitude with respect to Holiday baking was fun while it lasted. But now, it's no longer practical.
My jeans are also grateful for some relief from all the excess.
When I was going through my recipe cards this year, I stumbled upon my Grandmother's recipe for cream roll cake. She never fancied herself as much of a baker (her sister-in-law's were all excellent bakers, and I think she was intimidated by the idea of trying to compete with them), but her cream roll cake was the one dessert that I clearly remember her making often. She had all the versions down pat: vanilla, chocolate, fruit flavors and more. And I think she might have even considered it to be one of her signature sweet treats.
My Grandmother taught my Mom how to make a cream roll cake. And this year, my Mom finally taught me.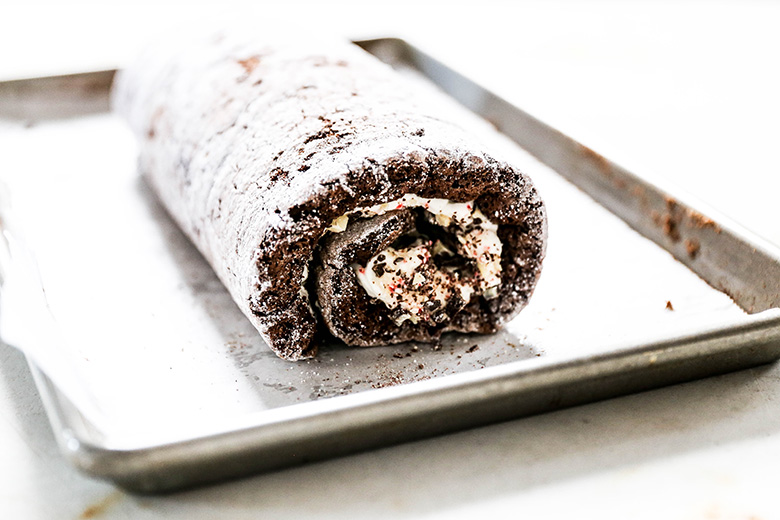 After some brief consultations (= 17 phone calls), 1 failed attempt and 2 mediocre attempts, I'm finally feeling pretty solid in my efforts. So may I present to you a slight variation of my Grandmother's classic recipe for chocolate cream roll cake: Mocha Peppermint Cream Roll Cake.
Correct me if I'm wrong, but I don't think peppermint bark was "a thing" when my Grandmother was alive. But now, it wouldn't be the Holiday season without a couple tins of the stuff. I give it as gifts, I incorporate it into recipes and I snack on it all day long. It's chocolatey, minty goodness knows no bounds.
Harry & David's Peppermint Bark is 100% irresistible. It encompasses the perfect balance of sweet white chocolate, rich dark chocolate and cool crushed peppermint candies. And it's thick. You'll hear an audible "snap" when you break or bite into it. Which is a tell-tale sign of good quality chocolate.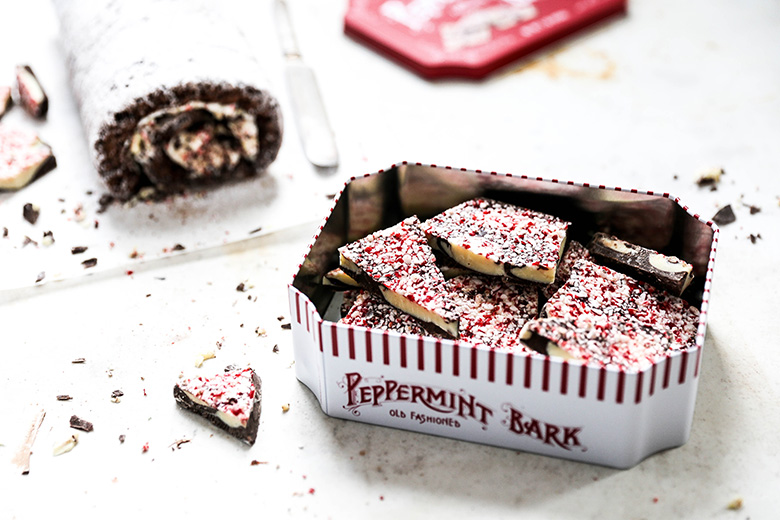 A tin of their Peppermint Bark makes a fun, festive gift all on it's own. Or combine it with some of Harry & David's other exquisite Holiday gifts and make someone VERY happy this season. From now until December 31, 2018, Floating Kitchen readers (that's YOU!) can get 15% off their Harry & David orders sitewide! Just enter the code "KITCHEN" at checkout. Woot woot!
OK, let's get back to this Mocha Peppermint Cream Roll Cake. I added instant espresso powder to the cake batter, which really punches up the overall chocolate flavor. And I sprinkled a layer of finely chopped Harry & David Peppermint Bark over the whipped cream filling. It's like your favorite coffee shop beverage in cake form.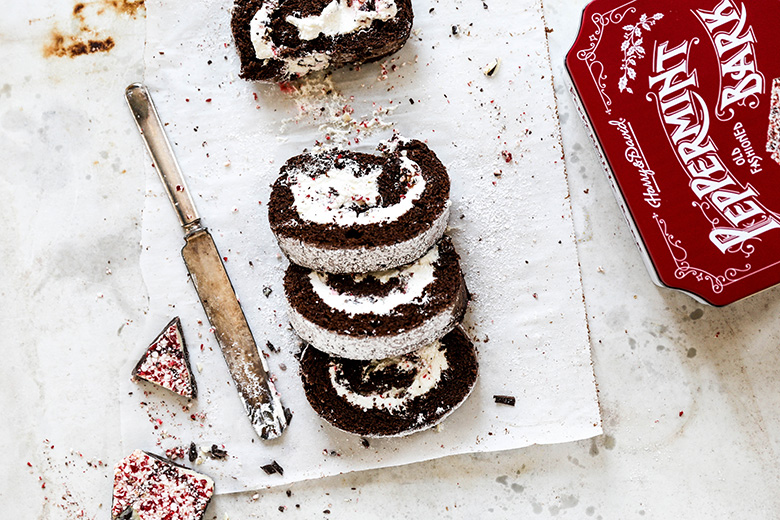 Cream roll cakes are NOT hard to make. I repeat, this is NOT a hard recipe to master. And the ingredient list is short and the cake itself bakes up in 15 minutes (how many other cake recipes can claim that?). But there are some "rules" that are non-negotiable.
Here they are:
(1) Use a 10 X 15-inch rimmed baking sheet (sometimes called a jelly roll pan).
(2) Whisk the egg whites until they are STIFF (starting with room temperature egg whites will help you achieve this).
(3) Use cake flour (not all-purpose flour).
(4) Sift all the dry ingredients.
(5) Be gentle with the batter (you want to keep all the air/lift that you've created).
(6) Be speedy when the cake comes out of the oven.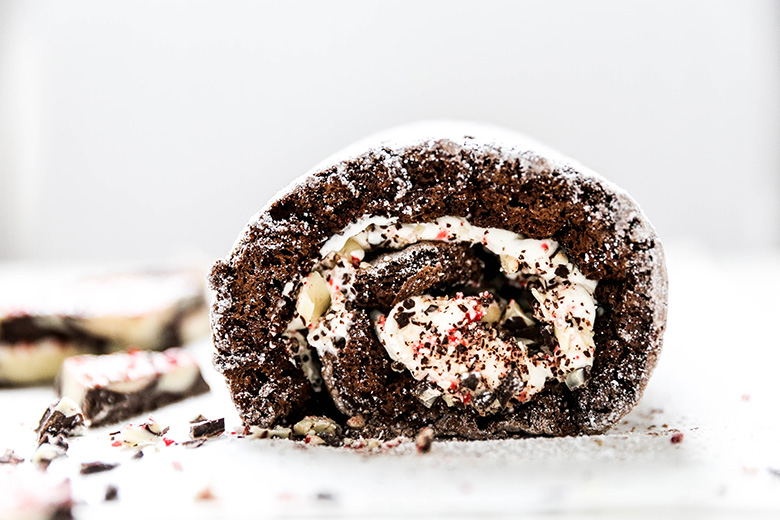 I think step (6) is the hardest one for a lot of people, because it goes against almost everything we've been taught. But for real. Take that baking sheet out of the oven and IMMEDIATELY flip out the cake and roll it into your prepared towel. It's the best way to ensure the cake doesn't crack.
Have you made a cream roll cake before? What are some of your favorite flavors? If you happen to give my Mocha Peppermint Cream Roll Cake a try this Holiday season, let me know. I'd love to hear about it! And don't forget about using the code "KITCHEN" on your upcoming Harry & David orders!
Cheers,
Liz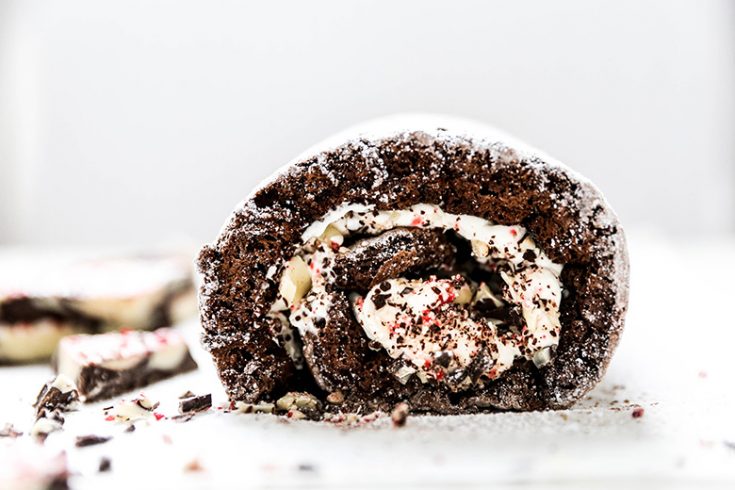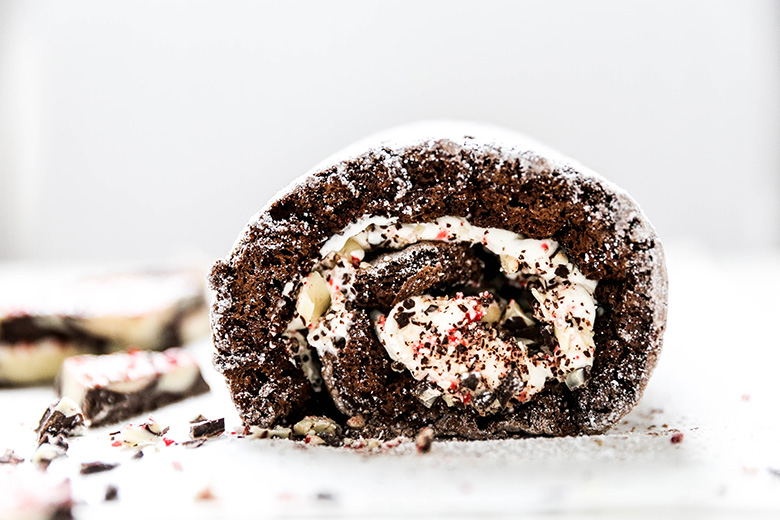 Mocha Peppermint Cream Roll Cake
Yield: About 8 servings
Prep Time: 3 hours
Cook Time: 15 minutes
Total Time: 3 hours 15 minutes
Ingredients
For the Cake:
4 eggs, separated and at room temperature
2/3 cups granulated sugar
1 tsp. vanilla extract
1/3 cup cake flour
1/4 cup unsweetened cocoa powder
2 tsp. instant espresso powder
1/2 tsp. baking powder
1/4 tsp. salt
About 1/2 cup powdered sugar
For the Filling:
1 cup heavy whipping cream, cold
2 tablespoons powdered sugar
1 tsp. vanilla extract
1/2 cup finely chopped Harry & David Peppermint Bark
Instructions
Pre-heat your oven to 350 degrees. Line a 10 X 15-inch rimmed baking sheet with parchment paper. Spray the parchment paper with non-stick cooking spray. Set aside.
Add the egg whites to the bowl of your mixer fitted with the whisk attachment. Whisk on high speed until stiff peaks form, about 4-5 minutes. Then slowly add in the granulated sugar and continue whisking. The added sugar with initially cause the egg whites to soften slightly. Whisk them until they re-form stiff peaks, about 1 minute. Carefully transfer to a clean bowl and set aside.
Add the egg yolks to same bowl and whisk until fluffy and pale yellow, about 2-3 minutes. Then whisk in the vanilla extract.
Remove the bowl from your stand mixer. Using a spatula and large, gentle strokes begin to fold the whipped egg whites into the egg yolks. Be careful not to overwork the batter, stopping when the egg whites and the egg yolks are about eighty percent combined.
Sift the cake flour, cocoa powder, espresso powder, baking powder and salt directly into your mixing bowl over the egg mixture. Then using the same technique as above, fold together the wet and dry ingredients until everything is just combined. Make sure to scrape the sides and bottom of the bowl to ensure all the ingredients have been incorporated evenly.
Spoon the batter onto your prepared baking sheet and spread it out into an even layer. Transfer to your oven and bake for 15 minutes.
Meanwhile, lay a clean kitchen towel out on your countertop. Dust with the powdered sugar.
Remove the cake from the oven. Quickly loosen the cake from the edges of the baking sheet with a small paring knife. Then IMMEDIATELY flip the cake out onto your prepared kitchen towel. Quickly but carefully peel off and discard the parchment paper. Then, starting at one of the narrow ends, roll the cake in the kitchen towel into a tight spiral. Allow the cake to cool completely in the towel, about 1-2 hours.
Meanwhile, using your hand mixer begin beating the heavy cream on high speed. Once it starts to become thick, add the powdered sugar and vanilla extract. Then continue to beat until soft peaks form. Refrigerate the whipped cream until you're ready to use it.
Once the cake has cooled completely, gently unroll it. Spread the whipped cream over the surface of cake. Then top with the peppermint bark. Carefully re-roll the cake, leaving the towel behind.
Place the cake on a tray/plate and refrigerate it for 1-2 hours to chill. When you're ready to serve the cake, slice it with a sharp knife using a back-and-forth "sawing" motion (pushing straight down with your knife will cause the roll to flatten). Enjoy!