This post was originally published here August 13, 2018. I've since updated the photographs and text.
While I haven't been doing much blogging recently, I have been doing a lot of cooking (and eating!). This is high season for many of my favorite fruits and vegetables. And I'm taking full advantage of them all. Especially the blueberries!
There is 6-8 week window of time during July and August when blueberries are prime for picking. And I make sure to hit up my local blueberry farm at least once a week during this time. Which means I'm forever looking for more ways to incorporate blueberries into recipes this time of year. There are only so many blueberry muffins and blueberry pies that a girl can bake, right?!?!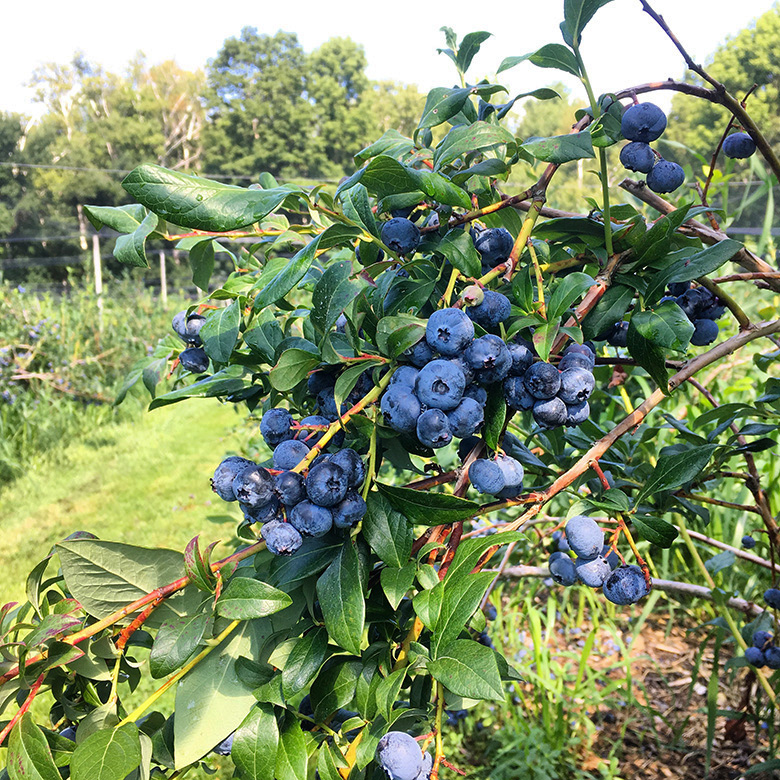 I'm no stranger to adding blueberries (and other fruits) to my salads, so I knew that would be an easy way to use up some of my haul. And this Corn and Blueberry Salad with Savory Granola and Herb Vinaigrette was born!
The ingredient list for this Corn and Blueberry Salad with Savory Granola and Herb Vinaigrette might look at bit lengthy. But I promise it's quick and easy to prepare. And I really don't want you to skip any of the various parts. So just don't. OK? Because they all come together so nicely to deliver a super pleasing mix of textures and flavors. The blueberries and corn are juicy and sweet. The cucumbers are cool and crisp. And the savory granola provides nutty, salty goodness in every single bite.
I pile everything on a big bed of my favorite mixed greens. Then drizzle it all with a homemade vinaigrette that includes fresh basil, parsley, shallots, and jalapeño. This salad truly is Summer in a bowl!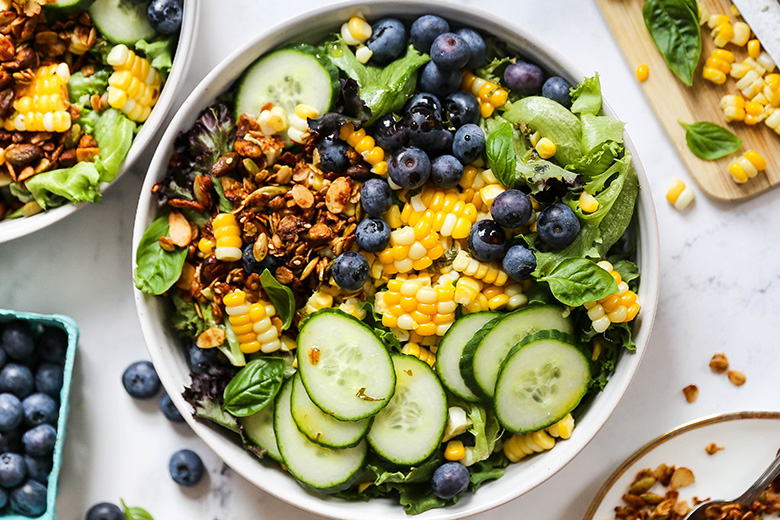 Because I wanted the fresh flavors of the produce to really shine, I held back on the cheese. But a sprinkle of either goat or feta cheese would be very nice here. Or even a little crumble of bacon, if that's something you're into. I typically prefer my salads to be vegetarian, but bacon and corn ARE two ingredients that I really love together. So I think this might be a good place to break that rule…
If you try my Corn and Blueberry Salad with Savory Granola and Herb Vinaigrette, give me a shout out and let me know. I'd love to hear about it!
Cheers,
Liz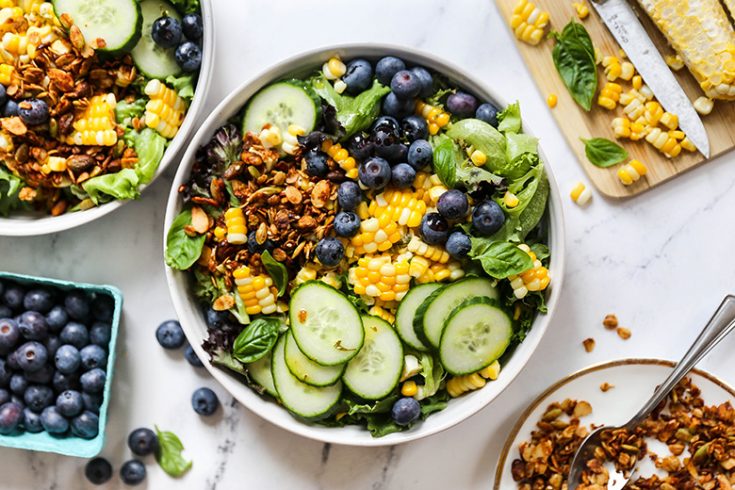 Corn and Blueberry Salad with Savory Granola and Herb Vinaigrette
Yield: 4-6 servings

Prep Time: 20 minutes

Cook Time: 25 minutes

Total Time: 45 minutes
Ingredients
For the Granola
1 cup old-fashioned oats
1/3 cup shelled pistachios
1/3 cup shelled sunflower seeds
1/3 cup sliced almonds
1 tablespoon sesame seeds
1 tablespoon fennel seeds
1 tsp. salt
1/4 tsp. cayenne pepper
1/4 cup extra-virgin olive oil
1 tablespoon agave nectar
1 egg white
For the Vinaigrette
1/4 cup extra-virgin olive oil
2 tablespoons sherry vinegar
2 tablespoons fresh squeezed lemon juice
2 tablespoons minced shallot
2 tablespoons minced fresh basil
1 tablespoon minced fresh parsley
1 tsp. minced jalapeño pepper
1 tsp. whole grain mustard
1/2 tsp. salt
For the Salad
4 ears cooked corn on the cob, kernels removed
2 cups fresh blueberries
1 medium cucumber, sliced
6-8 cups mixed salad greens
Instructions
To make the savory granola, start by pre-heating your oven to 350 degrees. In a medium bowl, toss together the oats, nuts, seeds, salt and cayenne pepper. In a separate small bowl, whisk together the olive oil, agave nectar and the egg white. Then pour this liquid mixture over the dry ingredients, stirring until everything is well coated. Spread the granola out onto a rimmed baking sheet lined with parchment paper and bake in your pre-heated oven for 20-25 minutes, or until golden brown, stirring once halfway through the cooking time. Remove and set aside to cool completely before using. The granola can be stored in an airtight container at room temperature for several days.
To make the vinaigrette, add all the ingredients to a small bowl and whisk vigorously to combine. Set aside.
Add the salad greens to a large bowl and drizzle with a couple tablespoons of the dressing, tossing to coat. Divide the dressed salad greens between serving bowls. Then top with the corn kernels, blueberries, sliced cucumbers and a sprinkle of savory granola. Drizzle with additional dressing, as desired. Enjoy immediately.
SaveSave
SaveSave
SaveSave