Once again, Sara from Cake Over Steak has convinced me to create another pumpkin recipe.
As you know, pumpkin is a hard sell for me. If given a choice, I'd choose butternut squash over pumpkin one hundred percent of the time. And I hate all the disproportionate hype that surrounds pumpkin-flavor-EVERYTHING this time of year. But I will admit that pumpkin does have a place in this world (so long as it's confined to the months of October and November). And Sara's Virtual Pumpkin Party has kind of become my annual opportunity to explore its purpose on a higher level (= i.e. in my kitchen).
This is the fourth installment of Sara's #virtualpumpkinparty. Which if you haven't figured out by now, is essentially just a bunch of food-obsessed internet people like myself creating and sharing unique pumpkin recipes on the same day (= today). It's pumpkin mania up in here. Savory, sweet and everything in between. All pumpkin, all day long.
For a list of all this year's recipes AND all the recipes from years past, go check out THIS PAGE on Sara's blog. You'll be in pumpkin heaven.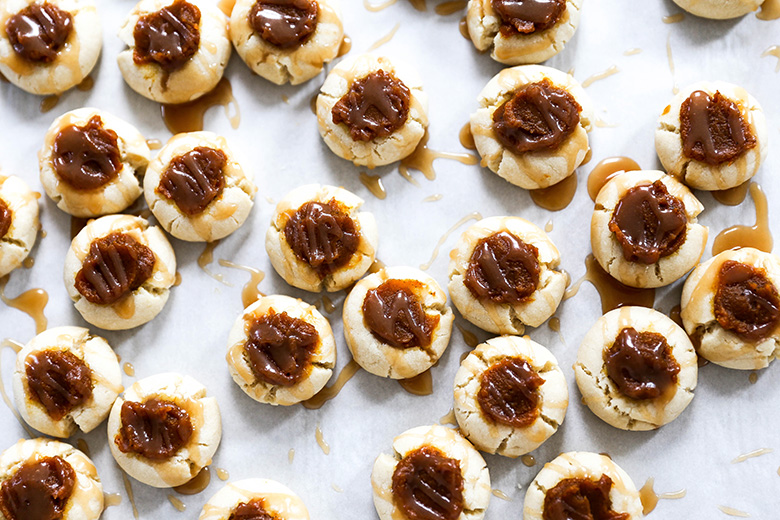 Towards the end of the Summer, I got myself on a little thumbprint cookie-kick courtesy of this recipe from Joy the Baker. I had temporarily forgotten how much I loved making these bite-sized, buttery treats. But with a renewed interest in thumbprint cookies, I started playing around with various combinations for the upcoming Holiday season. And I eventually pieced together the recipe for these Pumpkin Butter Thumbprint Cookies with Whiskey Caramel Sauce Drizzle.
The base for these thumbprint cookies is an adaptation of one that I've used before at Christmastime. Here, I've added pumpkin pie spice extract to the dough (I used this extract from Rodelle) to give these cookies more overall pumpkin flavor. But you can leave it out, if you prefer (or if you have trouble finding something similar).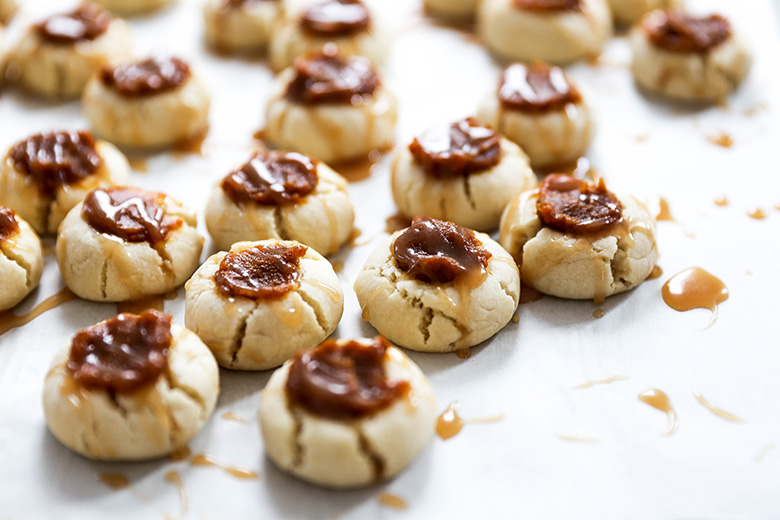 Instead of baking these cookies with the pumpkin butter already placed in the center, I decided to add the pumpkin butter (and the whiskey caramel sauce drizzle) to the cookies after they had already been fully baked and cooled. I thought this resulted in tastier and prettier cookie. But the downside to this method is, however, that the cookies will have to be stored in your refrigerator once the homemade pumpkin butter has been added. Since refrigerated cookies aren't generally the best, what I've been doing is simply assembling and enjoying just a few cookies at any given time (unless I'm hosting a party, then I'll just do them all at once). The remaining "naked" thumbprint cookies can be stored at room temperature in an airtight container for almost a week. While the remaining pumpkin butter and whiskey caramel sauce (both of which you'll have more than you'll need for this recipe anyway) can be stored in your refrigerator for approximately 2 weeks. I know that all might sound confusing and/or like a lot of work, but I actually think it makes things easier in the end. Because you can have all the different parts made and ready to go in advance. Then it takes just a couple of minutes to finish them off before serving.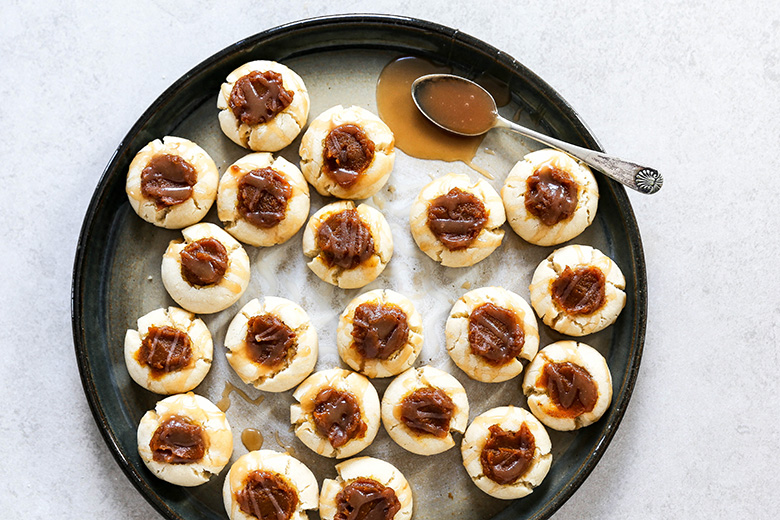 Wishing you a wonderful day filled with all things pumpkin (you might never hear me say that again, so SOAK IT UP!). And if you make anything from the #virtualpumpkinparty, be sure to let us know on social media by using the hashtag. We'd love to see it!
Cheers,
Liz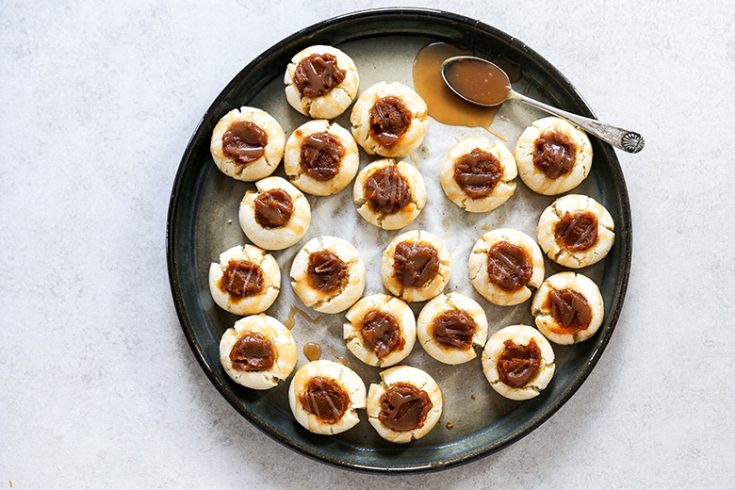 Pumpkin Butter Thumbprint Cookies with Whiskey Caramel Sauce Drizzle
Yield: Makes about 3 dozen cookies

Prep Time: 1 hour

Cook Time: 1 hour

Total Time: 2 hours
Ingredients
For the Caramel Sauce:
1 cup granulated sugar
1/2 cup water
6 tablespoons unsalted butter, cubed and at room temperature
5 tablespoons heavy cream
3 tablespoons whiskey
Sea salt
For the Pumpkin Butter:
1 (15-ounce) can pumpkin purée
1/2 cup apple cider
1/3 cup brown sugar, lightly packed
1/4 cup maple syrup
1 tablespoon lemon juice
1/2 tsp. vanilla extract
1/2 tsp. ground cinnamon
1/4 tsp. ground ginger
1/4 tsp. ground nutmeg
1/4 tsp. salt
1/8 tsp. ground cloves
For the Cookies:
1 cup (16 tablespoons) unsalted butter, softened at room temperature
1 cup powdered sugar
1 tsp. vanilla extract
1 tsp. pumpkin pie spice extract
1/4 tsp. salt
2 1/2 cups all-purpose flour
Instructions
To make the caramel sauce, spread the sugar out onto the bottom of a heavy-bottom saucepan. Pour the water over the sugar and swirl the pan gently to moisten the sugar evenly. Place the saucepan over medium-high heat and bring to a boil. Allow the sugar mixture to cook without stirring (it will bubble vigorously) until it turns a deep caramel color, about 5-8 minutes. Then quickly but carefully remove the saucepan from the heat. Whisk in the cubed butter. Then gradually whisk in the heavy cream and whiskey until smooth. Whisk in a couple pinches of sea salt. Once the sauce has cooled slightly, transfer it to a clean re-sealable container(s) and store in your refrigerator until you're ready to use it. The caramel sauce can be stored for 2-3 weeks.
To make the pumpkin butter, combine all the ingredients in a heavy-bottom saucepan over medium-high heat. Once the mixture begins to bubble, adjust the heat to maintain a gentle simmer and cook, uncovered, for about 30 minutes, stirring occasionally. The mixture will thicken and darken as it cooks. Remove the saucepan from the heat and allow the pumpkin butter to cool completely. Once cooled, transfer the pumpkin butter to clean re-sealable container(s) and store it in your refrigerator until you're ready to use it. The pumpkin butter can be stored for about 2 weeks.
To make the cookies, pre-heat your oven to 350 degrees. Lines two baking sheets with parchment paper and set aside.
In your stand mixer with the paddle attachment, beat together the butter, powdered sugar, extracts and salt until smooth and creamy. Scrape down the sides of the bowl. With your mixer on low speed, slowly add in the flour and beat until combined. If the dough is crumbly at this point, add a tablespoon of cold water to help it come together.
Roll the dough into balls, using about 2 tsp. of dough for each ball. Place the dough balls 1-inch apart on your prepared baking sheets. Transfer to your pre-heated oven and bake for 10 minutes. Remove the baking sheets from your oven. Press your thumb into the center of the partially baked cookies to make an indentation. You can dip your thumb in a small bowl of ice water, drying it in between, to keep your thumb cool. Transfer the baking sheets back to your oven and continue baking the cookies for an additional 7-9 minutes, or until very lightly browned. Remove the baking sheets from your oven and then using your thumb again, press down lightly on the indentations to further define them.
Allow the cookies to cool on their baking sheets for 5 minutes. Then transfer them to a wire rack to continue cooling. Once the cookies are fully cooled, you can transfer them to an airtight container and store them at room temperature for up to 5 days.
To serve, place a small dollop of pumpkin butter into the indentation of each cookie. Then drizzle with the caramel sauce. Enjoy immediately.
SaveSave
SaveSave