Remember when I FINALLY jumped on the smoothie bowl bandwagon back in February? Well, I've been pretty unstoppable since that fateful day. Some might even say I've become obsessed.
But can you blame me? You all know how much I love toppings on just about everything – soups, salads, ice cream, etc. You name it. It should have something piled on top of it. Food shouldn't be naked, in my humble opinion.
And smoothie bowls, well, they are basically just one big edible canvas for ALL THE TOPPINGS. I dig it. And that's part of the reason why I'm so smitten with them.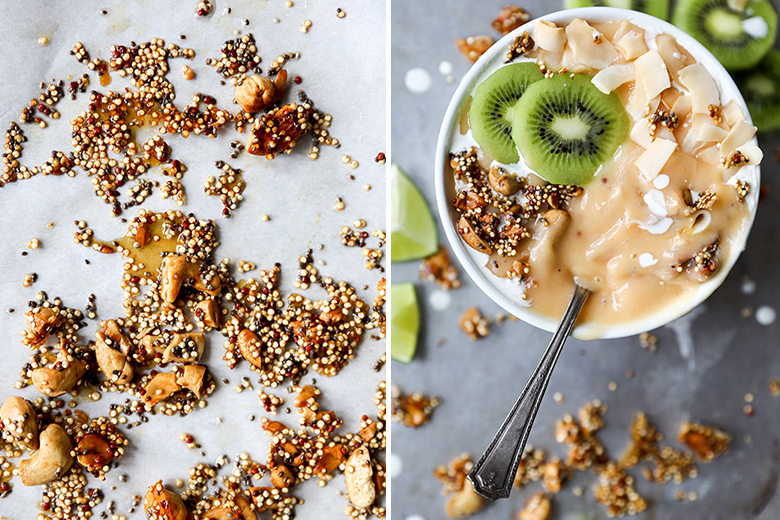 Today, we're going tropical. My Papaya-Lime Smoothie Bowl with Toasted Cashew-Quinoa Cereal is like a little island vacation right in your own kitchen. It will totally transport you to somewhere warm and sunny…at least in your mind. And until summer officially gets here (hurry up, please!), that's about the best I can do at the moment.
I'm sharing my Papaya-Lime Smoothie Bowl with Toasted Cashew-Quinoa Cereal today as part of our monthly #eatseasonal guide organized by Becky from Vintage Mixer. April is full of so many tempting fruits and vegetables (artichokes! rhubarb! nettles!), that it's one of my favorite month's to spend a little extra time in the kitchen cooking and baking. Be sure to check out Becky's April produce guide for tons of delicious recipes that highlight this months produce. And scroll down below to see what some of my best blogging friends have made as well!
Cheers,
Liz
Ingredients
For the Cashew-Quinoa Cereal
2 tablespoons raw cashews, roughly chopped
1 tablespoon uncooked quinoa
2 tsp. melted coconut oil
1 tsp. agave nectar
1 tsp. chia seeds
1/4 tsp. vanilla extract

For the Smoothie
2 cups chopped papaya
1 frozen banana, peeled and cut into chunks
1/2 cup coconut milk
2 tablespoons lime juice
1 date, pitted and chopped

For Topping
1 kiwi, peeled and sliced
1-2 tablespoons toasted coconut flakes
Instructions
Make the quinoa cereal. Pre-heat your oven to 350 degrees. In a small bowl, combine all of the ingredients, stirring until well coated. Then spread them out onto a parchment paper-lined baking sheet. Transfer to your pre-heated oven and bake for 10 minutes, stirring once halfway through. Remove from the oven and set aside to cool.
Make the smoothie bowl. Add all of the smoothie ingredients to your blender. Blend on high until smooth. Pour into a bowl(s). Crumble the quinoa cereal over top. Add the sliced kiwi and some toasted coconut flakes, if desired. Enjoy immediately.
https://www.floatingkitchen.net/papaya-lime-smoothie-bowl-with-toasted-cashew-quinoa-cereal/
April Eat Seasonal Recipes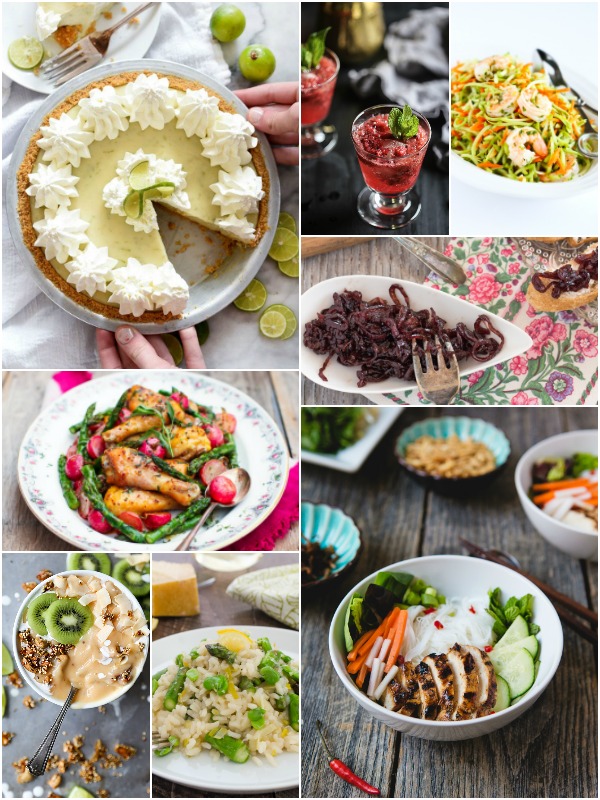 Asparagus and Baked Ricotta Tart by Vintage Mixer
Easy Maple Mustard Chicken Drumsticks with Roasted Radishes and Asparagus by Simple Bites
Vietnamese Lemongrass Chicken Rice Noodle Bowls: Bun Ga Nuong by Food For My Family
Rhubarb Ginger-Berry Bourbon Cooler by Climbing Grier Mountain
Marinated Beets with White Wine Vinegar by Project Domestication
Shallot and Red Wine Jam by Letty's Kitchen
Lemon Rosemary Shrimp and Broccoli Slaw by Cookin' Canuck
Spring Vegetable Lemon Risotto by Flavor the Moments
Key Lime Pie by Foodie Crush