I admittedly go a little overboard with cranberries every Fall and Winter. But I just can't seem to get enough of their tart flavor and jewel-toned color. And their ability to transition seamlessly between savory and sweet dishes means they are an ingredient that I reach for often. It's so easy to just toss a handful of cranberries into almost any cookie batter or scone mix, use them to liven up a green salad, or turn them into a festive garnish for a cocktail.
But I thought it was about time that I made them the unmatched star of the show. So I created these Cranberry Curd Bars with Pecan-Rosemary Shortbread Crust. And holy smokes, they turned out SO PRETTY! So get ready to make some space on your Holiday dessert table for these vibrant little squares of pure cranberry joy!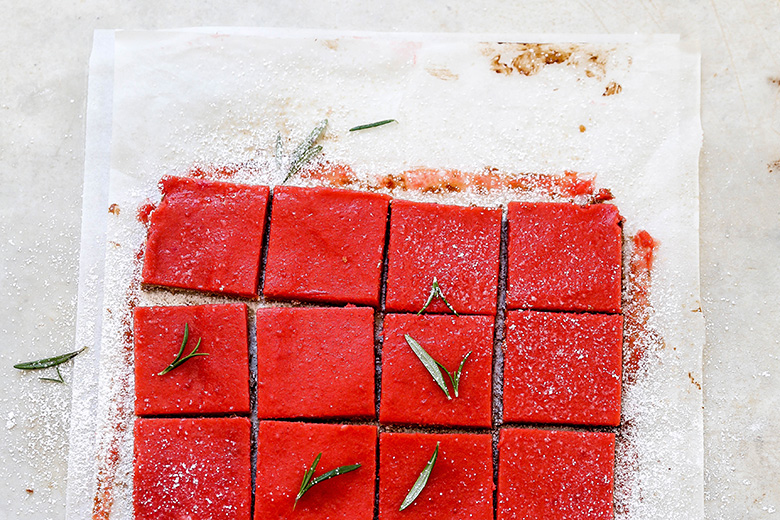 The base for these bars is an easy shortbread crust that you can make completely in your food processor. In addition to the standard flour, sugar, salt and butter, this dough also has pecans and fresh rosemary. So while it's definitely still on the sweet side, I love that it has some savory elements incorporated as well. And the little flecks of ground pecans and rosemary make for a wonderful bit of texture in the crust.
There are a couple steps to making the cranberry curd. But you can get most, if not all, of the steps completed while the shortbread crust bakes. If you've ever made cranberry sauce before, then you'll recognize that the first step of making this cranberry curd is basically just like that. Only in this case, once the cranberries have popped and released their juices, we're going to strain them and use only the liquid portion (which is actually more like a purée/gel) for the rest of the steps.
This cranberry purée gets combined with whisked eggs, egg yolks and corn starch (a nice safeguard to make sure the curd sets) and cooked gently on your stovetop until thicken. Then the butter is whisked in, which helps make the curd shiny and smooth (and taste luscious!). If you're worried you might have some bits of cooked egg (it happens to the best of us!), you can strain the curd again at this point. If not, pour it directly onto your baked shortbread crust and smooth it out into an even layer. The curd should be thick at this point. But a few minutes in the oven will ensure that it's fully set and you'll be able to get clean, neat slices.
Now for the hardest part: waiting until the bars are fully cooled before digging in!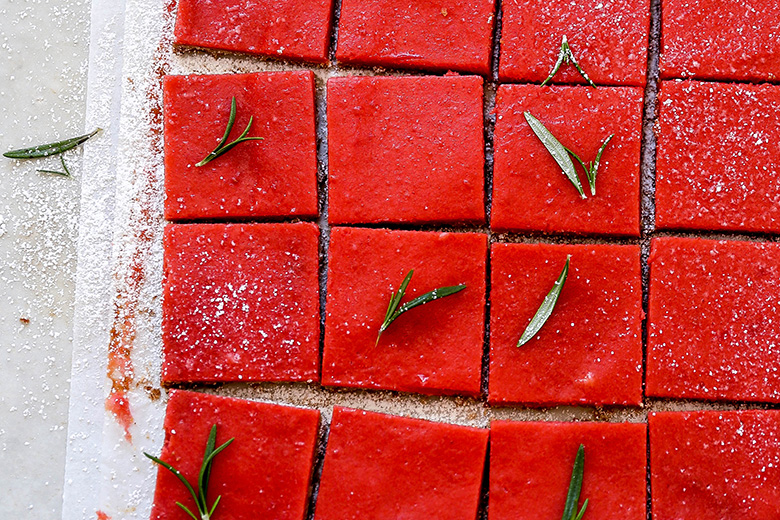 I highly recommend sticking with an 8 X 8-inch sized baking pan for this recipe. Both layers of these bars are already somewhat thin, so I fear that going up to a larger baking pan size would stretch them out too much.
Because they come in a small package, I like to think of these Cranberry Curd Bars with Pecan-Rosemary Shortbread Crust as more of a delicate little treat that you can have in addition to your usual Holiday pies and cakes. They would also be a fun one to pass around at an afternoon tea or Holiday cocktail hour.
Cheers,
Liz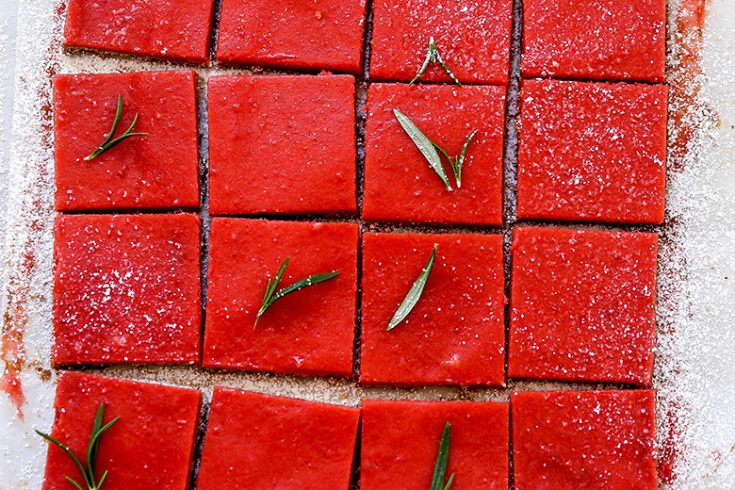 Cranberry Curd Bars with Pecan-Rosemary Shortbread Crust
Yield: Makes one 8 X 8-inch pan
Prep Time: 25 minutes
Cook Time: 40 minutes
Additional Time: 3 hours
Total Time: 4 hours 5 minutes
Ingredients
For the Pecan-Rosemary Shortbread Crust:
1/2 cup pecans
1 tablespoon fresh rosemary
1/2 cup all-purpose flour
1/4 cup powdered sugar
Zest from 1/2 lemon
1/4 tsp. ground cinnamon
1/4 tsp. salt
4 tablespoons unsalted butter, cubed and chilled
For the Cranberry Curd:
8 ounces fresh cranberries (about 2 cups), thawed if frozen
1/3 cup granulated sugar
1/3 cup water
1 tablespoon fresh rosemary
Zest from 1/2 lemon
2 eggs, at room temperature
2 egg yolks, at room temperature
1 tsp. cornstarch
1 tablespoon fresh squeezed lemon juice
1/8 tsp. salt
4 tablespoons unsalted butter, cubed and at room temperature
Instructions
Line an 8 X 8-inch baking pan with parchment paper, leaving about a 1-inch hanging over the sides. Coat lightly with non-stick cooking spray and set aside.
In your food processor with the blade attachment, pulse together the pecans and rosemary until finely chopped. Add the flour, powdered sugar, lemon zest, cinnamon and salt. Pulse 2-3 times until combined. Then add the cold butter and pulse until the dough just comes together. Dump the dough into your prepared baking pan and use your hands or the back of a measuring cup to press it down evenly and firmly into the bottom of the pan. Place the baking pan in your refrigerator to chill for 10 minutes while you pre-heat your oven to 350 degrees.
Transfer the baking pan to your pre-heated oven and bake the crust for 20 minutes. Remove and set aside.
Meanwhile, make the cranberry curd. In a medium saucepan over medium-high heat, combine the cranberries, granulated sugar, water, rosemary and lemon zest. Cook until all the cranberries have burst open, about 5 minutes, stirring with a spatula and pressing them against the side of the saucepan to help them release their juices as you stir. Remove from the heat.
Set a fine mesh strainer over a clean bowl and add the cranberry mixture. Use the spatula to press out as much liquid as possible. Discard the collected solids. Set the cranberry purée (it will be slightly thick) aside to cool for about 5 minutes.
In a medium bowl, whisk together the eggs, egg yolks and cornstarch. Quickly whisk in the cranberry purée, lemon juice and salt. Then scrape the mixture into a saucepan (you can use the same one from above, just rinse/wipe it out first) and set it over medium heat. Cook the mixture, stirring continuously, until it's thickened slightly, about 5 minutes. Do not let it boil. Remove the saucepan from the heat and add the butter, stirring until it's fully incorporated.
Pour the cranberry curd over the baked shortbread crust and spread it out evenly. If your cranberry curd isn't smooth, you can strain it again before this step. Transfer the baking pan to your pre-heated oven and bake until the cranberry curd is just set, about 8-10 minutes. It should still jiggle slightly in the center. Remove and place the baking pan on a wire rack to cool to room temperature, about 1 hour. Then refrigerate it for at least 2 hours to fully chill and set the bars.
Once the bars have fully chilled, lift them from their baking pan using the overhanging parchment paper. Place on a cutting board and use a sharp knife to slice into squares, wiping the knife clean in between cuts. Dust with powdered sugar before serving, if desired.
Leftover bars can be stored in an airtight container in your refrigerator for 2-3 days. The shortbread crust will soften over time.