Sangria. Probably the best party drink ever invented. Ever.
And here is why. Sangria pleases almost everyone. It can be made well in advance. You can let your guests serve themselves. Recipes are flexible and pretty much anything goes. And it just looks so gosh darn pretty. And pretty cocktails make people happy. These are all facts.
There are about a 27 billion recipes on the interwebs for sangria. This here recipe for Red Wine Sangria is just one variation that I've been mixing up for a few years now. Word of caution: it is VERY potent. There is a lot of liquor in here. So beware and don't blame me the next morning if you have a petite hangover. Consider yourself sufficiently warned.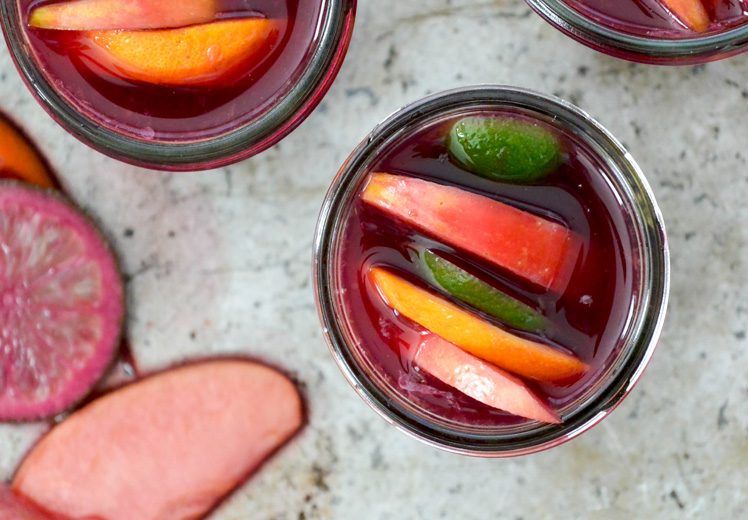 Also, don't break the bank and buy an expensive bottle of red wine. I've made this with Charles Shaw Two Buck Buck plenty of times and nobody is none the wiser. Shhh…don't tell!
For some bubble action, I like to add pomegranate Italian soda just before serving. You can find it in the same aisle as the club soda and tonic water. But if by chance you can't find pomegranate Italian soda, you can just add some pomegranate juice and a bit of plain club soda for fizz. Easy peasy.
Cheers,
Liz
Ingredients
1 apple, cored and sliced
1 orange, sliced
1 lime, sliced
1 bottle red wine
2 cups white or golden rum
1/2 cup orange flavored liqueur
1 cup orange juice
2 tablespoons sugar
About 1 liter pomegranate Italian soda
Instructions
Add the sliced fruit to a very large pitcher or mason jar. Pour in the red wine, rum, orange flavored liqueur and orange juice. Stir in the sugar. Cover and chill in your refrigerator for at least 2 hours. The flavors will get better the longer you let it sit, and it can even be made 1-2 days in advance.
When you are ready to serve the sangria, gently stir in the pomegranate Italian soda, starting with about 1/2-liter of the soda and adding more to suit your taste preferences. If you don't have a pitcher or jar large enough to hold all this volume, pour the sangria into individual serving glasses and then top with a splash of the pomegranate Italian soda. Garnish each of the glasses with a few pieces of the fruit.
https://www.floatingkitchen.net/red-sangria/