This post was originally published here November 19, 2014. I've since adjusted the recipe instructions slightly. And I've updated the text and photographs. I hope you try out these buns! They have been a favorite with my family for many years!
My Grandmother's Pecan Sticky Buns were an essential part of every major Holiday. We could always count on being treated to her freshly made buns as soon as we woke up. And even on those occasions when we weren't celebrating together, we inevitably had a stash of buns in the freezer that my Mom would pull out and re-heat. So no matter where we all were, we were all still able to enjoy her famously ooey-gooey Pecan Sticky Buns!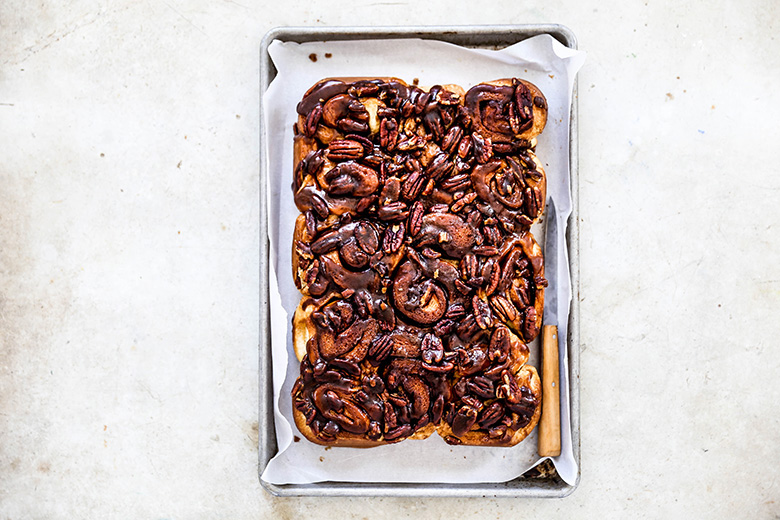 With Easter approaching, I decided to revisit and refresh (trust me, it needed refreshing!) this old post from the archives. It seemed like the perfect opportunity to check that item off my bucket list. But then everything stopped.
I won't be spending any time with my family this Easter. In fact, I'll be completely on my own. And I'm sad about it. It's difficult being separated from our loved ones. And those feelings hit even more deeply during the Holidays.
I'm guessing a lot of you are in similar situations. So I was hesitant to share this recipe and be all like "oh you should make this for Easter!". But then I thought about it and it occurred to me that maybe it's even MORE important to make these Pecan Sticky Buns (or whatever YOUR treasured family recipe might be) right now. Because making a recipe that reminds me of my family is a good thing! It helps me to stay connected to them, even when I'm not physically able to be.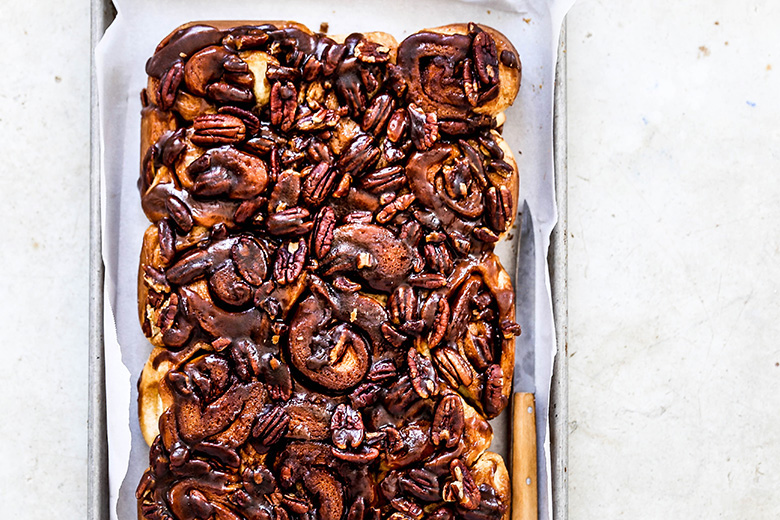 Another reason I wanted to share this recipe today is because of DISTRACTIBAKING! What once was considered procrastibaking has now turned into distractibaking. And I'm loving the movement. These Pecan Sticky Buns will keep you occupied for at least 3 hours! So give them a go!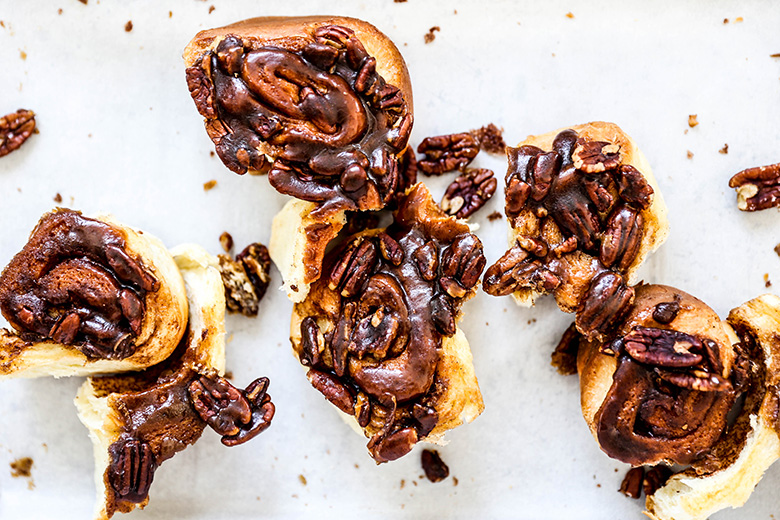 One part of the recipe that I can't stress enough is the flip at the end (steps 10 & 11 in the instructions below). Once the buns come out of the oven, you've got a very short window of time to get them out of the baking pan or else they'll get stuck. And you'll have a major mess on your hands. So fight the urge to let them cool too long (I know you're going to want too!), and just get in there and VERY CAREFULLY flip the whole baking pan over onto a wire rack. I promise this works. You've got this!
Cheers,
Liz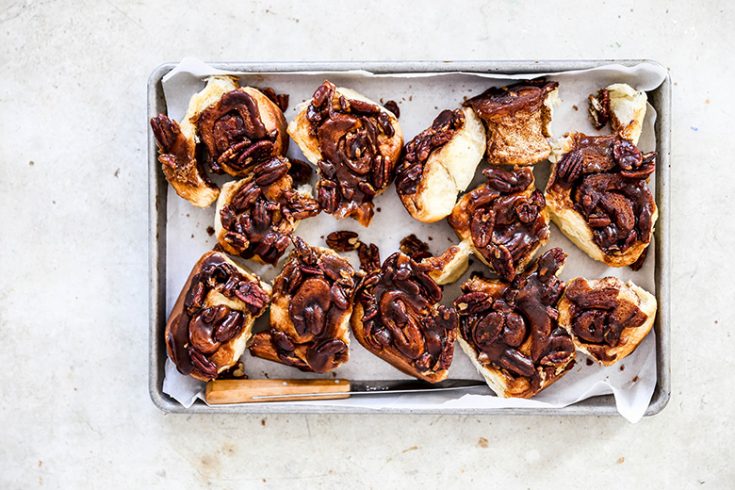 Pecan Sticky Buns
Yield: Makes 14-16 buns
Prep Time: 45 minutes
Cook Time: 30 minutes
Additional Time: 2 hours
Total Time: 3 hours 15 minutes
Ingredients
For the Dough:
3 1/4 – 3 1/3 cups all-purpose flour, divided
1/3 cup granulated sugar
2 packages (4 1/2 tsp.) active dry yeast
1 tsp. salt
1 cup milk
1/4 cup (4 tablespoons) unsalted butter, cubed and softened at room temperature
1 egg, lightly beaten
For the Filling:
1/3 cup granulated sugar
1/4 cup (4 tablespoons) unsalted butter, melted and cooled
2 tsp. ground cinnamon
For the Topping:
1/2 cup (8 tablespoons) unsalted butter, cubed
1/2 cup packed brown sugar
1 1/4 cups pecans
Instructions
Make the dough. In the bowl of your stand mixer fitted with the whisk attachment, combine 2 cups of the flour with the sugar, yeast and salt. Switch to the dough hook attachment.
Warm the milk to 120-130 degrees Fahrenheit. Add the butter and let it soften in the warmed milk. Then add this mixture along with the beaten egg to the dry ingredients. Beat on medium speed for 1-2 minutes, stopping to scrap down the sides of the bowl as necessary. Once the mixture is well combined, start slowly adding in more flour, about 1/4 cup at a time, until the dough is soft, easy to handle and easily leaves the sides of the bowl. You'll need anywhere between 1 1/4 to 1 1/3 cups flour.
Mix the dough on low-medium speed for about 5 minutes, pulling the dough down off the hook as needed. The dough should be smooth and elastic. Alternatively, you can knead the dough by hand on a lightly floured countertop for about 5 minutes.
Gather up the dough with your hands and shape it into a ball. Transfer it to a lightly oiled bowl, turning the dough to coat it with a thin layer of the oil on all sides. Then cover the bowl loosely with a kitchen towel and let the dough rise in a warm place for 1 to 1 1/2 hours, or until it's roughly doubled in size.
Once the dough has risen, gently punch it down to deflate it. Remove it from the bowl and transfer it to a floured countertop. Use your hands to roughly shape the dough into a rectangle. Then use a rolling pin to roll the dough out into a 15 X 10-inch rectangle. This will take a little bit of time, because the dough can be elastic and "springy" at first. If it's bouncing back too much, let the dough rest for a few minutes before trying again.
Once the dough has been rolled out, combine all the ingredients for the filling in a small bowl. Spread the filling out in a thin layer evenly over the surface of the dough, leaving about a 1/2-inch boarder around the edges. Then starting with one of the long edges, tightly roll up the dough into a log.
Place the log so it's seam side-down on your countertop. Using a serrated knife, trim off and discard the uneven ends. Then slice the log into 14 to 16 equal-sized pieces of dough.
In a small saucepan over medium heat, melt the remaining 1/2 cup of butter. Add the brown sugar and pecans and stir until combined. Remove from the heat. Spray the bottom and sides of a 9 X 13-inch baking pan with non-stick cooking spray. Pour the pecan mixture into your prepared baking pan and spread it out evenly. Place the dough slices over top of the pecan mixture, spacing them out evenly. Cover the pan loosely with a kitchen towel and let the dough slices rise in a warm place for 30 minutes.
Pre-heat your oven to 350 degrees. Remove the kitchen towel from your baking pan and transfer the baking pan to your pre-heated oven. Bake the sticky buns for 28-30 minutes, or until they are golden brown and puffed.
Remove the baking pan from your oven and place it on a wire rack to cool for 5 minutes. Do not let the sticky buns cool longer than 5 minutes or the topping will become hard and the sticky buns will be difficult (= impossible!) to remove from the pan.
Place a large baking sheet or a piece of parchment paper down on your countertop (this is to catch any drips). Then place a wire rack directly on top of the baking pan/sticky buns. Quickly but carefully flip the entire thing over, so the baking pan is inverted on the wire rack. Slowly lift off the baking pan.
Let the sticky buns cool for a few minutes before serving.
Leftovers can be stored in an airtight container at room temperature for 2-3 days. Re-warm them slightly before eating.
Notes
Recipe adapted from Betty Crocker with the help of my Grandmother's notes.